Search London wiki and Pub wiki history sites
All public house, restaurants, bars etc closed for the forseeable future from 20th March 2020, but this is a pub history site.
White Horse, 2 St Clements lane, St Clement Danes WC2
St Clement Danes pub history index
2 Gilbert Street becomes 2 Twining Street by 1899; and by 1938 this is at 2 St Clements lane, Portugal street WC2 - all through road renaming.
Historical London public houses, Taverns, Inns, Beer Houses and Hotels.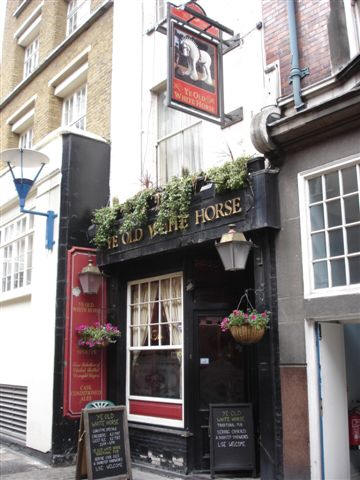 White Horse, 2 St Clement's Lane, WC2 - in May 2007
Kindly provided by Stephen Harris
Residents at this address.
1839/Edw Bartlett/../../../Pigots Directory

1841/R Martin/../../../Post Office Directory

1843/George Fry/../../../Post Office Directory

February 1847/Mr G Hayward/Outgoing Licensee/../../Era

February 1847/Mr De Crowe/Incoming Licensee/../../Era

1848/Daniel Crow/../../../Post Office Directory

February 1849/Thomas Banson Dearing/Outgoing Licensee/../../Era

February 1849/Henry Dudeney/Incoming Licensee/../../Era

March 1849/Henry Dudeney/ Outgoing Licensee /../../The Era

March 1849/George Fox/ Incoming Licensee /../../The Era

1851/Charles Taviner/../../../Kellys Directory

February 1851/William Gibson/Outgoing Licensee/../../Era Newspaper

February 1851/James Rutley//Incoming Licensee/../../Era Newspaper

1851/Samuel Rutley/Inn Keeper/34/Hampshire/Census
1851/Harriet Ann Rutley/Wife/27/Surrey/Census
1851/Harriet Maria Rutley/Daughter/9 months/Surrey/Census
1851/Richard Hedges/Servant/41/Middlesex/Census

June 1853/Augustus Daws/Outgoing Licensee/../../Era Newspaper

June 1853/John Goward/Incoming Licensee/../../Era Newspaper

1856/J J Peacock/../../../Post Office Directory

March 1863/James Peacock/Outgoing Licensee/../../Era

March 1863/George Embleton/Incoming Licensee/../../Era

1869/George Embleton/../../../Post Office Directory

January 1871/George Embleton/Outgoing Licensee/../../Era

January 1871/Edwin Henry Hunt/Incoming Licensee/../../Era

1881/William J Shephard/Licensed Victualler/48/Spitalfields, Middlesex/Census
1881/Annie Shephard/Wife/38/Hoddeston, Hertford/Census
1881/Fanny Shephard/Niece, Assistant/15/Peckham, Surrey/Census
1881/Isaac Wilson/Brother in Law, Wine Mercht Assistant/30/Hoddeston, Hertford/Census
1881/Richard Richards/Lodger, Surgeon, Widow/49/Wales/Census
1881/James Storer/Lodger, Whitesmith/40/St Clement Danes, Middlesex/Census
1881/John McNeale/Lodger, Theatrical Professional/39/Scotland/Census
1881/Henry Waters/Lodger, Traveller/24/Plumpstead/Census
1881/I B Simpson/Lodger, Accountant/39/Halifax/Census
1881/Joseph Busbridge/Lodger, Office Assistant/16/Maidstone/Census
1881/William J Bishop/Lodger, Clerk/45/London, Middlesex/Census
1881/John Still/Lodger, Porter/69/Warwick/Census

1882/William Jas Shephard/../../../Post Office Directory

1884/William J Shephard/../../../Post Office Directory

1891/Alfred Cole/../../../Post Office Directory

1899/Frederick Speed/../../../Post Office Directory

1910/William Jas Martin/../../../Post Office Directory

1921/Ada A Hildreth/White Horse, 2 Twining street, Clare market WC2/../../Post Office Directory

1934/Mrs Eliz Thomas/White Horse, 2 Twining street, Portugal street WC2/../../Post Office Directory

1938/Mrs Eliz Harris/White Horse, 2 St Clements lane, Portugal street WC2/../../Post Office Directory

1942/Norman Louis Parker/White Horse, 2 St Clements lane WC2 /../../Post Office Directory