Ashby Castle, 10 Upper Ashby street, Clerkenwell EC1
Clerkenwell pub history index
This pub's address is now 18 Northampton Square, since at least 1865. Converted to residential use. * The address is at 10 Upper Ashby street in the 1871 census.
Historical London public houses, Taverns, Inns, Beer Houses and Hotels.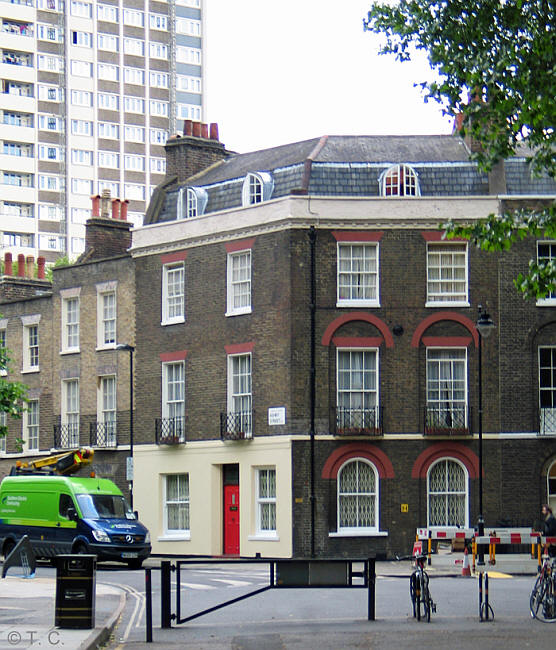 Ashby Castle, 10 Upper Ashby Street EC1 - in June 2013
Kindly provided by Tris
The following entries are in this format:
Residents at this address.
1813/Samuel Bees/victualler/../../Sun Fire Office records held at the London Metropolitan Archives ***

1815/Henry Burt/victualler/../../Sun Fire Office records held at the London Metropolitan Archives ***

1825/Mr Riley, Ashby Castle, Northampton square, Clerkenwell/../../Licensed Victuallers Association

1829/J Riley, Ashby Castle, 10 Upper Ashby street, Clerkenwell/../../Robsons Directory

1833-34/Thomas Liquorish, Ashby Castle, 10 Upper Ashby Street, Northampton square/../../Pigots Directory

1839/Grownlow Fall/../../../Pigots Directory

1842/B Fatt, Ashby Castle, Upper Ashby Street, Northampton Square/../../Robsons Directory

1846/William Rogers/../../../Post Office Directory

1848/Chas T Leale/../../../Post Office Directory *

1851/Chas T Leale/../../../Kellys Directory

1851/Thomas Leale/Victualler/38/West Cowes, Isle of Wight/Census
1851/Jane Leale/Wife/36/Bishopstoke, Hampshire/Census
1851/Elizabeth Woodford/Barmaid/19/Southwark, Surrey/Census
1851/Thomas Dapp/Waiter/24/St James, Middlesex/Census
1851/Jane Hannah/Cook, Widow/32/Scotland/Census

1856/William Alford/../../../Post Office Directory *

1862/John Carpenter/../../../Post Office Directory *

June 1865/John Carpenter/Outgoing Licensee/../../North London News

June 1865/Charles Dudley/Incoming Licensee/../../North London News

March 1866/Charles Dudley/License renewal/../Clerkenwell News

June 1866/Charles Dudley/Outgoing Licensee/../../Era

June 1866/F Splatt/Incoming Licensee/../../Era

July 1867 /George Mount/Outgoing Licensee/../../Era

July 1867 /Thomas Page/Incoming Licensee/../../Era

1869/Thomas P Moore/../../../Post Office Directory *

1871/Edward J Crowdy/Licensed Victualler/23/St Pancras/Census
1871/Sarah Crowdy/Mother, Widow/50/Brentwood/Census
1871/Mary Ann Crowdy/Sister/21/Kingsland/Census
1871/Ann Morris/Aunt/56/Brentwood/Census
1871/Dan Young/Potman/18/St Albans/Census



* Provided By Tris

*** Provided By Ewan