Search London wiki and Pub wiki history sites
All public house, restaurants, bars etc closed for the forseeable future from 20th March 2020, but this is a history site.
Builders Arms, 254 Pentonville road, Clerkenwell N1
Clerkenwell pub history index
The address is at 4 Pleasant Place (or 6 Pleasant Place), New Road in 1856 and earlier, prior to street renaming. *
Historical London public houses, Taverns, Inns, Beer Houses and Hotels.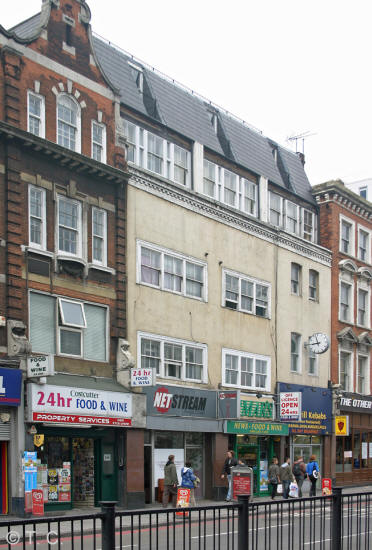 Builders Arms, 254 Pentonville Road N1 - in May 2010
Kindly provided by Tris
Residents at this address.
1848/James Sanders/beer retailer/../../Post Office Directory *

1851/James Sanders/beer retailer/../../Post Office Directory *

1856/Edwin Bennett/beer retailer/../../Post Office Directory *

1861/George Bird/Beerseller/29/Islington/Census *
1861/Mary Ann Bird/Wife/30/Twyford, Berkshire/Census
1861/Aurelia Cassie/Boarder, House Property/26/Twyford, Berkshire/Census
1861/Louisa Vassie/Boarder, Fund Holder/22/Twyford, Berkshire/Census
1861/George Bird/Son/2/Islington/Census
1861/Charles Neley/Servant/15/Huntingdonshire/Census
1861/Maria Woodyear/House Servant/14/London/Census

1867/Mr George Bird/Steward/../../LV Association

July 1867 /George Bird/Outgoing Licensee/../../Era

July 1867 /John Chase/Incoming Licensee/../../Era

1869/John Chase/../../../Post Office Directory

February 1870/Charlotte Porter/Outgoing Licensee/../../Era

February 1870/Joseph Hider/Incoming Licensee/../../Era

1871/Joseph Rider/Licensed Victualler/24/Clerkenwell, Middlesex/Census *
1871/Emily Rider/Wife/24/St Andrew, Middlesex/Census
1871/Garnham Victor/General Servant/19/London, Middlesex/Census
1871/Sarah Peblar/General Servant/18/Birmingham, Warwickshire/Census
1871/Charles J. Rider/Son/5 weeks/London, Middlesex/Census

1876/Joseph Rider/../../../Finsbury Petty Sessions

1877/John Butler/../../../Finsbury Petty Sessions

1878/John Butler/../../../Finsbury Petty Sessions

1879/John Butler/../../../Finsbury Petty Sessions

1880/John Butler/../../../Finsbury Petty Sessions

1881/John Butler/Licenced Victualler/42/Hastings, Sussex/Census
1881/Ellen Butler/Wife/38/Horsham Needing/Census
1881/Louisa Hatton/Barmaid/37/Norwich, Norfolk/Census
1881/Caroline Dawson/Domestic Servant/22/Barnsbury, Middlesex/Census

1881/John Butler/../../../Finsbury Petty Sessions

1882/John Butler/../../../Post Office Directory

1882/John Butler/../../../Finsbury Petty Sessions

1883/Ellen Butler/../../../Finsbury Petty Sessions

1884/Frederick Smedley Rich/../../../Finsbury Petty Sessions

1885/Walter Lewis Lewis/../../../Finsbury Petty Sessions

1886/William Geo Robert Hayes/../../../Finsbury Petty Sessions

1887/William Geo Robert Hayes/../../../Finsbury Petty Sessions

1888/William Geo Robert Hayes/../../../Finsbury Petty Sessions

1889/William Geo Robert Hayes/../../../Finsbury Petty Sessions

1890/William Geo Robert Hayes/../../../Finsbury Petty Sessions

1891/William Geo Robert Hayes/../../../Finsbury Petty Sessions

1892/William Geo Robert Hayes/../../../Finsbury Petty Sessions

1893/William Geo Robert Hayes/../../../Finsbury Petty Sessions

1894/Maurice Symonds/../../../Finsbury Petty Sessions

1895/Maurice Symonds/../../../Finsbury Petty Sessions

1899/Maurice Symonds/../../../Post Office Directory

1910/George Cunningham/../../../Post Office Directory

1915/George Cunningham/../../../Post Office Directory *

1921/F C Whitehead & George W Ellis/../../../Post Office Directory

1934/George Whitehead & Sons/../../../Kellys Directory

1938/George Whitehead & Sons/../../../Post Office Directory

1944/George Whitehead & Sons (London)/../../../Post Office Directory *



* Provided By Ewan