Search London wiki and Pub wiki history sites
All public house, restaurants, bars etc closed for the forseeable future from 20th March 2020, but this is a history site.
Alma, 78 Chapel Market, Clerkenwell N1
Clerkenwell pub history index
Formerly at 78 Chapel Street **
Historical London public houses, Taverns, Inns, Beer Houses and Hotels.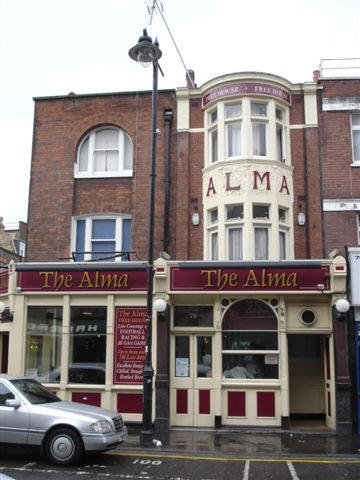 Alma, 78 Chapel Market, N1 - in May 2007
Kindly provided by Stephen Harris
Residents at this address.
1842/Robert Denham/beer retailer/../../Robson's Directory *

1848/Charles Bonnewell/beer retailer/../../Post Office Directory *

1856/John James Rowland/beer retailer/../../Post Office Directory *

1869/Alfred Davis/Beer Retailer/../../Post Office Directory

1881/Lewis Eversden/Beer Retailer/39/Ashwell, Hertford/Census
1881/Mary Ann Eversden/Wife, Straw Bonnet Maker/39/Ashwell, Hertford/Census
1881/Emily Jane Eversden/Daughter, Tailoress/16/Ashwell, Hertford/Census
1881/Laura Eversden/Daughter, Chocolate Packer/14/Ashwell, Hertford/Census
1881/Lewis Eversden/Son/9/Ashwell, Hertford/Census
1881/Mary Ann Eversden/Daughter/6/Ashwell, Hertford/Census
1881/Lillie Eversden/Daughter/1/Ashwell, Hertford/Census

1881/Louis Eversden/Beer Retailer/../../Post Office Directory

1882/Louis Eversden/beer retailer/../../Post Office Directory *

1888/Robert George Wakeford/Beer Retailer/../../Post Office Directory **

1891/Michael Duffy/beer retailer/../../Post Office Directory *

1895/Alfred Matthew Ventri/beer retailer/../../Post Office Directory *

1899/John Wilson/beer retailer/../../Post Office Directory *

1910/William Cawthorne/beer retailer/../../Post Office Directory *

1915/William Cawthorne/beer retailer/../../Post Office Directory *

1934/Charles Edward Pogson/beer retailer/../../Post Office Directory *

1934/Mrs Elsie Nora/beer retailer/../../Post Office Directory *

1938/Edward James Emerson/beer retailer/../../Post Office Directory *

1944/Mrs Helena Mary Emerson/beer retailer/../../Post Office Directory *

1971/A.D. Hollister/../../../BT Telephone Directory *



* Provided By Ewan

** Provided By Stephen Harris