Search London wiki and Pub wiki history sites
All public house, restaurants, bars etc closed for the forseeable future on 20th March 2020, but this is a history site. But how about the landlords give their tenants a break, no business, then please charge them no rent.
Clerkenwell Tavern, 106 Farringdon road, Clerkenwell EC1
Clerkenwell pub history index
At 1 Farringdon Road before 1910; For many latter years it was called the Penny Black. The pub closed in late 2000 and the premises are now in use as a restaurant. **
Historical London public houses, Taverns, Inns, Beer Houses and Hotels.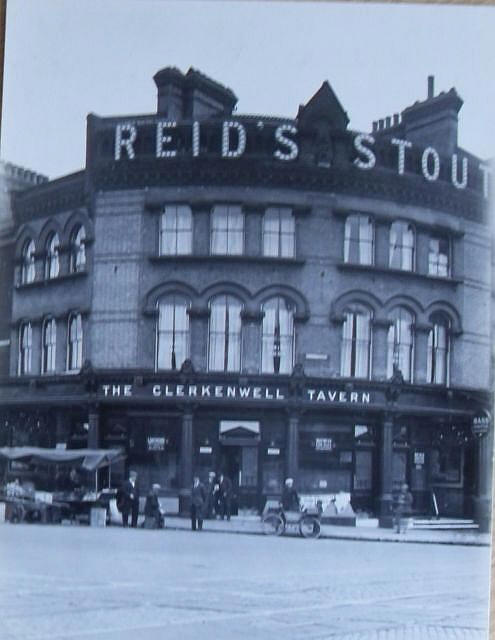 Clerkenwell Tavern - in the 1900s
Kindly provided by Colleen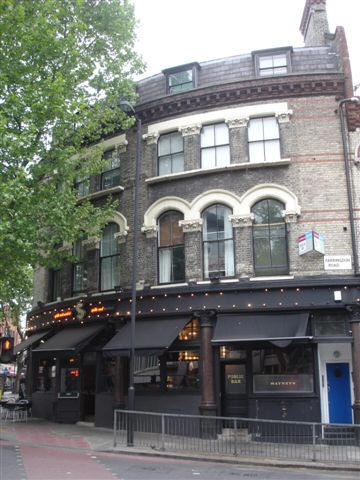 Clerkenwell Tavern, 1 Farringdon Road, EC1 - in May 2007
Kindly provided by Stephen Harris
Residents at this address.
1875/Geo Day/../../../Post Office Directory **

1876/George Day/../../../Finsbury Petty Sessions

1877/George Day/../../../Finsbury Petty Sessions

1878/John Thomas Smith/../../../Finsbury Petty Sessions

1879/John Thomas Smith/../../../Post Office Directory **

1879/Walter Goody/../../../Finsbury Petty Sessions

1880/Walter Goody/../../../Finsbury Petty Sessions

1881/W Goody/Licenced Victualler/34/Tilbury, Essex/Census
1881/A M Goody/Wife/29/Birmingham/Census
1881/M A Crisp/Sister In Law/26/Birmingham/Census
1881/E Bowyer/Sister In Law/24/Enfield Lock, Middlesex/Census
1881/S J Bowyer/Sister In Law/22/Enfield Lock, Middlesex/Census
1881/E Bowyer/Sister In Law/16/Enfield Lock, Middlesex/Census
1881/C Crisp/Nephew/3/Enfield Lock, Middlesex/Census
1881/C Perkins/Barman/28/Whaplod Linkonshire, Lincoln/Census
1881/H Smith/Barman/24/Devizes, Wiltshire/Census
1881/W Beor/Barman/20/Sudbury, Suffolk/Census

1881/Walter Goody/../../../Finsbury Petty Sessions

1882/Walter Goody & Co/../../../Post Office Directory

1882/Walter Goody/../../../Finsbury Petty Sessions

1883/Walter Goody/../../../Finsbury Petty Sessions

1884/Walter Goody/../../../Finsbury Petty Sessions

1885/Walter Goody/../../../Finsbury Petty Sessions

1886/Walter Goody/../../../Finsbury Petty Sessions

1887/Walter Goody/../../../Finsbury Petty Sessions

1888/Walter Goody/../../../Finsbury Petty Sessions

1889/Walter Goody/../../../Finsbury Petty Sessions

1890/Walter Goody/../../../Finsbury Petty Sessions

1891/Walter Goody/../../../Finsbury Petty Sessions

1892/Walter Goody/../../../Finsbury Petty Sessions

1893/Walter Goody/../../../Finsbury Petty Sessions

1894/Walter Goody/../../../Finsbury Petty Sessions

1895/Frederick Ernest Osborne/../../../Finsbury Petty Sessions

1899/Frederick Ernest Osborne/../../../Post Office Directory

1910/Frederick Ernest Osborne/../../../Post Office Directory

1915/Frederick Ernest Osborne/../../../Post Office Directory *

1921/Maurice W. C. Smith/../../../Hughes Directory *

1934/William Muir/../../../Kellys Directory

1938/Wm Muir/../../../Kelly's

1940/Wm Muir/../../../Post Office Directory

1944/Thomas James Collins/../../../Post Office Directory *



* Provided By Ewan

** Provided By Stephen Harris