Clown, 370 St John Street, Clerkenwell EC1V
Clerkenwell pub history index
The Curiosities of London - John Timbs 1868 states thus - "The public-house facing the iron gates leading to the Sadler's Wells Theatre, with the sign of The Clown, in honour of Grimaldi, who frequented the house, was, in his day, known as the King of Prussia, prior to which its Sign had been that of the Queen of Hungary. It is to this tavern, or rather to an older one upon the same site, that Goldsmith alludes in his Essay on the Vertatility of Popular Favour. "An alehouse-keeper," says he, "near Islington, who had long lived at the sign of The French King, upon the commencement of the late war with France, pulled down his own sign, and put up that of the Queen of Hungary. Under the influence of her red face and golden sceptre, he continued to sell ale till she was no longer the favourite of his customers; he changed her, therefore, some time ago for the King of Prussia, which may probably be changed in turn for the man that shall be set up for vulgar admiration." The oldest sign by which this house was distinguished was that of The Turk's Head.".
The Clown has been at 62 St John Street Road (e.g. in 1861) and 136 St John Street Road, and now stands at 370 St John Street. In its latter days it was called the New Clown - but it has been closed for a long time, serving now as a restaurant (2006). ** The address was at 62 St John Street Road in 1861 and earlier, and in 56 St John Street Road in 1842 and earlier, prior to street renumbering. It became 370 St John Street by 1910 following street renaming. *
Historical London public houses, Taverns, Inns, Beer Houses and Hotels.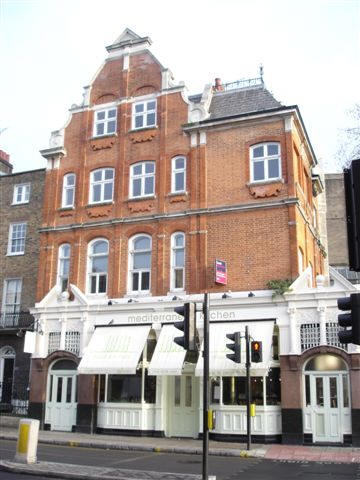 Clown, 370 St John Street - in December 2006
Kindly provided by Stephen Harris
Residents at this address.
1823/George Dell / Victualler /../../../Sun Fire Office records, held by Guildhall Library **

1833-34/John Baker, Clown, 56 St John Street road/../../Pigots Directory

1839/James Williamson/../../../Pigot's Directory **

1841/James Williamson/../../../Post Office Directory *

1848/William Tyler/../../../Post Office Directory

1851/Wm Tyler/../../../Kellys Directory

1856/William Tyler/../../../Post Office Directory

1861/Susannah Agg/Licensed Victuallers Wife/34/Kennington, Surrey/Census
1861/Jane Groom/Mother in Law, Widow/71/Chippenham, Wiltshire/Census
1861/George Baker/Nephew/13/Hendon, Middlesex/Census
1861/John Henderson/Waiter/39/Islington, Middlesex/Census
1861/Mary Ann Verney/House Servant/20/Islington, Middlesex/Census

Philip Jagels is at the London Hospital Tavern, Whitechapel in 1861

1862/Philip Jagels/../../../Post Office Directory **

March 1866/Philip Jagels/License renewal/../Clerkenwell News

1869/Philip Jagels/../../../Post Office Directory **

1879/Mrs Mary Ann Jagels/../../../Post Office Directory **

1881/Mary Ann Jagels/Licenced Victualler, Widow/63/Mile End/Census
1881/Phillip John Jagels/Son/29/St Lukes/Census
1881/Kate Jagels/Daughter/24/Whitechapel/Census
1881/Eujune Mary Gee/Niece, Barmaid/20/Aldersgate/Census
1881/Esther Ada Tucker/General Servant/22/Rotherhithe/Census
1881/George Cork/Potman/28/St Johns Margate, Kent/Census

1882/Mrs Mary Ann Jagels/../../../Post Office Directory

1884/Mary A Jagels/../../../Business Directory of London **

1891/William Thomas Richardson/../../../Post Office Directory

1895/Robert Dove/../../../Post Office Directory

1899/Wallace Gardiner Lewis/../../../Post Office Directory

1900/Alfred Bear/../../../Post Office Directory **

1910/Henry Skinner/../../../Post Office Directory *

1915/Herbert Hancock/../../../Post Office Directory *

1919/Mrs Mary Hancock/../../../Post Office Directory **

1921/Mary Hancock/../../../Hughes Directory

1938/William Martin Peters/../../../Post Office Directory *



* Provided By Ewan

** Provided By Stephen Harris

*** Curiosities of London - John Timbs 1868