Search London wiki and Pub wiki history sites
All public house, restaurants, bars etc closed for the forseeable future on 20th March 2020, but this is a history site. But how about the landlords give their tenants a break, no business, then please charge them no rent.
Coach & Horses, 2 St Johns Square, Clerkenwell, London EC
Clerkenwell pub history index
At 49 St Johns Square before renumbering to 2 St Johns Square by 1910; A pub has been present here or hereabouts since the early 16th century. It was rebuilt in 1975 and has been further modernised more recently. The pub was called the Coach & Horses until 1995 and has had several names since, now being called the Bear (2007). **
Historical London public houses, Taverns, Inns, Beer Houses and Hotels.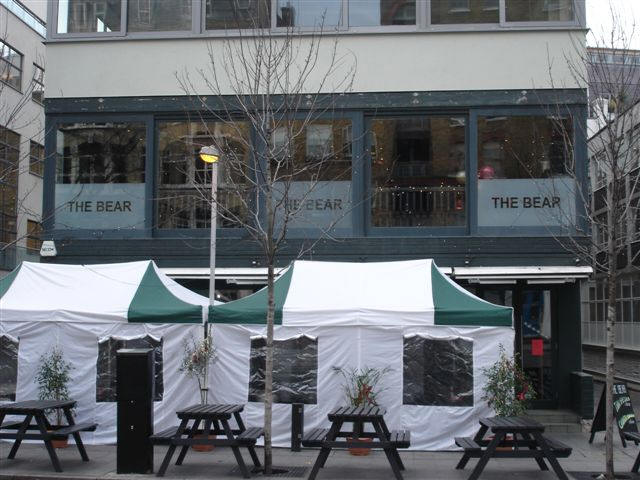 Coach & Horses, 2 St John's Square, EC1 - in December 2007
Kindly provided by Stephen Harris
Residents at this address.
1790/Mr Tilbrook/victualler/../../Sun Fire Office records held at the London Metropolitan Archives *

1790/Edward Tillbrook/victualler/../../Sun Fire Office records held at the London Metropolitan Archives *

1810/Alexander Anderson/victualler/../../Sun Fire Office records held at the London Metropolitan Archives *

1811/A Anderson, Coach & Horses, St John square, Clerkenwell/../../Holdens Directory

1825/Mr John Easterbrook/../../../Licensed Victuallers Association

1826/John Easterbrook/victualler/../../Sun Fire Office records held at the London Metropolitan Archives *

1829/Hannah Maria Easterbrook/victualler/../../Sun Fire Office records held at the London Metropolitan Archives *

1833-34/Hannah Maria Easterbrook, Coach & Horses, 49 St Johns square/../../Pigots Directory

1835/Thomas Piper/victualler/../../Sun Fire Office records held at the London Metropolitan Archives *

1838/William French/victualler/../../Sun Fire Office records held at the London Metropolitan Archives *

1839/William French/../../../Pigots Directory

1841/William French/../../../Post Office Directory *

1848/Thomas Hewett/../../../Post Office Directory

1851/George A Hewett/Licensed Victualler/23/Whitechapel/Census
1851/Sophia Hewett/Wife/22/Clerkenwell, Middlesex/Census
1851/Thomas Hewett/Brother, Licensed Victualler/38/Shoreditch, Middlesex/Census
1851/Charles W Hewett/Brother, Boot Maker/36/St Georges East, Middlesex/Census
1851/Ellen Sweeney/General servant/19/Ireland/Census

1851/Thomas Hewitt & George Alfred Hewitt/../../../Finsbury Petty Sessions

1855/Thomas Hewett/../../../Post Office Directory **

September 1864/G H T Dyer/Outgoing Licensee/../../Era

September 1864/William Game/Incoming Licensee/../../Era

April 1865/J P Game/ Outgoing Licensee /../../North London News

April 1865/James Game/ Incoming Licensee /../../North London News

March 1866/James Game/License renewal/../Clerkenwell News

1869/James Game/../../../Post Office Directory

1876/Henry Alexander Woodborne/../../../Finsbury Petty Sessions

1877/Henry Alexander Woodborne/../../../Finsbury Petty Sessions

1878/George White/../../../Finsbury Petty Sessions

1879/George White/../../../Finsbury Petty Sessions

1880/William Johnson/../../../Finsbury Petty Sessions

1881/William Johnson/Licenced Victualler/25/London City, Middlesex/Census
1881/Bertha E Johnson/Wife/27/East Farleigh, Kent/Census
1881/Esther F Johnson/Daughter/3/Northfleet, Kent/Census
1881/Bertha A Johnson/Daughter/5 months/Clerkenwell, Middlesex/Census
1881/Esther Smith/Sister, Widow/32/London City, Middlesex/Census
1881/Charlotte Down/Domestic Servant/14/Mile End, Middlesex/Census

1881/William Johnson/../../../Finsbury Petty Sessions

1882/William Johnson/../../../Post Office Directory

1882/William Johnson/../../../Finsbury Petty Sessions

1883/William Johnson/../../../Finsbury Petty Sessions

1884/Thomas King/../../../Finsbury Petty Sessions

1885/Thomas King/../../../Finsbury Petty Sessions

1886/Thomas King/../../../Finsbury Petty Sessions

1887/Thomas King/../../../Finsbury Petty Sessions

1888/Thomas King/../../../Finsbury Petty Sessions

1889/Thomas King/../../../Finsbury Petty Sessions

1890/Thomas King/../../../Finsbury Petty Sessions

1891/Thomas King/../../../Finsbury Petty Sessions

1892/Alice Durnells King [Exec]/../../../Finsbury Petty Sessions

1893/Alice Durnells King/../../../Finsbury Petty Sessions

1894/Alice Durnells King/../../../Finsbury Petty Sessions

1895/Harriet Harvey/../../../Finsbury Petty Sessions

1899/Mrs Harriet Harvey/../../../Post Office Directory

1901/Mrs Harriet Harvey/../../../Post Office Directory **

1910/Mrs Harriet Harvey/../../../Post Office Directory

1915/Mrs Harriett Harvey/../../../Post Office Directory *

1921/ Harriet Harvey/../../../Hughes Directory

1934/Herbert Middlemiss/../../../Kellys Directory

1935/Herbtert Middlemiss/../../../P.O. Directory **

1938/William Hy Feakins/../../../Post Office Directory

1944/Mrs Grace Ethel Cole/../../../Post Office Directory *



* Provided By Ewan

** Provided By Stephen Harris