Search London wiki and Pub wiki history sites
All public house, restaurants, bars etc closed for the forseeable future from 20th March 2020, but this is a history site.
Crown, 60 Winchester street, Clerkenwell N1
Clerkenwell pub history index
The address is at 60 Killick Street N1 by 1944, following street renaming. It is at 8 Winchester Street in 1882 and earlier, and is also listed as 8 New Winchester Street in 1856, prior to street renumbering. * Trading by at least the early 1960s but since demolished. ***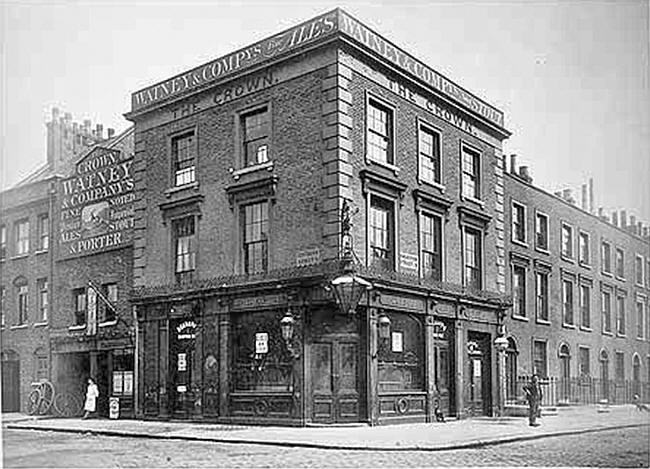 Crown, Winchester street (right) and Southern street (left), Clerkenwell - circa 1890
Kindly provided by Vincent O'Loughlin
Historical London public houses, Taverns, Inns, Beer Houses and Hotels.

Residents at this address.
1851/Vincent Simpson/Beer Seller/35/Middlesex/Census *
1851/Elizabeth Simpson/Wife/36/Maidenhead/Census

1856/Vincent Simpson/../../../Post Office Directory *

October 1859/Vincent Simpson/ Outgoing Licensee /../../The Era

October 1859/John Dalton/ Incoming Licensee /../../The Era

March 1866/Charles Hughes/License renewal/../Clerkenwell News

1869/C Hughes/../../../Post Office Directory

July 1871/Charles Hughes/Outgoing Licensee/../../Era Newspaper

July 1871/William Thomas Barrow/Incoming Licensee/../../Era Newspaper

1874/S. Whiter/../../../Licensed Victuallers and Hotel Keepers Directory *

1876/Eliza Jane Coombs/../../../Finsbury Petty Sessions


1876/John Moss Mayo/../../../Finsbury Petty Sessions


1877/John Moss Mayo/../../../Finsbury Petty Sessions


1878/Joshua Pattison/../../../Finsbury Petty Sessions


1879/Joshua Pattison/../../../Finsbury Petty Sessions


1880/Joshua Pattison/../../../Finsbury Petty Sessions


1881/Joshua Patterson/Licenced Victualler/41/Fakenham, Norfolk/Census

1881/Mary Patterson/Wife/42/Happislington, Norfolk/Census
1881/Frederick Cotton/Barman/29/London, Middlesex/Census
1881/Joseph Tampard/Pot Boy/15/London, Middlesex/Census

1881/Joshua Pattison/../../../Finsbury Petty Sessions


1882/Joshua Pattison/../../../Finsbury Petty Sessions


1883/Joshua Pattison/../../../Finsbury Petty Sessions


1884/Joshua Pattison/../../../Finsbury Petty Sessions


1885/Joshua Pattison/../../../Finsbury Petty Sessions


1886/Joshua Pattison/../../../Finsbury Petty Sessions


1887/Robert Thomas Meacock/../../../Finsbury Petty Sessions


1888/Elisha Francis Greenslade/../../../Finsbury Petty Sessions


1889/Elisha Francis Greenslade/../../../Finsbury Petty Sessions


1890/Emma Hammond/../../../Finsbury Petty Sessions


1891/Wm Hammond/../../../Post Office Directory

1891/William Hammond/Licensed Victualler/49/Huntingdonshire/Census *
1891/Emma Hammond/Wife/48/Ramsey/Census
1891/Gertrude K. Stivell/Visitor/20/Walsall/Census
1891/Georgina L. Lloyd/Barmaid/22/St Lukes/Census
1891/Annie Easter/Barmaid/22/Margate/Census

1891/George Clinton/../../../Finsbury Petty Sessions


1892/George Clinton/../../../Finsbury Petty Sessions


1893/Geo Thos Proctor/../../../Finsbury Petty Sessions


1893/George Morgan/../../../Finsbury Petty Sessions


1894/Thomas Searle/../../../Finsbury Petty Sessions


1895/Charles Albert Pay/../../../Finsbury Petty Sessions


The next entry suggests that Trade Directories can be a couple of years out of date !!

1895/George Morgan/../../../Post Office Directory

1899/George Latimer/../../../Post Office Directory

1901/John Barrett/Licensed Victualler/33/Woolwich/Census *
1901/Constance Barrett/Wife/27/Selhurst/Census
1901/Henry Barrett/Son/12/Marylebone/Census
1901/Jack Barrett/Son/3 months/Clerkenwell/Census
1901/Florence Smith/General Servant/24/Highgate/Census
1901/George Leetham/Barman/22/Foggethorpe, Norfolk/Census
1901/George Gardner/Barman/21/Kingston/Census

1910/Ernest Crook/../../../Post Office Directory

1915/Samuel Single/../../../Post Office Directory *

1921/Samuel Single/../../../Hughes Directory *

1934/Alfred Jn Pond/../../../Kellys Directory

1938/Alfred Jas Jennings/../../../Post Office Directory

1944/Alfred James Jennings/../../../Post Office Directory *



* Provided By Ewan

*** Provided By Tris