London Spa Tavern, 70 Exmouth street, Clerkenwell EC1
Clerkenwell pub history index
This pub was established before 1741. Address formerly given as 34 Rosoman Street. The pub closed in 2001 and now operates as a restaurant. **
The London Spa (Spaw) was rebuilt in brick in 1766-8, by John Wilkinson, its proprietor, with John Cole, a Whitecross Street bricklayer, and John Horn, another bricklayer who became a victualler and ran the establishment thereafter. It continued to incorporate a skittle ground, and was used by the Northampton Estate. The spring dried up in the early years of the nineteenth century, but the alehouse endured. *

Now sweethearts with their sweethearts go
To Islington or London Spaw,
Some go but just to drink the water, some for the ale which they like better. *
The address is given as 1 Exmouth Street in 1869 and earlier, prior to street renumbering. By 1944, it has become 70 Exmouth Market, the modern address, following street renaming. ***
Historical London public houses, Taverns, Inns, Beer Houses and Hotels.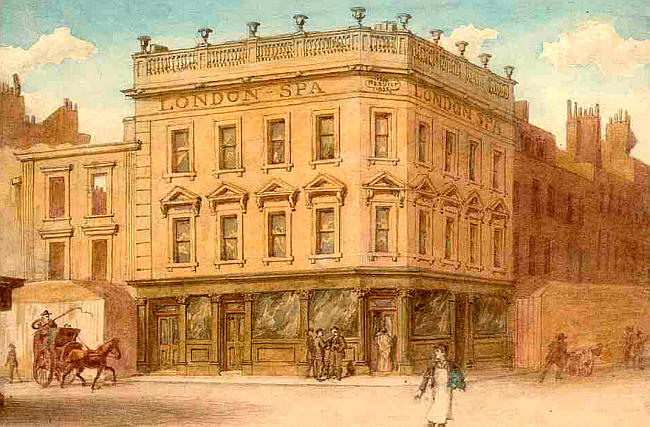 The London Spa, at corner of Exmouth Street (right) and Rosoman Street (left). Watercolour by J. P. Emslie, 1897, shortly before demolition.
Kindly provided by John Carnaby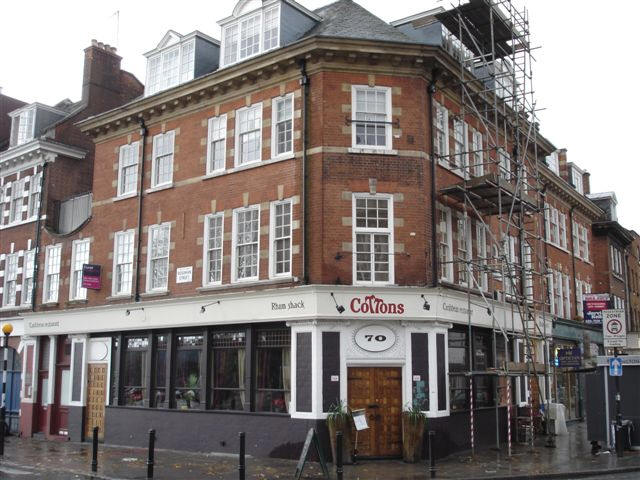 London Spa, 70 Exmouth Street - in December 2006
Kindly provided by Stephen Harris
Residents at this address.
1805/Thomas Llewellin, London Spa Tavern, Rosomon street, Clerkenwell/../../Holdens Directory

1811/William Tinkler, the London Spa, Rosomon street, Clerkenwell/../../Holdens Directory

1818/George Eady / Victualler /../../Sun Fire Office records held at Guildhall Library **

1824/William Drysdale/victualler/../../Sun Fire Office records held at the London Metropolitan Archives ***

1825/William Drysdale / Victualler /../../Sun Fire Office records held at Guildhall Library **

1828/Richard Goddard / Victualler and Wine & Spirit Merchant /../../Sun Fire Office records held at Guildhall Library **

1831/Richard Goddard / Victualler /../../Sun Fire Office records held at Guildhall Library **

1832/Richard Goddard/victualler and wine and spirit merchant/../../Sun Fire Office records held at the London Metropolitan Archives ***

1834/Rose Anna Goddard / Victualler and Wine & Spirit Merchant /../../Sun Fire Office records held at Guildhall Library **

1836/Henry Rawes Whittell / Victualler and Wine & Spirit Merchant /../../Sun Fire Office records held at Guildhall Library **

1837/Henry Rawes Whittell / Victualler and Wine & Spirit Merchant /../../Sun Fire Office records held at Guildhall Library **

1838/Richard Erlam / Victualler and Wine & Brandy Merchant /../../Sun Fire Office records held at Guildhall Library **

1839/Rd. Erlam/../../../Pigot's Directory **

1841/Richard Erlam/../../../P.O. Directory **

1848/Mrs Sarah Wells/../../../Post Office Directory ***

1850/John Treble/../../../P.O. Directory **

1856/James Wilson/../../../Post Office Directory ***

June 1865/John Ilgeo Evans/Outgoing Licensee/../../North London News

June 1865/Anthony Heath/Incoming Licensee/../../North London News

March 1866/Anthony Heath/License renewal/../Clerkenwell News

1869/Henry Finch/../../../Post Office Directory ***

January 1869/A Heath/Outgoing Licensee/../../Era

January 1869/Henry Jennings/Incoming Licensee/../../Era

November 1870/Henry Jennings/Outgoing Licensee/../../Era

November 1870/William Cook/Incoming Licensee/../../Era

1881/N Cook/Licensed Victualler/30/Bermondsey, Surrey/Census
1881/E A Cook/Wife/24/York/Census
1881/F C Cook/Visitor/24/Clerkenwell/Census
1881/K Kane/Domestic servant/26/Stepney/Census
1881/C A Barnes/Barman/19/Essex/Census
1881/S Mills/Barman/21/Kent/Census
1881/F Forte/Barman/18/Marylebone/Census
1881/W J Hood/Barman/15/Norfolk/Census
1881/G T Haslip/Barman/18/Southwark/Census
1881/W Styan/Barman/17/Manchester/Census

1882/Henry Finch/../../../Post Office Directory

1884/Henry Finch/../../../Post Office Directory

1891/Henry H Finch/../../../Post Office Directory

1895/Henry H Finch/../../../Post Office Directory

1899/Henry H Finch/../../../Post Office Directory

1901/Nathaniel Rolles/Manager Public House/28/Lambeth, London/Census
1901/Mary Ann Rolles/Wife/26/Stepney, London/Census
1901/Constance Rolles/Daughter/6 months/Clerkenwell, London/Census
1901/Thomas France/Barman/19/Westminster, London/Census
1901/Samuel Cockerill/Barman/16/Battersea, Surrey/Census
1901/Walter Beaumont/Barman/17/Surbiton, Surrey/Census
1901/Richard Good/Barman/18/Hackney, London/Census
1901/Charles Barrell/Barman/18/Romford, Essex/Census
1901/Thomas Hoddy/Barman/19/Domers Town, London/Census
1901/Ellen Grant/General Servant/20/Norwich, Norfolk/Census
1901/Kate Guiver/Nursemaid/14/Buckhurst Hill, Essex/Census

1907/Frederick Yorke / Manager /../../Proceedings of the Old Bailey **

1910/Hy H Finch/../../../Post Office Directory

1915/Henry Hobson Finch/../../../Post Office Directory ***

1921/Henry H. Finch/../../../Hughes Directory ***

1934/H H Finch Ltd/../../../Kellys Directory

1938/H H Finch Ltd/../../../Post Office Directory

1944/H. H. Finch Ltd/../../../Post Office Directory ***



* Provided By John Carnaby

** Provided By Stephen Harris

*** Provided By Ewan