Search London wiki and Pub wiki history sites
All public house, restaurants, bars etc closed for the forseeable future from 20th March 2020, but this is a history site.
Penton Arms, 54 Pentonville Road, Islington, London, N1 9HF
Clerkenwell pub history index
Now renamed the Castle (2007), a Youngs pub in 2017. *** The 1869 directory lists this at the junction with Baron Street, hence the earlier address at Baron Street in 1849. The directories list the address as 1 Claremont Place, Pentonville Road. The address is at 1 Claremont Place, New Road in 1856 and earlier, prior to street renaming. *
Historical London public houses, Taverns, Inns, Beer Houses and Hotels.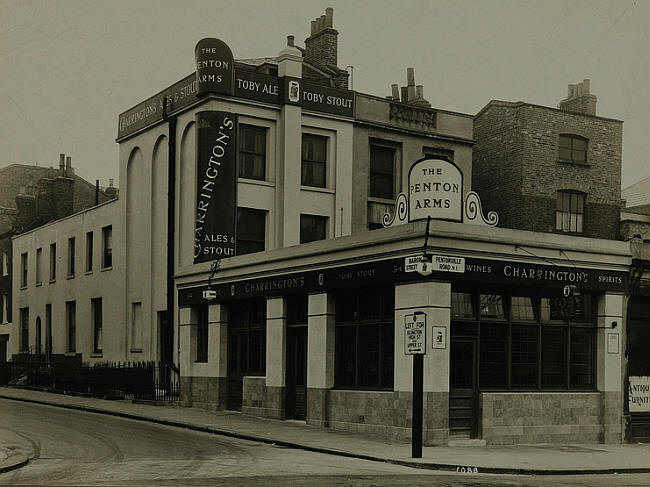 Penton Arms, 54 Pentonville Road, Clerkenwell, London N1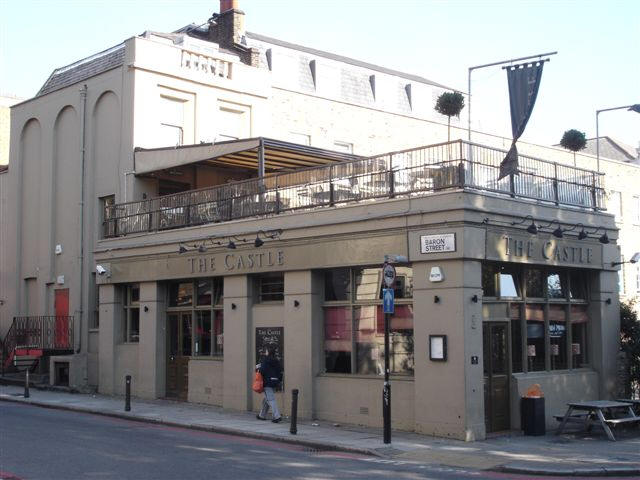 Penton Arms, 54 Pentonville Road, N1 - in October 2007
Kindly provided by Stephen Harris
The following entries are in this format:
Residents at this address.
1805/Sam Sapsworth, Penton Arms, Barron street, Pentonville/../../Holdens Directory

1825/Mr Tester, Penton Arms, Barron street, Pentonville/../../Licensed Victuallers Association

1827/George Testar, Penton Arms, Winchester place, Pentonville/../../Pigots Directory

George Testar is next to be found as licensee of the Cock, 20 Bow lane, Cheapside

1829/James Brearley, Penton Arms, Claremont Place, Pentonville/../../Robsons Directory

1833-34/James Brearley, Penton Arms, 1 Claremont Place, Pentonville/../../Post Office Directory

1837/James Sadd/victualler/Sun Fire Office records held at the London Metropolitan Archives *

1838/James Sadd, senr/victualler/../../Sun Fire Office records held at the London Metropolitan Archives *

1839/James Sudd../../../Pigots Directory

1848/Edward Barker/../../../Post Office Directory

February 1849/Edward Barker/Outgoing Licensee/../../Era

February 1849/Igal Hardman/Incoming Licensee/../../Era

1856/Hardyman & Co/../../../Post Office Directory

1861/Edmund Moojen/Licensed Victualler/44/South End, Kent/Census *
1861/Sarah Moojen/Wife/38/Fulham, Middlesex/Census
1861/Caroline Berry/Barmaid/28/Poplar, Middlesex/Census
1861/Mary Ann Jepson/Domestic Servant/18/City of Westminster/Census
1861/George Green/Potman/17/Islington, Middlesex/Census

March 1866/William Sidney Trery/License renewal/../Clerkenwell News

1869/Chas Trery/../../../Post Office Directory

1881/Henry M Morgan/Publican/34/Islington, Middlesex/Census
1881/Eliza J Morgan/Wife/31/Hornsey, Middlesex/Census
1881/Edith E Morgan/Daughter/2/Clerkenwell, Middlesex/Census
1881/George W Nash/Barman/26/Bath, Somerset/Census
1881/Edward A Bell/Barman/18/Belvedere, Kent/Census
1881/Martha Bennett/Cook/31/London City, Middlesex/Census
1881/Lousia Holyoak/Housemaid/21/Birmingham/Census

1882/Hy Nichols Morgan/../../../Post Office Directory

1883/Hy Nichols Morgan/../../../Post Office Directory **

1884/Harry N Morgan/../../../Post Office Directory **

1891/William Martin/../../../Post Office Directory

1895/William Llewellyn Jones/../../../Post Office Directory

1899/Alfred George Evans/../../../Post Office Directory **

1910/Henry Hansman/../../../Post Office Directory

1915/Ernest William Stevens/../../../Post Office Directory *

1921/Ernest William Stevens/../../../Post Office Directory

1934/Ernest William Stevens/../../../Kellys Directory

1934 - 1938/Thicke/../../../Leasehold

1938/Vivian Thicke/../../../Post Office Directory

1939/Parry/../../../Leasehold

1940/Copes Taverns/../../../Leasehold

1941 - 1942/Crease/../../../Leasehold

1943 - 1946/Greaver/../../../Leasehold

1944/Jack Greaver/../../../Post Office Directory

1947 - 1950/Mrs A R Greaver/../../../Leasehold

1951 - 1960/S Hill/../../../Leasehold

1961 - 1963/T L Lott/../../../Leasehold

1964 - 1965/J F Bessell/../../../Leasehold

1966/A E Orwell/../../../Leasehold

2017/../The Castle, 54 Pentonville Road, Islington, London, N1 9HF : Youngs../../../pub directory ***



* Provided By Ewan

** Provided By Stephen Harris