Search London wiki and Pub wiki history sites
All public house, restaurants, bars etc closed for the forseeable future on 20th March 2020, but this is a history site. But how about the landlords give their tenants a break, no business, then please charge them no rent.
New Red Lion, 292 St John street, Clerkenwell EC1V
Clerkenwell pub history index
At 24 St John Street Road in 1833, 1839 & 1843. At 30 St John Street Road in 1848 & 1851 - renumbered to 68 St John Street by 1871 and later to 292 St John Street, by 1910. This pub was often called the New Red Lion and has also traded as the Bull from 2000 to 2006. In 2006 it was renamed the Queen Boadicea. ** Renamed as the Blacksmith and the Toffeemaker in 2012. *
Historical London public houses, Taverns, Inns, Beer Houses and Hotels.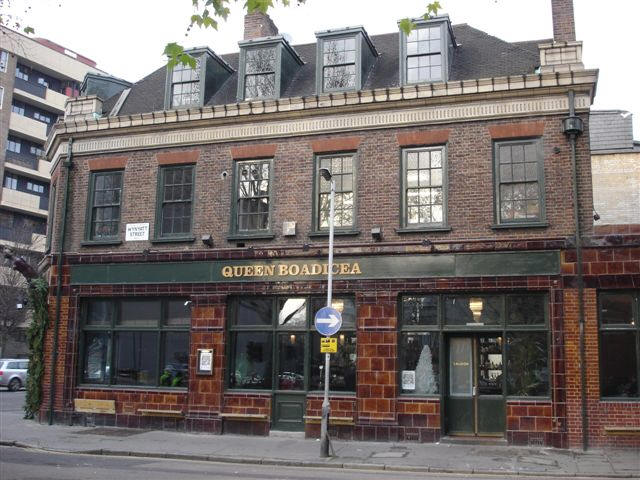 New Red Lion, 292 St John Street EC1- in December 2006
Kindly provided by Stephen Harris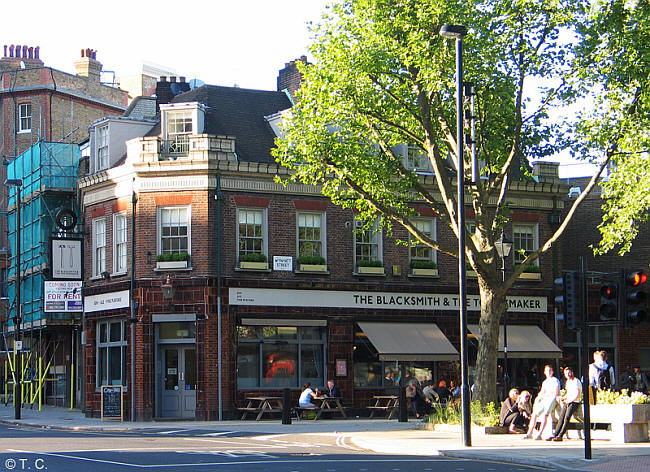 New Red Lion, 292 St. John Street, EC1 - in June 2013
Kindly provided by Tris
Residents at this address.
1809/Charles Barron/victualler, Red Lion/../../Sun Fire Office records held at the London Metropolitan Archives *+

1826/Charles Barron/victualler, Red Lion/../../Sun Fire Office records held at the London Metropolitan Archives *+

1829/William Griffith/victualler, Red Lion/../../Sun Fire Office records held at the London Metropolitan Archives *+

1833-34/Joseph Ashford, Red Lion, 24 St John street road/../../Pigot's Directory

George Testar is previously at the Cock, 20 Bow lane, Cheapside

1839/George Testar sen/../../../Pigots Directory

1841/George Testar, sen./../../../Post Office Directory *+

1841/George Testar/Publican/55/../Census
1841/Sarah Testar/../45/../Census
1841/Sarah Testar/../23/../Census
1841/Frederick Testar/../19/../Census
1841/Amelia Testar/../15/../Census
1841/William Testar/../7/Middlesex/Census
1841/Alfred Testar/../5/Middlesex/Census
1841/Henry Testar/../3/Middlesex/Census
1841/Peter Andrews/Independent/75/../Census
1841/Sarah White/Female Servant/20/../Census
1841/Betsy Addis/Female Servant/20/Middlesex/Census
1841/Samuel Russell/Potboy/14/Middlesex/Census

1843/George Testar sen/../../../Kellys Directory

1848/James Testar/../../../Post Office Directory

September 1849/Richard Reeve Pryke/Outgoing Licensee/../../Era

September 1849/Thomas Morris Hawey/Incoming Licensee/../../Era

1851/James Testar/../../../Kellys Directory

November 1853/Harriet Harling/ Outgoing Licensee /../../The Era

November 1853/Sarah Pearce/ Incoming Licensee /../../The Era

1856/William Goodchild/../../../Post Office Directory

1862/John Curtis/../../../Post Office Directory **

August 1862/Jonathan Jons/Outgoing Licensee/../../Era Newspaper

August 1862/William Hatswell/Incoming Licensee/../../Era Newspaper

March 1866/William Hatswell/License renewal/../Clerkenwell News

March 1866/Emily S Alderman/License renewal/../Clerkenwell News

November 1868/Ann Mills Hatswell/Outgoing Licensee/../../Era

November 1868/Benjamin Nicholas Verge/Incoming Licensee/../../Era

1869/Mrs E S Alderman/../../../Post Office Directory

1871/Emily S Alderman/Licensed Victualler, Widow/60/Cowes, Isle of Wight/Census
1871/Emily S Alderman/Daughter/21/Brompton/Census
1871/Lucy Boorer/Visitor/40/Chichester/Census
1871/Lizzie Goodwin/Barmaid/22/Brighton/Census
1871/Mary Kuliney/Barmaid/21/Warley, Essex/Census
1871/Ann Hughes/Servant/38/Shrewsbury/Census
1871/Richard Boyle/Servant/21/Chelsea/Census

January 1872/Emily S Aldermann/Outgoing Licensee/../../Era Newspaper

January 1872/Thomas Lansdown/Incoming Licensee/../../Era Newspaper

1879/Nathan Harris/../../../Post Office Directory **

1881/Nathan Harris/Licenced Victualler/48/Chatham, Kent/Census
1881/Louisa E Harris/Wife/35/Commercial Rd, Middlesex/Census
1881/Emily Harris/Daughter/13/Stepney, Middlesex/Census
1881/Esther Harris/Daughter/11/Stepney, Middlesex/Census
1881/Albert Harris/Son/10/Stepney, Middlesex/Census
1881/Winifred Harris/Daughter/8/Stepney, Middlesex/Census
1881/Blanche Harris/Daughter/7/Stepney, Middlesex/Census
1881/Arthur Harris/Son/6/Stepney, Middlesex/Census
1881/Harry Harris/Son/3/Clerkenwell, Middlesex/Census
1881/Florence Harris/Daughter/2/Clerkenwell, Middlesex/Census
1881/Alfred Harris/Son/1/Clerkenwell, Middlesex/Census
1881/Edwd Collard/Barman/19/Stepney, Middlesex/Census
1881/Geo Rain/Barman/23/Aldham, Essex/Census
1881/Emily Easton/Cook, Widow/43/Clerkenwell, Middlesex/Census
1881/Laura McCarthy/Nurse/17/Deptford, Kent/Census
1881/Charles Figby/Potman/21/Essex/Census

1882/Nathan Harris/../../../Post Office Directory

1884/Nathan Harris/../../../Post Office Directory

1891/Nathan Harris/../../../Post Office Directory

1891/Nathan Harris/Licenced Victualler/62/Chatham, Kent/Census
1891/Louisa Harris/Wife/42/Stepney/Census
1891/Emily Harris/Daughter/23/Limehouse/Census
1891/Albert Harris/Son, Barman/20/Limehouse/Census
1891/Winifred Harris/Daughter, Florist/18/Limehouse/Census
1891/Blanche Harris/Daughter/17/Limehouse/Census
1891/Arthur Harris/Son/16/Limehouse/Census
1891/Henry Harris/Son/13/Clerkenwell/Census
1891/Florry Harris/Daughter/12/Limehouse/Census
1891/Alfred Harris/Son/10/Limehouse/Census
1891/Lawrence Harris/Son/9/Limehouse/Census

1895/Nathan Harris/../../../Post Office Directory

1899/Nathan Harris/../../../Post Office Directory

1900/Nathan Harris/../../../Post Office Directory **

By the 1901 census, Nathan Harris and family are now at 25 Myddelton Road, Wood Green, as a publican still

I am the great-grandson of Florence Eveline Harris who was step-mum and landlady of the Earl of Essex pub, 25 Essex Road , Islington at the turn of the century. The landlord was Herbert Peacock who had two sons (Herbert and Charlie) and a daughter (Gladys).

AND on my grandmother's side of the family we owned the Red Lion in Clerkenwell, 68 St. John Street Road. The landlord Nathan Harris being my great-grandfather. ***

1910/Frans John Thomas/../../../Post Office Directory

1915/Albert Jonathan Hills/../../../Post Office Directory

1919/Arthur Jonathan Hills/../../../Post Office Directory **

1921/Arthur Jonathan Hills/../../../Post Office Directory

1934/Walter Percy Mole/../../../Kellys Directory

1938/Walter Percy Mole/../../../Post Office Directory

1944/C W Balsom & R L Hanlon/../../../Post Office Directory

* Provided by Tris

*+ Provided By Ewan

** Provided By Stephen Harris

*** Provided By David Elisha