Search London wiki and Pub wiki history sites
All public house, restaurants, bars etc closed for the forseeable future on 20th March 2020, but this is a history site. But how about the landlords give their tenants a break, no business, then please charge them no rent.
Union Tavern, 52 Lloyd Baker street, Clerkenwell WC1
Clerkenwell pub history index
The Union, Bagnigge Wells road in September 1850. The address of the Union Tavern is at 2 Kings Cross Road in 1869 and onwards, but also listed as at 52 Baker Street prior to this. A licensed premises has occupied this site since the 1740s, variously known as The Black Bull and The Bull in the Pound. This pub was named the Union in 1807, was rebuilt in 1819-1820 and again in 1877-78. *
Historical London public houses, Taverns, Inns, Beer Houses and Hotels.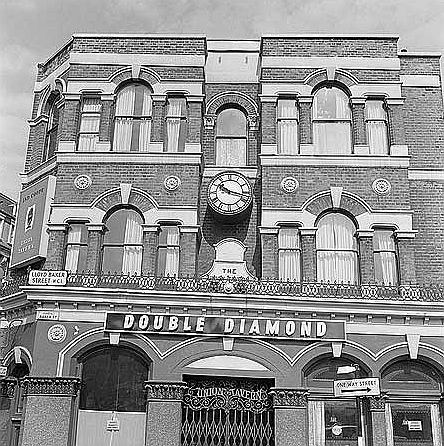 Union Tavern, 52 Lloyd Baker Street, WC1 - circa 1970
Kindly provided by John Carnabie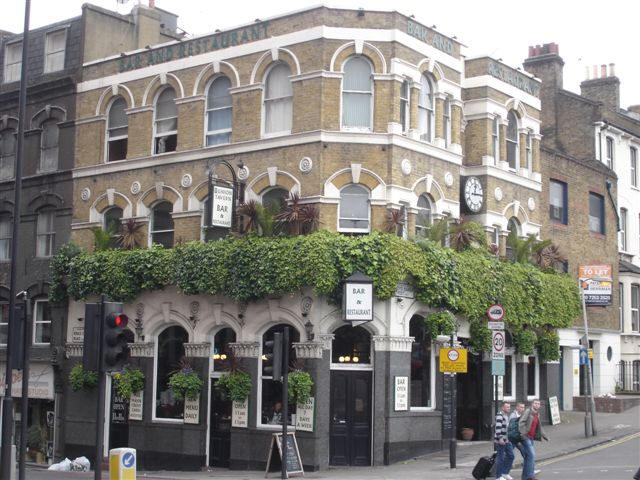 Union Tavern, 52 Lloyd Baker Street, WC1 - in May 2007
Kindly provided by Stephen Harris
Residents at this address.
1825/Mr & Mrs Carr, Union, Bagnigge Wells road/../../Licensed Victuallers Association

1827/Carr, Union, Bagnigge Wells road/../../Licensed Victuallers Association

1839/John Curtis/../../../Pigotís Directory **

1843/John Curtis/../../../Post Office Directory

1848/William Hurst/../../../Post Office Directory

July 1848/William Hurst, bankrupt/Outgoing Licensee/../../Era Newspaper

July 1848/Samuel Parker/Incoming Licensee/../../Era Newspaper

September 1849/David Robinson Watts/Outgoing Licensee/../../Era

September 1849/James Law/Incoming Licensee/../../Era

September 1850/James Law/Outgoing Licensee/../../Era

September 1850/Edwin Dean/Incoming Licensee/../../Era

1851/Edwin Dean/Licensed Victualler/36/Mattersea Thorp, Nottinghamshire/Census
1851/Jane Dean/Wife/33/Tickhill, Yorkshire/Census
1851/Mary Dean/Daughter/8/London/Census
1851/Emma Elizth Dean/Daughter/6/London/Census
1851/Jane Ann Dean/Daughter/5/London/Census
1851/Blanch Dean/Daughter/4/London/Census
1851/Alice Dean/Daughter/1/London/Census
1851/Fanny Dean/Daughter/5 months/London/Census
1851/Maryanne Dean/Visitor/8/Mattersea Thorp, Nottinghamshire/Census
1851/Edwin Dean/Visitor/17/Mattersea Thorp, Nottinghamshire/Census
1851/Joseph Higgs/Barman/22/Aylesbury, Buckinghamshire/Census
1851/oseph Ranson/Barman/19/Thurston, Suffolk/Census
1851/Anna Collins/Nursemaid/19/London/Census
1851/Ellen Donavan/House Servant/27/Castle Lyons, Scotland/Census

1856/Edwin Dean/../../../Post Office Directory

March 1866/Mary Hornshaw/License renewal/../Clerkenwell News

1869/Miss Mary Hornshaw/../../../Post Office Directory

June 1871/Mary Hornshaw/Outgoing Licensee/../../Era

June 1871/William Hornshaw Dean/Incoming Licensee/../../Era

1880/William Thomas Harvey/../../../Post Office Directory **

1881/W T Harvey/Licenced Victualler/44/Greenwich, Kent/Census
1881/E Harvey/Wife/44/St Pancras, Middlesex/Census
1881/L Harvey/Daughter/20/Vauxhall, Surrey/Census
1881/A Harvey/Daughter/17/Vauxhall, Surrey/Census
1881/H Harvey/Son/12/Vauxhall, Surrey/Census
1881/E Harvey/Son/3/Holborn, Middlesex/Census
1881/A Baily/Barman/22/St Pancras, Middlesex/Census
1881/G Gould/Bar Lad/19/Kennington, Surrey/Census
1881/E White/General Servant/28/Bristol/Census

1882/William Thomas Harvey/../../../Post Office Directory

1891/Thomas Wm Howard/../../../Post Office Directory

1899/Robert Hassell/../../../Post Office Directory

1910/Patrick Mordan Smith/../../../Post Office Directory

1934/Albert Geo Kendell/../../../Kellys Directory

1938/Albert Geo Kendell/../../../Post Office Directory



* Provided By Tris

** Provided By Stephen Harris