Search London wiki and Pub wiki history sites
All public house, restaurants, bars etc closed for the forseeable future from 20th March 2020, but this is a history site.
White Swan, 28 Farringdon road, Clerkenwell EC1
Clerkenwell pub history index
Ray Street in 1869 is near the junction of Farringdon Road; at 8 Ray Street in 1811 and the 1881 census, then the White Swan is listed as 28 Farringdon Road from 1884 onwards - This pub started life as the White Swan and was re-named City Pride in 1983, and still open for business in 2018. **
Historical London public houses, Taverns, Inns, Beer Houses and Hotels.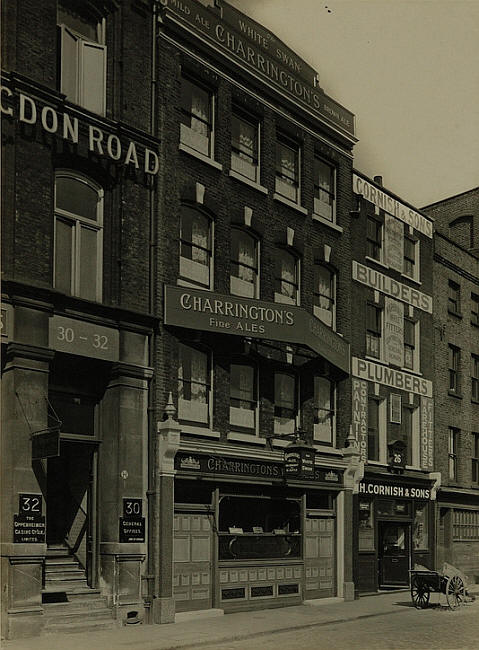 White Swan, 28 Farringdon Road, Clerkenwell, London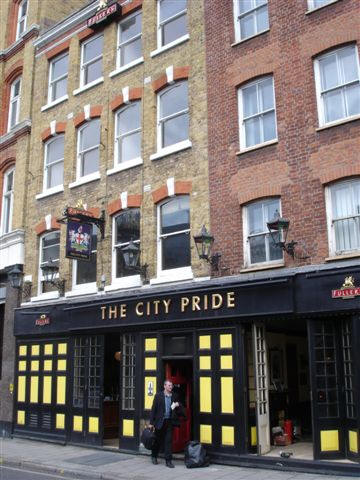 City Pride, 28 Farringdon Road, EC1 - in March 2007
Kindly provided by Stephen Harris
Residents at this address.
1811/Eliz Glossop, the White Swan, 8 Ray street, Clerkenwell/../../Holdens Directory

1832/_ Lyall/../../../Pigots Directory

1839/William Hart/../../../Pigots Directory

1842/William Hart/../../../Pigots Directory

1848/James Bowry/../../../Post Office Directory

1851/James Bowry/../../../Finsbury Petty Sessions

1851/James Bowry/Victualler/47/Egham, Surrey/Census
1851/Henrietta Bowry/Wife/50/Deptford, Kent/Census
1851/Henrietta Bowry/Daughter/17/Woolwich, Kent/Census
1851/James P Bowry/Son/11/Clerkenwell St James, Middlesex/Census
1851/Edward Bowry/Son/8/Woolwich, Kent/Census
1851/Matilda Nelson/House Servant/16/Stock, Essex/Census
1851/Mary Ann Gibson/Cook/20/Lincoln/Census
1851/Charles Stevenson/Waiter/22/St Giles, Middlesex/Census

1856/James Bowry/../../../Post Office Directory

March 1866/James Bowry/License renewal/../Clerkenwell News

November 1866/James Bowry/Outgoing Licensee/../../Era

November 1866/Maria Marshall/Incoming Licensee/../../Era

1869/Miss Marian Marshall, White Swan, 8 and 9 Ray street, Clerkenwell/../../Licensed Victuallers Association

1869/Miss Marian Marshal/../../../Post Office Directory

1881/Harry Kennet/Licenced Victualler/35/Westminster, Middlesex/Census
1881/Jane Kennet/Wife/32/Blackfriars, Surrey/Census
1881/Mary Nock/Niece/14/Brentford, Middlesex/Census
1881/George Norris/Servant/25/Essex/Census
1881/Martha Parish/Servant, Widow/49/Lambeth, Surrey/Census

1882/Harry Kennet/../../../Post Office Directory

1884/George Gruber/../../../Post Office Directory

1886/George Gruber/../../../Business Directory of London **

1891/Thomas Mowbray/../../../Post Office Directory

1895/Alfred King/../../../Post Office Directory

1899/George Hawkins/../../../Post Office Directory **

1901/George Hawkins/Licensed Victualler/28/Holborn, London/Census
1901/Grace Hawkins/Wife/27/Holborn, London/Census
1901/Grace Hawkins/Daughter/3/Holborn, London/Census
1901/Charles Davis/Barman/23/Holborn, London/Census
1901/Mancell Skinner/Servant, Dress Naker/26/Clerkenwell, London/Census
1899/George Hawkins/../../../Post Office Directory **

1909/Reginald James Crouch/../../../Post Office Directory **

1915/George Harry Blumer/../../../Post Office Directory

1921/Wm G Connelly/../../../Post Office Directory

1938/Stanley Northrop/../../../Post Office Directory **

1940/Stanley Northrop/../../../P.O. Directory **

1941/Stanley Northrop/../../../Post Office Directory **

1944/Mrs Florence Vetterlein/../../../Post Office Directory

1983/EC1 City Pride: Rumoured to be the name Fullers have chosen for their recently acquired pub, 'The White Swan' 28 Farringdon Lane. Possible opening by the end of 1983./../../Pub Directory

1991/EC1 City Pride: 28 Farringdon Lane EC1 : Fullers. CHISWICK. Formerly the White Swan (Charrington)../../../Pub Directory



** Provided By Stephen Harris