Search London wiki and Pub wiki history sites
All public house, restaurants, bars etc closed for the forseeable future from 20th March 2020, but this is a pub history site.
Bedford Head Hotel, 40 Maiden Lane, Covent Garden WC2
This pub was founded in 1739 as the Dukes Head, later becoming the Bedford Head, by 1792, and being rebuilt in its present form in 1873. In 1984 it was renamed the Maple Leaf. **
Historical London public houses, Taverns, Inns, Beer Houses and Hotels.
You may also wish to take a look at the St Clements Danes parish.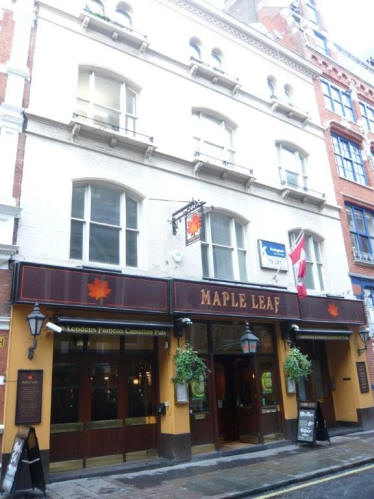 Bedford Head Hotel, 40/41 Maiden Lane, WC2 - in January 2009
Kindly provided by Stephen Harris
Residents at this address.
March 1792/William Garden, at Bedford Head in Maiden Lane Covent Garden, victualler/../../Sun Fire Insurance records held at the LMA

March 1801/William Garden, 40 Maiden Lane Covent Garden, victualler/../../Sun Fire Insurance records held at the LMA

1805/William Garden, Bedford Head, Maiden lane, Covent garden/../../Holdens Directory

April 1807/Dinah Garden, 40 Maiden Lane Covent Garden, victualler/../../Sun Fire Insurance records held at the LMA

1811/Dinah Garden, Bedford Head, Maiden lane, Covent garden/../../Holdens Directory

1819/Mr Wallis, Bedfords Head, Maiden lane, Covent garden/../../Licensed Victuallers Association

1825/Mr & Mrs Wallis, Bedfords Head tavern, Maiden lane, Covent garden/../../Licensed Victuallers Association

1832/William Givens, Bedford Head, 41 Maiden Lane, Covent Garden/../../Robsons Directory

1833-34/William Givens, Bedford Head, 41 Maiden Lane, Covent Garden/../../Pigots Directory

1839/Sarah Givens/../../../Pigots Directory

1842/S Givens/../../../Robsons Directory

1843/Mrs Sarah Givens , Bedford Head Tavern, 41 Maiden lane, Covent garden/../../Kellys Directory

1848/Mrs Sarah Givens/../../../Post Office Directory

1850/Mrs S Givens/../../../P.O. Directory **

1851/Mrs S Givens/../../../Kellys Directory

1851/Wiliam Ward/Wine Merchant/32/Canterbury, Kent/Census
1851/Jane Ward/Wife/33/Wrexham, Derbyshire/Census
1851/Edwin Ward/Brother, Porter/16/Canterbury, Kent/Census
1851/Charles Doughty Carter/Waiter/25/Weston, Lincolnshire/Census
1851/Jane Smith/Cook/25/Marylebone, Middlesex/Census

1856/William Ward/../../../Post Office Directory

1861/William Ward/Hotel Keeper/41/Petham, Kent/Census
1861/Jane Ward/Wife/45/Wrexham, Denbighshire/Census
1861/John Southcott/Boarder, Builder, Widow/68/Crediton, Devon/Census
1861/John Southcott/Boarder, Builder/39/Exeter, Devon/Census
1861/P M Southcott/Boarder/31/Newfoundland/Census
1861/Emma Moore/Boarder/37/Wrexham, Denbighshire/Census
1861/Samuel Blackburn/Boarder, Grocer/21/Coddington/Census
1861/Jane Moore/General Servant/15/Wrexham, Denbighshire/Census
1861/Mary A Smitherson/Barmaid/25/Stourbridge, Worcester/Census
1861/Kate Thompson/Barmaid/17/Anley, Staffordshire/Census
1861/William Daniels/Waiter/33/Rollesby, Norfolk/Census
1861/Alfred Wilson/Potman/19/Bury St Edmunds/Census
1861/James Ward/Brother, Servant/27/Chatham, Kent/Census

1862/William Ward/../../../Post Office Directory

1869/Mrs Jane Ward/../../../Post Office Directory

1871/William Lindsay/Licensed Victualler/45/Scotland/Census
1871/Mary A Lindsay/Wife/39/Poplar, Middlesex/Census
1871/Adelaide P Lindsay/Daughter/13/City of London, Middlesex/Census
1871/Annie O Lindsay/Daughter/../City of London, Middlesex/Census
1871/Phoebe J Goodchild/Sister in Law/32/Poplar, Middlesex/Census
1871/Thomas Wolfe/Lodger, Tailor/22/Cambridge/Census
1871/Alfred Roubic/Boarder, Licensed Victuallers manager/49/Hastings/Census
1871/Annie Dickenson/Barmaid/27/Pimlico, Middlesex/Census
1871/Clara Baskett/Barmaid/18/Camberwell, Surrey/Census
1871/John Harrison/Waiter/38/Greenwich. Kent/Census
1871/Eliza S Winslow/Cook/55/City of London/Census
1871/William Cronin/Potman/30/Southwark, Surrey/Census

1881/Alfred W H Dickinson/Hotel Proprietor/33/London, Middlesex/Census
1881/Adelaide A Dickinson/Wife/32/London, Middlesex/Census
1881/Alfred R S E Dickinson/Son/1/London, Middlesex/Census
1881/Rosanna B Fielding/Sister/13/London, Middlesex/Census
1881/William Preston/Visitor, Draper/40/Brentwood, Essex/Census
1881/Rose B Stothy/Visitor/14/London, Middlesex/Census
1881/Elizabeth F Green/Barmaid/19/Brighton, Sussex/Census
1881/Mary A Dudley/Barmaid/21/London, Middlesex/Census
1881/Annie Rixon/Domestic Servant/22/London, Middlesex/Census
1881/Annie A Worley/Domestic Servant/19/London, Middlesex/Census

1882/Alfred Walter Harvey Dickinson/../../../Post Office Directory

1884/Alf W Dickinson/../../../Post Office Directory

1899/George Henry Thurston/../../../Post Office Directory

1900/Marshall Brothers/../../../P.O. Directory **

1910/Sidney Yardley & Co Ltd/../../../Post Office Directory

1915/Sidney Yardley & Co Ltd/../../../Post Office Directory

1921/Glaze Bros. Ltd/../../../Kelly's P.O. Directory **

1934/James Russell/../../../Kellys Directory

1938/Goodhews Ltd/../../../Post Office Directory

1944/Goodhews Ltd/../../../Post Office Directory



** Provided By Stephen Harris