Search London wiki and Pub wiki history sites
All public house, restaurants, bars etc closed for the forseeable future from 20th March 2020, but this is a pub history site.
Coach & Horses, 42 Wellington street, Covent Garden WC2
Covent Garden index
Existed from at least 1848. At 11 Upper Wellington Street in 1856 and earlier.
Historical London public houses, Taverns, Inns, Beer Houses and Hotels.
You may also wish to take a look at the St Clements Danes parish.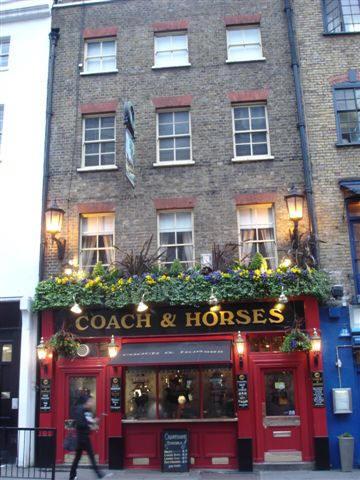 Coach & Horses, Wellington Street -in March 2007
Kindly provided by Stephen Harris
Residents at this address.
1848/George Morris/../../../Post Office Directory

1851/George Morris/../../../Kellys Directory

1851/George Morris/Licensed Victualler/41/Aston on Trent, Derby/Census
1851/Elizabeth Ann Morris/Wife/31/Finsbury, Middlesex/Census
1851/Elizabeth Mary Morris/Daughter/8/Bethnal Green, Middlesex/Census
1851/George Bence Morris/Son/2/St Pauls Covent Garden, Middlesex/Census
1851/Charles Morris/Son/1/St Pauls Covent Garden, Middlesex/Census
1851/Emily Ann Morris/Daughter/1 month/St Pauls Covent Garden, Middlesex/Census
1851/Jane Morris/Sister/20/Newark, Nottingham/Census
1851/Thos Henry Caslake/Potman/19/Chelsea, Middlesex/Census
1851/Mary Ann White/Nursemaid/20/City of London, Middlesex/Census

1856/George Barr/../../../Post Office Directory

1861/William Green/Victualler/30/St Marylebone, Middlesex/Census
1861/Maria Green/Wife/22/St Pancras, Middlesex/Census
1861/Alice Maud Green/Daughter/2/Camberwell, Surrey/Census
1861/Sarah Green/Mother, Wife or retired Oilman/60/Middlesex/Census
1861/Ellen Hudson/Servant/20/Holt, Norfolk/Census

January 1862/William Green/Outgoing Licensee/../../Era

January 1862/Edwin Marshall/Incoming Licensee/../../Era

March 1867/Edwin Marshall/Outgoing Licensee/../../Era

March 1867/William Windsor/Incoming Licensee/../../Era

1869/William Windsor/../../../Post Office Directory

1871/William Windsor/Publican/41/London, Middlesex/Census
1871/Emily Windsor/Wife/33/London, Middlesex/Census
1871/Elizabeth Forster/Aunt/65/Devonshire/Census
1871/Sarah McLachlan/Aunt?/53/Devonshire/Census
1871/Emma Godfrey/General Servant/19/Essex/Census
1871/Mary Coad/Barmaid/21/London, Middlesex/Census
1871/Daniel Roe/Potman/22/Southwark, Surrey/Census

1881/Emily Windsor/Licensed Victualler, Widow/42/Westminster, Middlesex/Census
1881/William Windsor/Son/16/St Georges, Middlesex/Census
1881/Jane Trumaine/Barmaid/33/Bloomsbury, Middlesex/Census
1881/Elizabeth Gayford/Servant/46/Bermondsey, Middlesex/Census
1881/Robert Guthwaite/Potman/25/St Martins, Middlesex/Census

1882/Mrs Emily Windsor/../../../Post Office Directory

1899/Alfred Abrahams/../../../Post Office Directory

1901/Horace Abrahams/Publican/33/Whitechapel, London/Census
1901/Nellie Abrahams/Wife/26/Salisbury, Wilts/Census
1901/Ellen Windle/Cook/21/Islington, London/Census
1901/Maud A Kessler/Barmaid/19/Brighton, Sussex/Census
1901/Amy Dove/Barmaid/20/Kennington, London/Census
1901/Florence Smith/Barmaid/19/Greenwich, London/Census

1910/Alfred Abrahams/../../../Post Office Directory

1921/S Martin/../../../Hughes Directory

1938/Mrs Daisy Phillips/../../../Post Office Directory

1944/Mrs Daisy Phillips/../../../Post Office Directory



** Provided By Stephen Harris