Search London wiki and Pub wiki history sites
All public house, restaurants, bars etc closed for the forseeable future from 20th March 2020, but this is a history site.
Essex Serpent, 6 King street, Covent Garden WC2
Covent Garden index
Existed from at least 1805.
Historical London public houses, Taverns, Inns, Beer Houses and Hotels.
You may also wish to take a look at the St Clements Danes parish.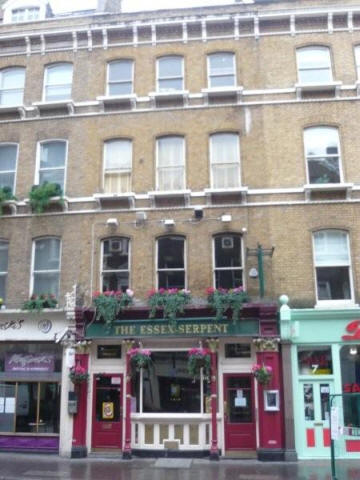 Essex Serpent, 6 King Street, WC2 - in November 2008
Kindly provided by Stephen Harris
Residents at this address.
1805/William Nurse, the Essex Serpent, King street, Covent garden/../../Holdens Directory

April 1809/William Nurse, 6 King Street, Covent Garden victualler/../../Sun Fire Insurance records held at the LMA

June 1817/William Nurse, 6 King Street, Covent Garden victualler/../../Sun Fire Insurance records held at the LMA

February 1818/William Nurse, 6 King Street, Covent Garden victualler/../../Sun Fire Insurance records held at the LMA

February 1820/Peter Clark, 6 King Street, Covent Garden victualler/../../Sun Fire Insurance records held at the LMA

1825/Mr. Turpin, Old Essex Serpent, King street, Covent Garden/../../Licensed Victuallers Association

February 1823/William Turpin of the Essex Serpent, King Street Covent Garden victualler/../../Sun Fire Insurance records held at the LMA

May 1833/William Turpin, of the 'Essex Serpent' 6 King Street Covent Garden, victualler/../../Sun Fire Insurance records held at the LMA

1833-34/William Turpin, Essex Serpent, 6 King Street, Covent garden/../../Pigots Directory

1839/William Turpin/../../../Pigots Directory

1848/William Turpin/../../../Post Office Directory

1851/William Turpin/../../../Kellys Directory

1851/William B Turpin/Licensed Victualler/32/St Pauls, Westminster, Middlesex/Census
1851/Mary Turpin/Wife/33/Dulwich, Surrey/Census
1851/Mary A Turpin/Daughter/9/St Pauls, Westminster, Middlesex/Census
1851/Elizabeth Webb/Barmaid/26/Dulwich, Surrey/Census
1851/kate Grylls/Barmaid/17/Somers Town, Middlesex/Census
1851/Ann Stone/General Servant/26/Westerham, Kent/Census
1851/Charles Prentice/Waiter/35/Colchester, Essex/Census
1851/John Brown/Waiter/29/Westminster, Middlesex/Census

April 1854/William Boxall Turpin and Francis Peachey/Outgoing Licensee/../../Era Newspaper

April 1854/the said William Boxall Turpin/Incoming Licensee/../../Era Newspaper

1856/Thomas G Bartlett/../../../Post Office Directory

1861/Joseph Brown/Licensed Victualler/49/Boston, Lincoln/Census
1861/Mary Ann Brown/Wife/45/Boston, Lincoln/Census
1861/Joseph Brown/Son, Watch Finisher/18/Boston, Lincoln/Census
1861/Susan Brown/Daughter/20/Boston, Lincoln/Census
1861/Fanny Rowe/Servant/22/Blyford, Suffolk/Census
1861/John Keeley/Potman/23/St james, Westminster/Census

1867/Augustus Freeman/../../../Licensed Victuallers Association

1869/Augustus Freeman/../../../Post Office Directory

1871/Augustus Freeman/Licensed Victualler/35/Cheltenham, Gloucester/Census
1871/Elizabeth Warrington/House Keeper/25/London, Middlesex/Census
1871/Susan Dawkins/General Servant/51/Much Marle?, Gloucester/Census
1871/Susan Dawkins/Visitor/17/London, Middlesex/Census
1871/Lewis Saunders/Pot Man/20/London, Middlesex/Census

1873/August Freeman/../../../Post Office Directory **

1881/August Freeman/Licensed Victualler, Widow/49/Tewkesbury, Gloucester/Census
1881/Ellen Freeman/Daughter/16/London, Middlesex/Census
1881/Mrs King/Housekeeper, Widow/30/London, Middlesex/Census
1881/Jane Quine/General Servant/29/London, Middlesex/Census

1882/August Freeman/../../../Post Office Directory

1885/August Freeman/../../../Post Office Directory **

1899/August Freeman/../../../Post Office Directory

1900/Henry Carman & Charles Gainsford/../../../Post Office Directory **

1938/Cyril A Williams/../../../Post Office Directory



** Provided By Stephen Harris