Search London wiki and Pub wiki history sites
All public house, restaurants, bars etc closed for the forseeable future from 20th March 2020, but this is a history site.
Sir John Falstaff, 29 Catherine street, Covent Garden WC2
Existed from at least 1839. In 1869 and earlier this Pub is listed as 15 Brydges Street, Covent Garden, and renamed to Catherine Street by 1881. This pub was first licensed in 1835. It was rebuilt in 1883 and in 1965 was re-named Nell of Old Drury, the name still in use today (2008). ***
Historical London public houses, Taverns, Inns, Beer Houses and Hotels.
You may also wish to take a look at the St Clements Danes parish.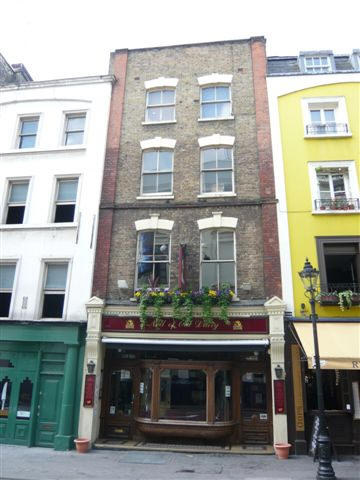 Sir John Falstaff, 29 Catherine Street, WC2 - in May 2008
Kindly provided by Stephen Harris
Residents at this address.
1839/Henry Milner/../../../Pigots Directory

1841/H Milner/../../../Post Office Directory

1843/Henry Milner/../../../Kellys Directory

1848/John Janes/../../../Post Office Directory

February 1851/John Proctor/Outgoing Licensee/../../Era Newspaper

February 1851/Mary Knight//Incoming Licensee/../../Era Newspaper

1851/Mary Knight/Tavern Keeper, Widow/56/Falmouth, Cornwall/Census
1851/John Thomson/Son in Law, Barman/30/Bristol, Somerset/Census
1851/Mary Ann Thomson/Daughter, Barmaid/30/London/Census
1851/Charlotte Thomson/Grand Daughter/8/London/Census
1851/James Robinson/Servant/33/Bristol, Somerset/Census
1851/William Kennick/Potman/18/London/Census
1851/Chas Andrews/Lodger, Gentleman/65/London/Census

October 1853/Abraham Myers/Outgoing Licensee/../../Era

October 1853/John Hight/Incoming Licensee/../../Era

1856/John Hight/../../../Post Office Directory

1861/Henry Holloway/Victualler/22/Hampstead, Middlesex/Census
1861/Naomi Holloway/Wife/26/Frant, Sussex/Census
1861/James Hewett/Waiter/14/St Martins in the Fields, Middlesex/Census

March 1867/John Thomas Roberts/Outgoing Licensee/../../Era Newspaper

March 1867/Samuel Brunt/Incoming Licensee/../../Era Newspaper

1869/Henry John Gravins/../../../Post Office Directory

1871/Henry John Gravius/Licensed Victualler/43/Plymouth, Devon/Census
1871/H Gravius/Wife/43/Greenwich, Kent/Census
1871/Mary Ann H??/Domestic Servant/18/Appledore, Kent/Census
1871/Sarah Ann Todd/Domestic Servant/19/Croydon, Surrey/Census
1871/John Adams/Potboy/23/Kingston, Middlesex/Census

1881/Henry Geavins/Publican/52/Plymouth/Census
1881/Maria Geavins/Wife/?/Greenwich, Kent/Census
1881/Polly Chapman/Barmaid/26/Westr/Census
1881/Jessy Holloway/Barmaid/19/Pimlico/Census
1881/Mary Fitzgerald/Barmaid/21/Old Kent Rd, Surrey/Census

1882/Hy John Gravins/../../../Post Office Directory

1891/James Clark/../../../Post Office Directory

1891/John Fennell/../../../Post Office Directory

1892/James Clark/../../../Post Office Directory

1899/Samuel Richards/../../../Post Office Directory

1899/In the Court of Bankruptcy, on the 28th ult, before Mr Registrar Brougham, came up the affairs of Mr Samuel Richards, who stated that he was known as, and had traded in the name of, Samuel Richards at the Falstaff Tavern, Catherine Street, Strand. He started as a Licensed Victualler in 1896 at the Spread Eagle, Oxford Street, with the assistance of money provided by his wife, known on the music hall stage as Miss Amy Tilley. He was formally a music hall artist and song writer. The liabilities are returned at £3,126, and the assets at £238. The assistant receiver stated that the accounts required amendment, and the debtor not being in attendance, the sitting was adjourned./Bankruptcy hearing *

1915/Geo Alfred Mann/../../../Post Office Directory

1921/Geo Alfred Mann/../../../Post Office Directory

1924/A R Stack/../../../BT Telephone Directory [Regent 1996]

1926/A R Stack/../../../BT Telephone Directory [Regent 1996]



* Provided By Julia Quinlan

** Provided By Stephen Harris