Toms coffee house, 17 Russell street, Covent Garden WC2
TOMS COFFEE-HOUSE, 17 Russell street, Covent garden.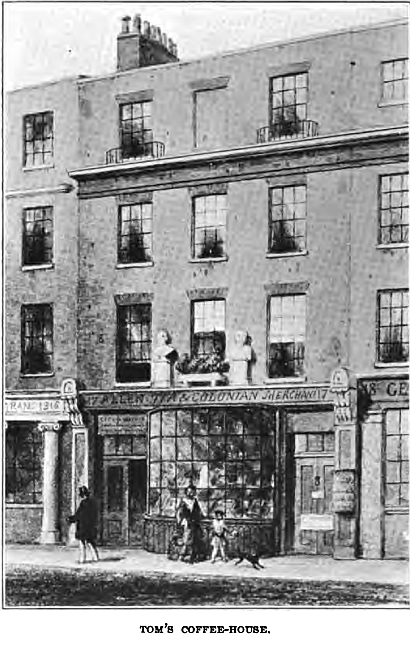 Covent Garden index
This coffee house was run in the latter days of its existence but my Great Great Great Great Grandfather Thomas Haines. The rooms once the club shut were then used by Coin Dealer William Till (a very distant ancient cousin of mine) in the 1830's and then followed by coin dealer William Webster, my Great Great Grandfather and son in law of the owner of the building. On higher resolution pictures of this picture, you can read William Webster on the door. There were 3 Tom's Coffee Houses across London I believe but this is the one that the actor Garrick frequented as it was close to Covent Garden / Dury Street theatres. The Club Subscription Books, Painting of owner Haines and his Snuff Box were all in the Webster family up until the turn of last century when they all went to auction and are in museums around the country now. At the point of the picture (around 1860, building pulled down in 1865 I think) there were 2 families in the building , The Allen's who were Tea Dealers and the Websters. * Coffee Houses - Strand and Covent Garden "Judging from a poetical allusion of 1703, Tom's coffee-house was at that time a political resort. A little later it was distinguished for its fashionable gatherings after the theatre. A traveller through England in 1722 records that at Tom's there was "playing at Picket, and the best of conversation till midnight. Here you will see blue and green ribbons and Stars sitting familiarly, and talking with the same freedom as if they had left their quality and degrees of distance at home." But the most interesting picture of this house is given by William Till. He writes: "The house in which I reside was the famous Tom's Coffee-House, memorable in the reign of Queen Anne; and for more than half a century afterwards: the room in which I conduct my business as a coin dealer is that which, in 1764, by a guinea subscription among nearly seven hundred of the nobility, foreign ministers, gentry, and geniuses of the age--was made the card-room, and place of meeting for many of the now illustrious dead, and remained so till 1768, when a voluntary subscription among its members induced Mr. Haines, the then proprietor, to take in the next door westward, as a coffee-room; and the whole floor _en_ suite was constructed into card and conversation rooms." It seems that the house took its name originally from the first landlord, a Captain Thomas West, who, driven distracted by the agony of gout, committed suicide by throwing himself from his own windows".
A listing of historical London public houses, Taverns, Inns, Beer Houses and Hotels in Covent Garden, London.
Residents at this address.
1811/Haines & Budd, Toms Subscription house, 17 Russell street, Covent garden/../../Holdens Directory

1832/William Till, 17 Great Russell street, Covent garden/../../Robsons Directory

1842/William Till, dealer in coins, 17 Great Russell street, Covent garden/../../Robsons Directory



* provided by Mike Webster