Search London wiki and Pub wiki history sites
All public house, restaurants, bars etc closed for the forseeable future on 20th March 2020, but this is a history site. But how about the landlords give their tenants a break, no business, then please charge them no rent.
Plough, 53 Fore street, Cripplegate EC2
Cripplegate pub history index
Existed from at least 1807. It was an ancient city inn and was completely destroyed by a bomb in 1940, along with St Alphage church next door. A modern replacement pub was built on the site during the 1960s redevelopment of the Barbican area - in 1964. This pub subsequently closed in 2006 and now lies empty (2006). **
Historical London public houses, Taverns, Inns, Beer Houses and Hotels.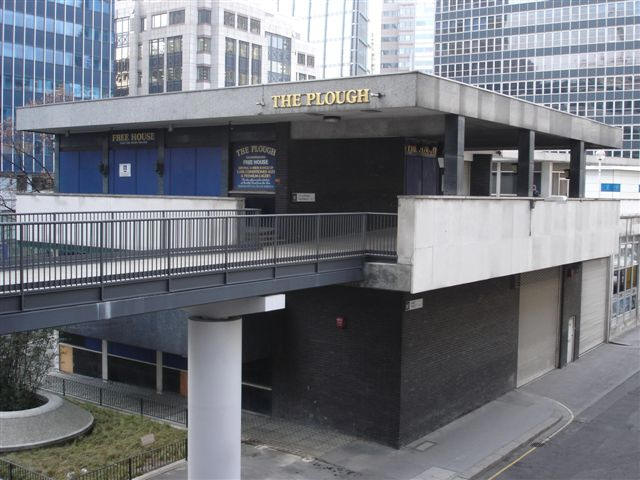 Plough, St Alphage Highwalk, 2 Fore Street - in December 2006
Kindly provided by Stephen Harris
Residents at this address.
1807/Christopher Beck / Victualler/../../Sun Fire Office records, held at Guildhall Library **

1811/Bevains / Victualler/../../Sun Fire Office records, held at Guildhall Library **

1820/Horne / Victualler/../../Sun Fire Office records, held at Guildhall Library **

1825/Mr. John Horn, Plough, Fore street Cripplegate /../../Licensed Victuallers Association

1833-34/John Horn, Plough, 53 Fore Street, Cripplegate/../../Pigot's Directory

1839/Charles Brown/../../../Pigots Directory

1841/Mrs Charlotte Brown/../../../P.O. Directory **

1843/Mrs Charlotte Brown/../../../P.O. Directory

1848/Henry Girle/../../../Post Office Directory

1851/Robert Trahern/../../../Kellys Directory

1851/Robert Trahern/Victualler/49/London/Census
1851/Nancy Trahern/Wife/51/Essex/Census
1851/Charles Weatherall/Potman/22/London/Census

July 1853/Robert Trahern/Outgoing Licensee/../../Era

July 1853/William James Barrett/Incoming Licensee/../../Era

July 1854/William James Barrett/Outgoing Licensee/../../Era

July 1854/James Search/Incoming Licensee/../../Era

1856/Charles Ince/../../../Post Office Directory

1869/Robert Riches/../../../Post Office Directory

February 1875/Ann Bell/Outgoing Licensee/../../London Evening Standard

February 1875/Robert Anthony Davies/Incoming Licensee/../../London Evening Standard

1881/John T Cakebread/Licensed Victualler/32/Bethnal Green/Census
1881/Rachel Cakebread/Wife/26/Farrington St City/Census
1881/Charlotte Cakebread/Daughter/3/Commercial St/Census
1881/Alfred Millard/Barman/24/Gilspur St/Census
1881/Henry Byeater/Barman/29/Dublin/Census
1881/Harriet Calbett/Cook/25/Greenwich/Census
1881/Ellen Dwyer/Housemaid/20/London, Middlesex/Census
1881/Lizzie Lamont/Lizzie L/20/Rotherhithe/Census

1884/John Cakebread/../../../Post Office Directory

1891/Thomas Coulston/../../../Post Office Directory

1891/Emily A Gabriel/Barmaid/21/Walworth, Surrey/Census
1891/Emily Row/Barmaid/22/Clerkenwell/Census
1891/Lilia Thurnbourne/Barmaid/21/Sutton, Cambridgeshire/Census
1891/Lottie M Riley/Barmaid/20/Hoxton, London/Census
1891/Emily Humley/General Servant, Widow/43/Euston/Census

1895/George Thomas Riddall/../../../Post Office Directory

1899/John Fredk Goodland/../../../Post Office Directory

1910/George Gange/../../../Post Office Directory

1914/George Gange/../../../Post Office Directory

1915/George Gange/../../../Post Office Directory

1921/Alfred J Paten/../../../Post Office Directory

1934/Bradings Ltd/../../../Kellys Directory

1938/Bradings Ltd/../../../Post Office Directory

1943/Harold Green/../../../Post Office Directory

1944/Harold Green/../../../Post Office Directory



** Provided By Stephen Harris