Pub history and pub wiki
Baron Court Hotel, 28 Comeragh Road, West Kensington, London W14
This pub was built as the Admiral Palliser in 1878 and re-named the Barons Court Hotel in 1879. It is now a theatre bar and was re-named Curtain's Up in 1993 (2007). ** A Youngs pub in 2017.

Fulham index
A listing of historical London public houses, Taverns, Inns, Beer Houses and Hotels in Fulham, London.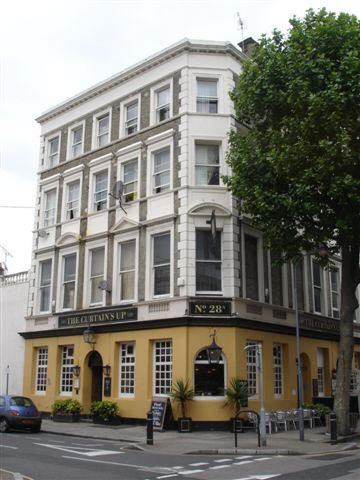 Baron's Court Hotel, 28A Comeragh Road, W14 - in May 2007
Kindly provided by Stephen Harris
The following entries are in this format:
Year/Publican or other Resident/Relationship to Head and or Occupation/Age/Where Born/Source.
1881/Susanna Harris/Widow/73/Bury St Edmunds/Census
1881/Henry Harris/Son, Builder and Licensed Victualler/40/Pimlico, Middlesex/Census
1881/Sarah E Shildrick/Barmaid/20/Whitllesford, Cambridge/Census
1881/Ada Short/Visitor/15/Warrington, Lancashire/Census
1881/Jane McNelly/Housemaid/19/Mexham (Wrexham), Wales/Census
1881/A Dipp Mousin/Boarderm, Gentleman/38/Scotland/Census
1881/Ernest Williams/Potman/22/Pimlico, Middlesex/Census

1896/Geo Gardner/../../../../Post Office Directory

1901/Harry Hammond/Licensed Victualler/41/Parham, Sussex/Census
1901/Clare Hammond/Wife/39/Worksop, Notts/Census
1901/Leonard Colyer/Visitor, Law Student/23/Iffly, Oxford/Census
1901/Hugh Juite/Visitor, Editor/37/Woolwich, Kent/Census
1901/Albert Batt/Barman/21/Bishops Sutton, Hants/Census
1901/Charles Head/Barman/21/Chislehurst, Kent/Census
1901/Emily Fosterkew/Cook/24/Badshot Lea, Surrey/Census
1901/Florence Taylor/Housemaid/17/Battersea, Middlesex/Census
1901/E,ily Craine/Kitchenmaid/21/Kingston, Surrey/Census

1911/Elizabeth Ann Bidmead/Hotel Keeper, Widow/37/Midsomer Norton, Somerset/Census
1911/Millie F Bidmead/Daughter, Assistant/20/Midsomer Norton, Somerset/Census
1911/Robert A Harris/Hotel Manager/44/Barry, Wales/Census
1911/Lewis James Spear/Visitor, Customs Officer/45/Deal/Census
1911/Charlotte Elizabteh Spear/Visitor Wife/46/Bristol/Census
1911/Alfred Sherrill/Boarder, Lawyer/45/Kensington, London/Census
1911/Irene May Mellon/Barmaid/24/Belfast/Census
1911/Louisa Haward/Barmaid/26/Oxford/Census
1911/Joseph Finks/Potman/22/Fulham, London/Census
1911/Martha Steeder/Cook, widow/48/Glasgow/Census
1911/Lizzie Parsons/Housemaid/20/Lincoln/Census
1911/Thomas John Cox/Billiard Marker/25/Hoxton/Census

1927/Mrs Annie Hudson/../../../../Post Office Directory

1934/Mrs Annie Hudson/../../../../Post Office Directory

1938/Mrs Annie Hudson/../../../../Post Office Directory

1940/Mrs Annie Hudson/../../../../Post Office Directory

1942/Basil Lynn/../../../../Post Office Directory

1944/Basil Lynn/../../../../Post Office Directory



** Provided By Stephen Harris

Search for a pub, an address or person
And Last updated on: Wednesday, 03-Jul-2019 01:05:00 BST