Search London wiki and Pub wiki history sites
All public house, restaurants, bars etc closed for the forseeable future from 20th March 2020, but this is a history site.
Eight Bells, 89 High street, Fulham SW6
Fulham index
This pub claims a foundation date of 1629. ** The Eight Bells, Bridge street in 1855 and the 1864 and 1866 license transfers, and in 1871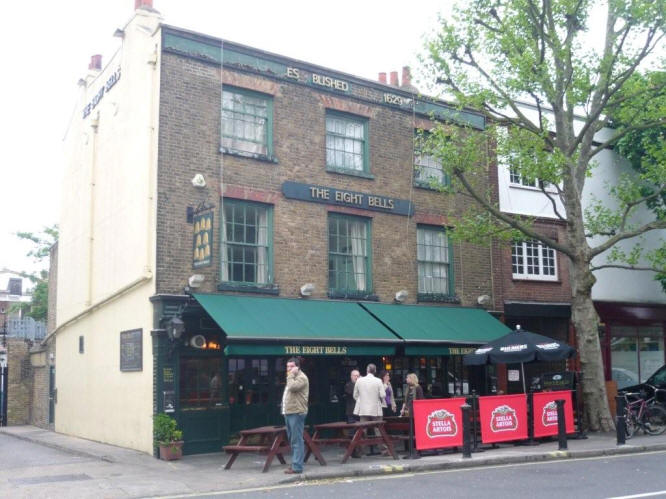 Eight Bells, 89 High Street, Fulham, SW6 - in May 2009
Kindly provided by Stephen Harris
A listing of historical London public houses, Taverns, Inns, Beer Houses and Hotels in Fulham, London.
Residents at this address
1805/Thomas Hitchcock, Eight Bells, Fulham/../../Holdens Directory

1836/Thomas Goggan, Eight Bells, Bridge street/../../Pigot's Directory

1855/Mrs I Coggan, Eight Bells, Bridge street, Fulham/../../../Post Office Directory

September 1864/Francis Pollett/Outgoing Licensee/../../Era

September 1864/Gerardo Migotti/Incoming Licensee/../../Era

September 1866/Lenardo Miggotte/Outgoing Licensee/../../West Middlesex Advertiser

September 1866/James Hills/Incoming Licensee/../../West Middlesex Advertiser

February 1869/James Hills/Outgoing Licensee/../../Era

February 1869/Benjamin Beach/Incoming Licensee/../../Era

1871/Joseph Ellis/Licensed Victualler/34/Worthing, Sussex/Census
1871/Ann Ellis/Wife/30/Battersea, Surrey/Census
1871/Arthur Joseph Ellis/Son/5/St George Hanover square, Middlesex/Census
1871/Emily Mary Ellis/Daughter/3/St George Hanover square, Middlesex/Census
1871/Alice Charlotte Ellis/Daughter/2/St Pancras, Middlesex/Census
1871/Ann Horne/Wifes Mother, Formerly a Carrier, Widow/65/South Ferriby, Lincolnshire/Census
1871/Mary E Ellis/Niece/11/Ockbrook, Derbyshire/Census
1871/Jame Holley/General Servant/29/Perth, Scotland/Census
1871/Sarah E S Bocking/Nurse/19/Stepney, Middlesex/Census

1872/Joseph Ellis, Eight Bells, Bridge street, Fulham/../../Post Office Directory

1874/Joseph Ellis/../../../../Licensed Victualler & Hotelier Directory

1881/Ann Ellis/Licensed Victualler, Widow/40/Battersea, Surrey/Census
1881/Arthur Ellis/Son, Clerk/16/Westminster, Middlesex/Census
1881/Thomas Deare/Manager, Widow/44/Exmouth, Devon/Census
1881/Eliza Hancock/Domestic Servant/36/Putney, Surrey/Census
1881/Marian A Carter/Visitor, Milliner/39/Westminster, Middlesex/Census
1881/Augusta Carter/Visitor, Milliner/34/Westminster, Middlesex/Census

Daniel previously had the Foresters in Wandsworth just across the river. In July 1884 Daniel Banham is recorded at the Kensington Special Sessions transferring the licence of the Eight Bells Fulham to a James Howard. My great great aunt Ellen Banham (nee Stumbke) was married to Daniel Banham - who is shewn along with his sister as being resident on census night 1891 - occupation noted as licensed victuallers manager (his wife and family were living in a house a short walk away). There is in the bar (or there was a couple of days ago) a framed photo of the pub with employees and a dray outside the pub taken I assume circa 1890 with "D Banham" on the pub fascia. *

July 1884/Daniel Banham/Outgoing Licensee/../../West London Observer *

July 1884/James Howard/Incoming Licensee/../../West London Observer *

1891/Daniel Banham/Licensed Victuallers Manager/52/Norwich, Norfolk/Census *
1891/Jane Banham/Sister/52/Norwich, Norfolk/Census

1896/John Cullen/../../../../Post Office Directory

1901/John Butler/Licensed Victuallers Manager/40/Co Cork, Ireland/Census
1901/Norah Butler/Wife/39/Co Cork, Ireland/Census
1901/Ellen Butler/Daughter/16/Hammersmith, London/Census
1901/Mary Butler/Daughter/14/Hammersmith, London/Census
1901/Norah Butler/Daughter/12/Barnes, Surrey/Census
1901/John Butler/Son/8/Barnes, Surrey/Census
1901/Kate Butler/Daughter/2/Fulham/Census
1901/Kate Hallett/Barmaid/22/Wedhurst, Sussex/Census

1904/John Cullen/../../../../Post Office Suburban Directory **

1909/John Cullen/../../../../Post Office Suburban Directory **

1919/Andrew Allan/../../../../Post Office Suburban Directory **

1938/William Walter Woods & Thomas Baskett/../../../../Post Office Directory



* Provided By Jeff Stumbke

** Provided By Stephen Harris