Search London wiki and Pub wiki history sites
All public house, restaurants, bars etc closed for the forseeable future from 20th March 2020, but this is a history site.
Lillie Arms, 19 Lillie road, North End, Fulham SW6
Fulham index
The Lillie Arms, Richmond road in the 1852 and 1853 license transfers. Now known as the Lillie Langtry (2014). *
A listing of historical London public houses, Taverns, Inns, Beer Houses and Hotels in Fulham, London.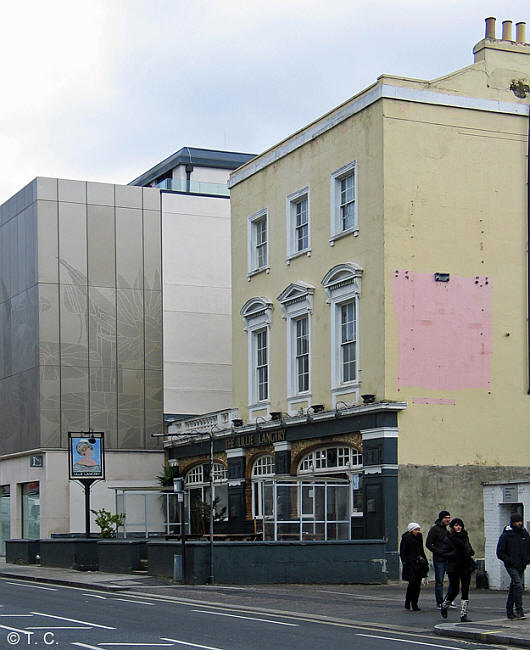 Lillie Arms, 19 Lillie Road, North End Road, Fulham, London SW6 - in February 2014
Kindly provided by Tris
The following entries are in this format:
Residents at this address
1848/Henry Ball/../../../../Post Office Directory

1851/Henry Ball/../../../../Kellys Directory

November 1852/Henry Cattell/Outgoing Licensee/../../Era

November 1852/Henry Bridger/Incoming Licensee/../../Era

May 1853/Henry Bridger/Outgoing Licensee/../../Era

May 1853/William Balbirnie/Incoming Licensee/../../Era

1856/William Balbirnie/../../../../Post Office Directory

1861/Thomas Hall/Victualler/31/Dublin, Ireland/Census
1861/Charlotte P Hall/Wife/33/Poplar, Middlesex/Census
1861/Eleanor E Hall/Daughter/8/Marylebone, Middlesex/Census
1861/Alice M Hall/Daughter/6/Fulham, Middlesex/Census
1861/Bridget M Carthy/General Servant/38/Roseasberry, Ireland/Census
1861/Charles Moore/Potman/18/Hammersmith, Middlesex/Census
1861/Ann Shears/Nurse, widow/52/Kensington, Middlesex/Census

February 1862/late tenant quit/Outgoing Licensee/../../Era

February 1862/Mr Preston Lumb/Incoming Licensee/../../Era

1871/John P Lowther/Licensed Victualler/43/City of London/Census
1871/Mary A Lowther/Wife/40/Clerkenwell, Middlesex/Census
1871/John C Lowther/Son, Assistant/22/T=Red Cross square, Middlesex/Census
1871/Walter C Lowther/Son/5 months/Fulham, Middlesex/Census
1871/Phillip O Lowther/Son, Assistant/19/London, Middlesex/Census
1871/Jane Collis/Visitor/30/Dunstable, Bedfordshire/Census

1872/John P Lowther, Lillie Arms, Lillie road, North End, Fulham/../../Post Office Directory

1874/William Rippin/../../../../Post Office Directory

1881/Frederick C Arliss/Licensed Victualler/44/St Georges, Middlesex/Census
1881/Emily Arliss/Wife/42/Blackheath, Kent/Census
1881/Adelaide Arliss/Daughter/17/Ratcliff Tower Hamlets/Census
1881/West Arliss/Son/15/Ratcliff Tower Hamlets/Census
1881/Emily Arliss/Daughter/14/Epping, Essex/Census
1881/Ethell Arliss/Daughter/9 months/Fulham, Middlesex/Census
1881/Emily Bruton/Barmaid/22/St Lukes, Middlesex/Census
1881/Nelly Nichols/Barmaid/20/Oxford/Census
1881/Alfred J Garrett/Potman/19/St Pancras, Middlesex/Census

1896/George Yeowell/../../../../Post Office Directory

1899/George Yeowell/../../../../Post Office Directory

1910/George Yeowell/../../../Post Office Directory

A distant cousin is Marion Gertrude Chuck from Barley in Hertfordshire. She married James William O Carter in 1903 and is next recorded as Gertrude Marion Carter, wife of James Carter licensed victualler at 19 Lillie Road, Fulham, in 1911 census. She is actually aged 40 (born March 1871, baptized April 1871) ***

1911 / James Carter / Licensed Victualler Manager / 33 / Paddington, Middlesex / Census ***
1911 / Gertrude Marion Carter / Wife / 35† / Barley, Herts / Census
1911 / Alice James / Barmaid / 24 / Hayling Island / Census
1911 / Elizabeth Shinn / Cook / 26 / Notting Hill / Census
1911 / Thomas Bishop / Barman / 29 / Bromley By Bow / Census
1911 / Joseph Dear / Barman / 22 / Battersea / Census
1911 / Henry Bonney / Barman / 21 / Farnworth, Lancshire / Census
1911 / William Stanley Willes / Barman / 20 / Fulham, Mdlsx / Census

1921/Sidney Hagedorn/../../../Post Office Directory

1934/Hy Webb/../../../Kellys Directory

1938/Hy Webb/../../../Post Office Directory

1944/Arthur William Hubble/../../../Post Office Directory

1971/../Lillie Arms, 19 Lillie Road SW6/../../Pub Directory




* Provided By Tris

*** Provided By Chris Haines