Pub history and pub wiki
Pear Tree Inn, 14 Margravine Road, Fulham, London W6
Fulham pub history index
At 2 Star road in the 1871 census. Now called the Pear Tree (2014).
A listing of historical London public houses, Taverns, Inns, Beer Houses and Hotels in Fulham, Middlesex, London. The Fulham, Middlesex, London listing uses information from census, Trade Directories and History to add licensees, bar staff, Lodgers and Visitors.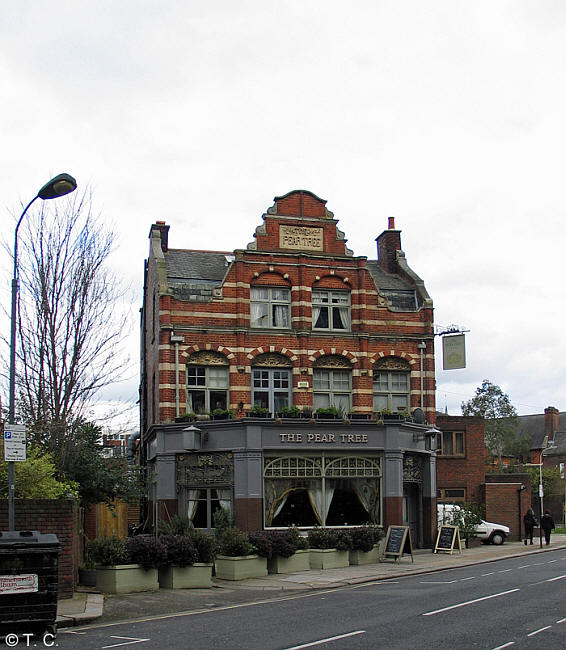 Pear Tree Inn, 14 Margravine Road, W6 - in February 2014
Kindly provided by Tris
The following entries are in this format:
Year/Publican or other Resident/Relationship to Head and or Occupation/Age/Where Born/Source.
1871/George Richards/Beer House Keeper/57/Hinton, Somerset/Census
1871/Louisa Richards/Wife/47/Hinton, Somerset/Census

1881/John Chubb/Beer house Keeper/40/Bath, Somerset/Census
1881/Mary Chubb/Wife/43/Wardford, Essex/Census
1881/William J Chubb/Son, Grocers boy/14/Dorking, Surrey/Census
1881/George L Chubb/Son/13/Dorking, Surrey/Census
1881/Minnie E Chubb/Daughter/4/Fulham, Middlesex/Census
1881/Ellen M Chubb/Daughter/8 months/Fulham, Middlesex/Census
1881/Emily Thorpe/Servant/14/Battersea, Surrey/Census

1896/Rd Smith/Beer Retailer/../../Post Office Directory

1899/Richard Smith/Beer Retailer/../../Post Office Directory

1910/Percy J Torrence/Beer Retailer/../../Post Office Directory

1914/Mrs Annie Torrence/Beer Retailer/../../Post Office Directory

1934/William Tickner/Beer Retailer/../../Kellys Directory

1944/Brough & James/Beer Retailer/../../Post Office Directory



Provided By Kevan
Search for a pub, an address or person
And Last updated on: Wednesday, 03-Jul-2019 01:05:10 BST