Pub history, pubwiki and London
Princess Royal, 22 Waterford Road, Fulham, London
Fulham pub history index
Known later as The Pelican and since January 2015, The Tommy Tucker. *
A listing of historical London public houses, Taverns, Inns, Beer Houses and Hotels in Fulham, Middlesex, London. The Fulham, Middlesex, London listing uses information from census, Trade Directories and History to add licensees, bar staff, Lodgers and Visitors.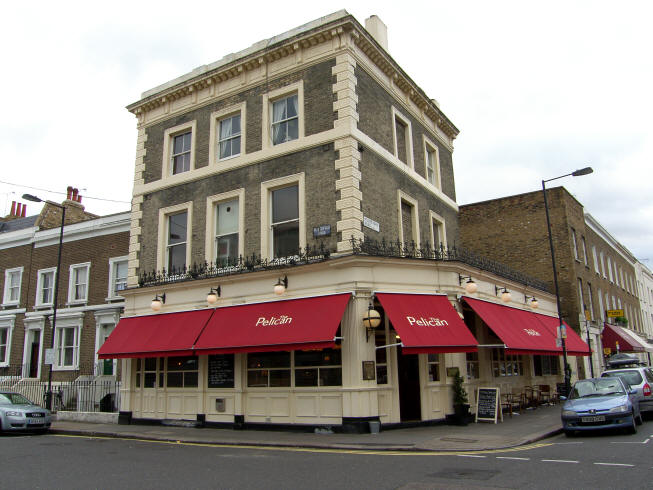 Princess Royal, 22 Waterford Road, Fulham, London - in February 2009
Kindly provided by Fred Roll
The following entries are in this format:
Year/Publican or other Resident/Relationship to Head and or Occupation/Age/Where Born/Source.
My ggg uncle was George Edward Sewell and is listed in 1871 census as being Licensed Victualler for this pub. He had previously been involved with a lot of building work in London, with his brothers as had their father and are mentioned in History Online with work on the Pitt estate in London. ***

1871/George E Sewell/Licensed Victualler/54/Marylebone, Middlesex/Census ***
1871/Mary A Sewell/Wife/29/Sheepham, Norfolk/Census
1871/Amelia A Sewell/Daughter/22/Bray, Berkshire/Census
1871/George G Sewell/Son, Wine Merchants Clerk/20/St Pancras, Middlesex/Census
1871/Margaret Larler/General Servant/34/Tralee, Ireland/Census
1871/Henry Warner/Potman/18/Fulham, Middlesex/Census
1871/William Kirby/Barman/17/Westminster, Middlesex/Census

1874/Wm Rigby/Beer Retailer/../../../Post Office Directory ****

1881/Thomas Jefferies/Licensed Victualler/30/Potterne, Wiltshire/Census ****
1881/Caroline Jefferies/Wife/31/Tenterden, Kent/Census
1881/Kate Jefferies/Daughter/3/St Pancras, Middlesex/Census
1881/Thos Arthur Jefferies/Son/1/Fulham, Middlesex/Census
1881/Ernest Valade/Barman/18/Slough, Buckingham/Census
1881/Jane Flanders/Nursemaid/27/Bedford, Bedford/Census
1881/Eliza Lowden/General Servant/23/Chelsea, Middlesex/Census

1896/Edward Raison/../../../../Post Office Directory ****

1901/Edward Raison/Licensed Victualler, Widow/34/Waltham Abbey, Essex/Census ****
1901/David Hurry/Bar Assistamt/20/Bunting, Herts/Census
1901/Maud Criddle/Bar Assistant/21/Chelsea, London/Census
1901/Anne Wiggins/Bar Assistant/22/Brighton, Sussex/Census
1901/Martha Phipps/General Servant/21/Eastbourne, Sussex/Census
1901/Grace C James/Bar Assistant/19/Chelsea, London/Census

1904/Edward Raison/../../../../Post Office Directory ****

1911/Edward Raison/Licensed Victualler/45/Woodham Ferrers, Essex/Census ****
1911/May Maud Raison/Wife/31/Chelsea, London/Census
1911/Lily May Raison/Daughter/7/Fulham, London/Census
1911/Edward Reginald Raison/Son/2/Fulham, London/Census
1911/Frank James Raison/Son/1/Fulham, London/Census
1911/William Balls/Nephew, Barman/26/Maldon, Essex/Census
1911/Janet Shelley/Barmaid/38/Walsall, Staffordshire/Census
1911/Kathleen Ella Limerick/Barmaid/24/Chelsea, London/Census
1911/Ellen Parr/Cook, Widow/34/Woolwich, London/Census
1911/Lily Bullen/Nurse/24/Yarmouth, Norfolk/Census
1911/Elsie Frankland/Nurse/16/Fulham, London/Census

1919/Edward Raison/../../../../Post Office Directory ****

1934/Alfred Germain/../../../../Kellys Directory ****

1938/Alfred Germain/../../../../Post Office Directory ****

September 1939/Alfred Germain jun/Licensed Victualler/60/../National Register **
September 1939/Alfred Germain sen/Brush Maker Boreing/82/../National Register
September 1939/Adelaide S Germain/Domestic duties/60/../National Register
September 1939/Stanley L R Germain/Barman - Heavy Worker/23/../National Register
September 1939/Ernest V Lawrie/Bar Cellerman/31/../National Register
September 1939/Rosina C Lawrie/Barmaid/28/../National Register
September 1939/Albert E Faithorn/Bar Cellerman/43/../National Register

1944/J T C Phillips Ltd/../../../../Post Office Directory ****



* Provided By Tris

** Provided By John Brown

*** Provided By Jonathan Sewell

**** Provided By Kevan