Pub history and pub wiki
Red Lion, 490 & 492 Fulham Road, Fulham, London SW6
Fulham pub history index
The Red Lion, 6 Steers terrace in the 1871 census and earlier. Then the Havana Tavern (2006) *** and known as The Slug (2015). * The Slug & Lettuce (2018).
A listing of historical London public houses, Taverns, Inns, Beer Houses and Hotels in Fulham, London.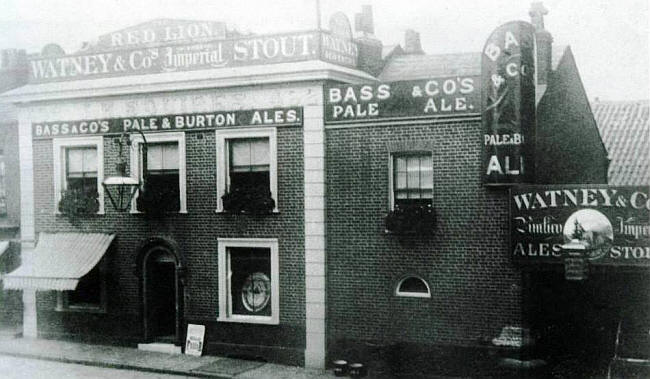 Red Lion, Fulham Road, Fulham - circa 1890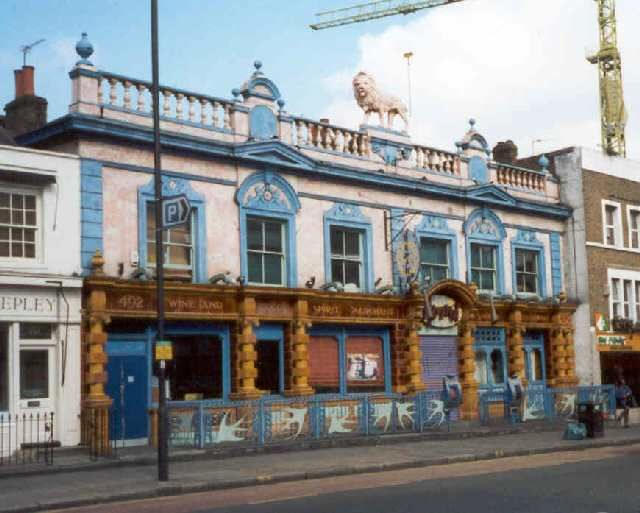 Red Lion, Fulham Road - in 2006
Kindly provided by Rosemary Reynolds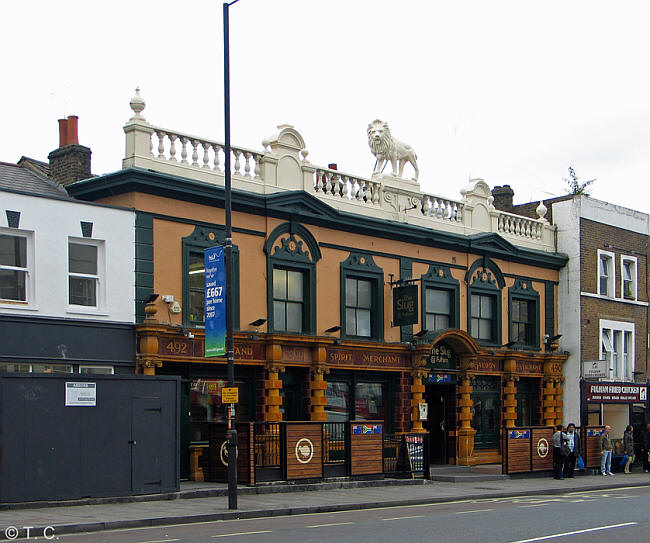 Red Lion, 704 Fulham Road, Fulham SW6 - in July 2013
Kindly provided by Tris
The following entries are in this format:
Year/Publican or other Resident/Relationship to Head and or Occupation/Age/Where Born/Source.
1861/William G Pocock/Victualler/41/St James, Middlesex/Census
1861/Sarah Pocock/Wife/30/London road, Surrey/Census
1861/Sarah Eliza G Pocock/Daughter/8/Fulham, Middlesex/Census
1861/Susanah T Pocock/Daughter/6/Fulham, Middlesex/Census
1861/Phillip H G Pocock/Son/4 months/Fulham, Middlesex/Census
1861/Susana Borrows/Relation/32/London road, Surrey/Census
1861/Susan Smith/Servant/18/Fulham, Middlesex/Census
1861/Alfred Hawkins/Pot Man/31/Fulham, Middlesex/Census

1871/Sarah Pocock/Licensed Victualler, Widow/40/London road, Surrey/Census
1871/Sarah E Giles Pocock/Daughter, Assistant/18/Fulham, Middlesex/Census
1871/Susanna J Pocock/Daughter/16/Fulham, Middlesex/Census
1871/Susannah Burrows/Sister, Assistant/42/London road, Surrey/Census
1871/Emily H Parnell/General Servant/21/Fulham, Middlesex/Census
1871/Thomas W Wells/Potman/23/Fulham, Middlesex/Census

1881/William W Nadauld/Licensed Victualler/35/Fulham, Middlesex/Census ***
1881/Maria Nadauld/Wife/38/Surrey/Census
1881/Ellen Puddle/Visitor/45/Surrey/Census
1881/Ellen Radauld/General Servant/19/Chelsea, Middlesex/Census
1881/William W Radauld/Son/11 months/Fulham, Middlesex/Census

1896/Henry James Squires/../../../../Post Office Directory

1901/Joseph Brown/Manager Public House/52/Whitechapel, London/Census
1901/Lydia Brown/Wife, manageress/48/Fulham, London/Census
1901/Julia Brown/Daughter, Assistant/22/Fulham, London/Census
1901/Joseph J Brown/Son, Auctioneers Clerk/21/Fulham, London/Census
1901/Harry Brown/Son, Barman/19/Fulham, London/Census
1901/Thomas Miller/Cellerman/31/Bethnal Green, London/Census
1901/Lucy Bradfield/Cook/35/Shepperton, Wiltshire/Census
1901/Alice Sumner/Barmaid/25/Islington, London/Census
1901/Fanny Jacobs/Barmaid/22/Portsmouth, Hants/Census

1904/James Henry Squires/../../../../Post Office Directory

1907 - 1922/Harry William Perry/../../../../.. ***

1919/Harry William Perry/../../../../Post Office Directory

1921/Harry William Perry/../../../../Post Office Directory

Harry was previously at the Angel, 14 John Street, Aldgate. I am desperate to find Harry Perry's sister, my Great Grandmother. ***


* Provided By Tris

*** Provided by Rosemary Reynolds

Search for a pub, an address or person
And Last updated on: Wednesday, 03-Jul-2019 01:05:11 BST