Search London wiki and Pub wiki history sites
All public house, restaurants, bars etc closed for the forseeable future from 20th March 2020, but this is a pub history site.
Red Lion, 490 & 492 Fulham road, Fulham SW6
Fulham pub history index
The Red Lion, 6 Steers terrace in the 1871 census and earlier. Then the Havana Tavern (2006) *** and known as The Slug (2015). * The Slug & Lettuce (2018).
A listing of historical London public houses, Taverns, Inns, Beer Houses and Hotels in Fulham, London.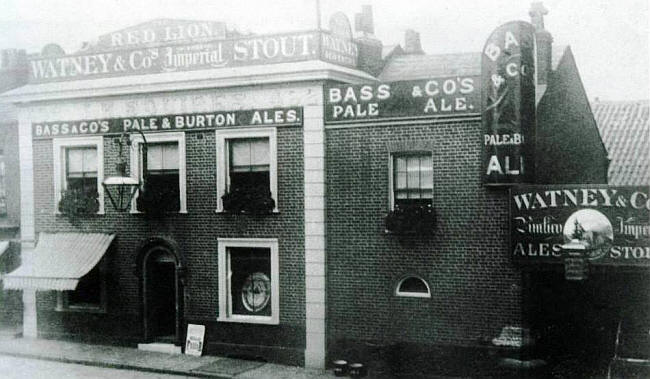 Red Lion, Fulham Road, Fulham - circa 1890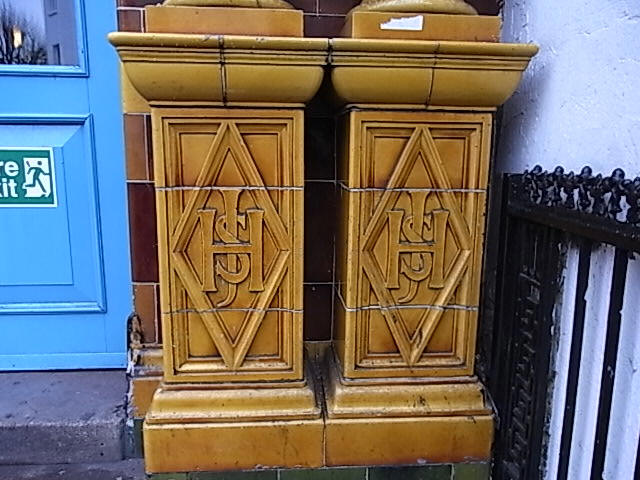 Red Lion tiled pilasters, Fulham Road - in 2009 showing monogram J H S
Kindly provided by Steve Peck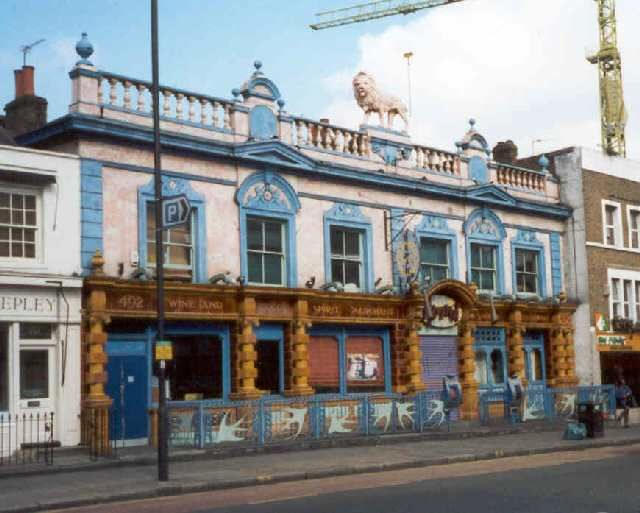 Red Lion, Fulham Road - in 2006
Kindly provided by Rosemary Reynolds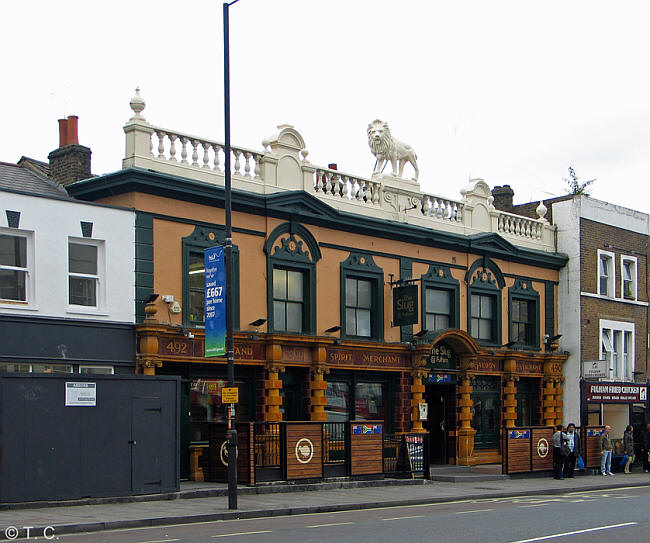 Red Lion, 704 Fulham Road, Fulham SW6 - in July 2013
Kindly provided by Tris
Residents at this address
1805/William Steers, Red Lion, Walham green/../../../Holdens Directory

1811/D Steers, Red Lion, Walham green/../../../Holdens Directory

1836/Henry Parslow, Red Lion, Walham Green/../../Pigot's Directory

1851/J Portlock, Red Lion, Walham green, Fulham/../../../Post Office Directory

On April 3rd 1853 (born February 28th 1853), Sarah Eliza Giles is baptised at Walham green to William Giles Pocock & Sarah Pocock. He is a Licensed Victualler at the Red Lion

On February 3rd 1861, William Henry Giles is baptised at St Johns Fulham to William Giles Pocock & Sarah Pocock. He is a Licensed Victualler at the Red Lion

1861/William G Pocock/Victualler/41/St James, Middlesex/Census
1861/Sarah Pocock/Wife/30/London road, Surrey/Census
1861/Sarah Eliza G Pocock/Daughter/8/Fulham, Middlesex/Census
1861/Susanah T Pocock/Daughter/6/Fulham, Middlesex/Census
1861/Phillip H G Pocock/Son/4 months/Fulham, Middlesex/Census
1861/Susana Borrows/Relation/32/London road, Surrey/Census
1861/Susan Smith/Servant/18/Fulham, Middlesex/Census
1861/Alfred Hawkins/Pot Man/31/Fulham, Middlesex/Census

1865/Mr William G Pocock, Red Lion, Walham green, Fulham /../../Licensed Victuallers Association

1871/Sarah Pocock/Licensed Victualler, Widow/40/London road, Surrey/Census
1871/Sarah E Giles Pocock/Daughter, Assistant/18/Fulham, Middlesex/Census
1871/Susanna J Pocock/Daughter/16/Fulham, Middlesex/Census
1871/Susannah Burrows/Sister, Assistant/42/London road, Surrey/Census
1871/Emily H Parnell/General Servant/21/Fulham, Middlesex/Census
1871/Thomas W Wells/Potman/23/Fulham, Middlesex/Census

1872/Mrs Sarah Giles Pocock/../../../../Post Office Directory

1874/Sarah Pocock/../../../../Post Office Directory

1881/William W Nadauld/Licensed Victualler/35/Fulham, Middlesex/Census ***
1881/Maria Nadauld/Wife/38/Surrey/Census
1881/Ellen Puddle/Visitor/45/Surrey/Census
1881/Ellen Radauld/General Servant/19/Chelsea, Middlesex/Census
1881/William W Radauld/Son/11 months/Fulham, Middlesex/Census

1891/J H Squires, Red Lion, Walham green/../../../Post Office Directory

1896/Henry James Squires, Red Lion, 490 & 492 Fulham road/../../../Post Office Directory

1901/Joseph Brown/Manager Public House/52/Whitechapel, London/Census
1901/Lydia Brown/Wife, manageress/48/Fulham, London/Census
1901/Julia Brown/Daughter, Assistant/22/Fulham, London/Census
1901/Joseph J Brown/Son, Auctioneers Clerk/21/Fulham, London/Census
1901/Harry Brown/Son, Barman/19/Fulham, London/Census
1901/Thomas Miller/Cellerman/31/Bethnal Green, London/Census
1901/Lucy Bradfield/Cook/35/Shepperton, Wiltshire/Census
1901/Alice Sumner/Barmaid/25/Islington, London/Census
1901/Fanny Jacobs/Barmaid/22/Portsmouth, Hants/Census

James Henry Squires is licensee of the Salisbury Hotel until his death in 1909 (1840-1909), and from at least 1881. He is earlier a barman at the Lord Portman in Marylebone, in 1861, the address was then at 14 Broadley terrace, Marylebone. He is also listed as brother in law to James Cowlin, whom is married to his sister Fanny.

1904/James Henry Squires, Red Lion, 490 & 492 Fulham road/../../../Post Office Directory

Harry was previously at the Angel, 14 John Street, Aldgate. I am desperate to find Harry Perry's sister, my Great Grandmother. ***

1907 - 1922/Harry William Perry/../../../../.. ***

1911/James Henry Squires, Red Lion, 490 & 492 Fulham road/../../../Post Office Directory

1918/Harry William Perry, Red Lion, 490 & 492 Fulham road/../../../Post Office Directory

1919/Harry William Perry, Red Lion, 490 & 492 Fulham road/../../../Post Office Directory

1921/J H Squires, Red Lion, 490 Fulham road/../../../Post Office Directory

1934/George Milne & Albert George Lovie, Red Lion, 490 & 492 Fulham road SW6/../../../Post Office Directory

1938/J T C Phillips, Red Lion, 490 & 492 Fulham road SW6/../../../Post Office Directory

1940/J T C Phillips, Red Lion, 490 & 492 Fulham road SW6/../../../Post Office Directory

1944/J T C Phillips, Red Lion, 490 & 492 Fulham road SW6/../../../Post Office Directory

1976/.., Red Lion, Fulham road, Fulham broadway SW6/../../../Post Office Directory




* Provided By Tris

*** Provided by Rosemary Reynolds