Search London wiki and Pub wiki history sites
All public house, restaurants, bars etc closed for the forseeable future from 20th March 2020, but this is a pub history site.
Rifle, 80 Fulham Palace road, Fulham W6
Fulham pub history index
At 7 Compton Terrace, Fulham Road in 1878. At the junction with Distillery lane in the 1940 directory; whence 1 to 79 and 2 to 74 are in Hammersmith, the remainder in Fulham. So, this is strictly in Fulham. Now known as the Old Suffolk Punch (2014).
A listing of historical London public houses, Taverns, Inns, Beer Houses and Hotels in Fulham, London.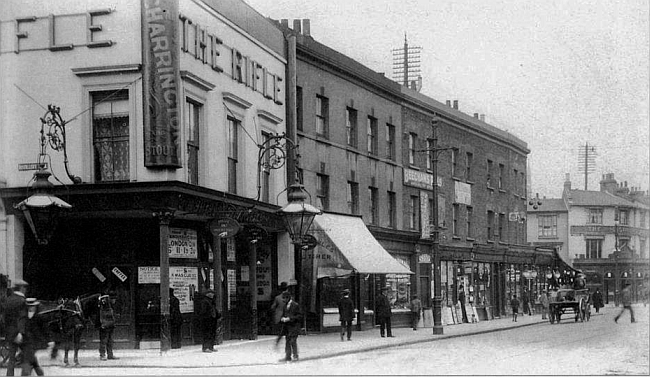 Rifle, Fulham Palace Road, Hammersmith - circa 1913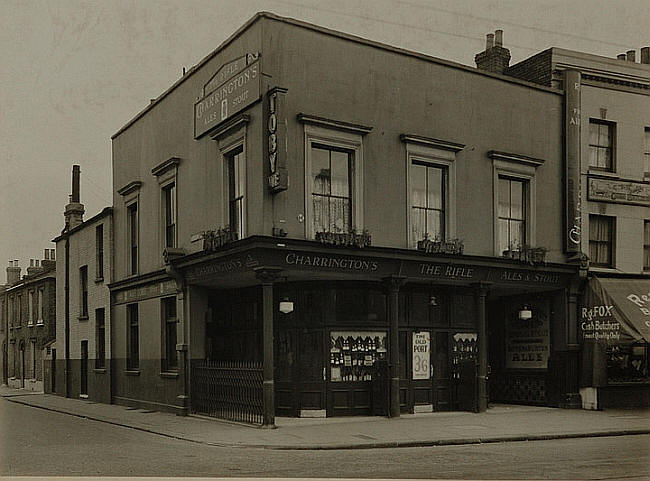 Rifle, 80 Fulham Palace Road, Hammersmith W6 - in 1937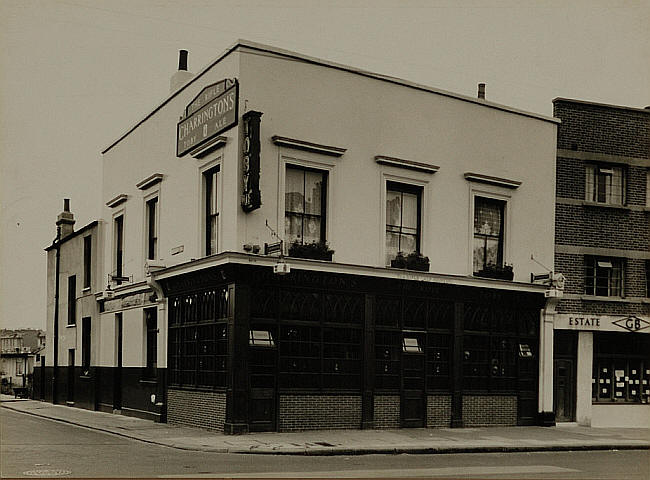 Rifle, 80 Fulham Palace Road, Hammersmith W6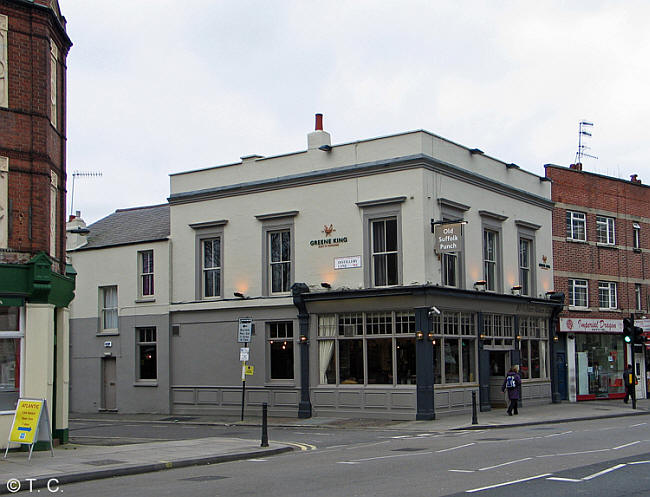 Rifle, 80 Fulham Palace Road, W6 - in February 2014
Kindly provided by Tris
Residents at this address
1861/Thomas Gibbs/Retailer of Beer/65/Kensington, Middlesex/Census
1861/Jane Gibbs/Wife/70/Kensington, Middlesex/Census
1861/William Gibbs/Brother, Servant, Widow/62/Kensington, Middlesex/Census
1861/Mary Ann Allen/Visitor/34/Islington, Middlesex/Census

1871/George Harvey/Licensed Victualler, Widow/43/Beecham, Hampshire/Census
1871/Elizabeth Harvey/Daughter/11/Southampton/Census
1871/Edith Harvey/Daughter/8/Newbury, Berkshire/Census
1871/Esther Harvey/Daughter/5/Hammersmith, Middlesex/Census
1871/Robert Harvey/Son/1/Hammersmith, Middlesex/Census

1874/James Bishop/../../../Middlesex Post Office Directory

1878/J Bishop/../../../Middlesex Post Office Directory

1881/James Bishop/Licensed Victualler/44/Chiswick, Middlesex/Census
1881/Mary Bishop/Wife/44/Twickenham, Middlesex/Census
1881/Henry Green/Potman/18/Dockhead, Surrey/Census

1896/Henry Foreman/../../../Post Office Directory

1908/Harry Strange/../../../Post Office Directory

1919/Harry Strange/../../../Post Office Directory

1929 - 1940/Mrs Howard/../../../Freehold

1934/Mrs Florence Ada Howard/../../../Kellys Directory

1938/Mrs Florence Ada Howard/../../../Post Office Directory

1940/Mrs Florence Ada Howard/../../../Post Office Directory

1941 - 1945/Copes Taverns Ltd/../../../Freehold

1946 - 1951/W J Davies/../../../Freehold

1952 - 1961/A Mancini/../../../Freehold