Pub history
Rose, 1 Harwood Terrace, Fulham, London SW6 2AF
Fulham pub history index
This is the Rose, Sands End Lane sometime prior to 1938. Not to be confused with a beer house at 1 Sands End Lane, Which is probably the Old Rose; More recently this is renamed the Fulham Tup. Renamed The Rose by 2011. *
A listing of historical London public houses, Taverns, Inns, Beer Houses and Hotels in Fulham, Middlesex, London. The Fulham, Middlesex, London listing uses information from census, Trade Directories and History to add licensees, bar staff, Lodgers and Visitors.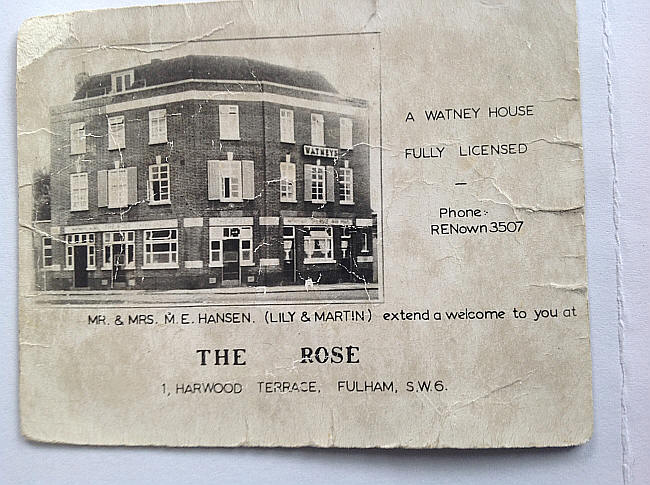 The Rose, Harwood Terrace - Landlords Lily & Martin Hansen
Kindly provided by Brian Parsons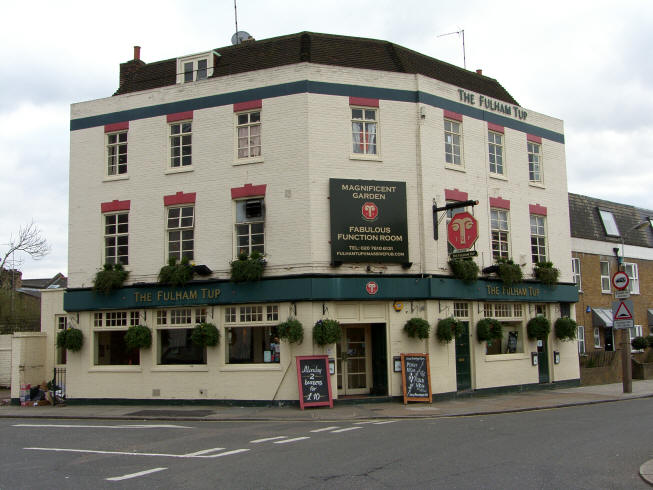 Rose, 1 Harwood Terrace, Fulham - in February 2009
Kindly provided by Fred Roll
The following entries are in this format:
Year/Publican or other Resident/Relationship to Head and or Occupation/Age/Where Born/Source.
1861/Charlotte King/Licensed Victualler, widow/39/Kensington, Middlesex/Census
1861/Charlotte Husselbee/House Servant/20/St Pancras, Middlesex/Census
1861/Charles Chapman/Servant/21/London, Middlesex/Census
1861/Thomas Holland/Servant/39/Kensington, Middlesex/Census

October 1865/Martin Hardingham/Outgoing Licensee/../../Era Newspaper

October 1865/Thomas Husselbee/Incoming Licensee/../../Era Newspaper

1871/Thomas Husselbee/Licensed Victualler, Widow/33/Dudley, Worcestershire/Census
1871/William Husselbee/Son/9/Fulham, Middlesex/Census
1871/Alfred Husselbee/Son/6/Shadwell/Census
1871/Minnie Husselbee/Daughter/3/Fulham, Middlesex/Census
1871/John Husselbee/Brother/26/Dudley, Worcestershire/Census
1871/Charlotte Husselbee/Sister, barmaid/28/London, Middlesex/Census
1871/Martin Hardingham/Lodger, Builder/36/Chelsea, Middlesex/Census
1871/John Jones/Potman/42/Chelsea, Middlesex/Census

1881/Alfred Gravely/Licensed Victualler/37/Sussex/Census
1881/Sophia Gravely/Wife/42/London, Middlesex/Census
1881/Harriett Leney/General Servant/29/Sussex/Census
1881/Eliza Sewell/General Servant/19/Sussex/Census

1896/Alfred Gravely/../../../../Post Office Directory

1904/Alfred Graveley/../../../../Post Office Directory

1914/Alfred Gravely/../../../../Post Office Directory

1919/Mrs Cecilia Gravely/../../../../Post Office Directory

1921/Mrs Celia Norah Cooper/../../../../Post Office Directory

1934/Arthur Edward Ivory/../../../../Post Office Directory

1938/Arthur Edward Ivory/../../../../Post Office Directory

1940/Arthur Edward Ivory/../../../../Post Office Directory

1944/Mrs Agnes Eva Benzing/../../../../Post Office Directory

1959/M E Hansen/../../../BT Telephone Directory

1961/M E Hansen/../../../BT Telephone Directory



* Provided By Tris