Adam & Eve, 155 High Street, Homerton E9
Hackney pub history Index
The earliest records I have found so far for the Adam & Eve, High Street , in Homerton are in 1735 where the petty sessions books list both Abel Norwood & Abel Tribe. By 1752, Henry James Holloway is listed in these petty sessions books as the licensee. Sixty years on, and by 1813, we have William Lock listed until 1827, largely recorded by Sun Fire Insurance records. One of the early Pigots directories for London in 1839 lists Thomas Harries Petifer. In 1848, Jonah Smith is listed as the victualler according to the license transfer, and in the petty sessions court records. He is still at the Adam & Eve until 1864, when he morts. His widow, Kezia Smith is then the licensee until about 1872.
Historical London public houses, Taverns, Inns, Beer Houses and Hotels.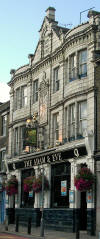 The Adam & Eve, 155 High Street, Homerton E9 - September 2005
Residents at this address.
1735/Abel Norwood/../../../Hackney Petty Sessions Book **

1735/Joseph Tribe/../../../Hackney Petty Sessions Book **

1752/Henry James Holloway/../../../Hackney Petty Sessions Book **

1813/Mr Lock / Victualler /../../London Gazette, 6 November 1813 **

1815/William Lock / Victualler & Gardener /../../Sun Fire Office records held at Guildhall Library **

1826/William Lock/../../../Pigot's Directory

1827/William Lock / Victualler /../../Sun Fire Office records held at Guildhall Library **

1827/William Lock/../../../Licensed Victuallers Association

1829/John Lock / Victualler /../../Sun Fire Office records held at Guildhall Library **

1833-34/John Lock, Old Adam & Eve, High street, Homerton/../../Pigots Directory

1836/Georgiana Ruth Lock, Old Adam & Eve, Lower Homerton/../../Pigot's Directory

1837/Ann Lock / Victualler /../../Sun Fire Office records held at Guildhall Library **

1836/Thomas Harries Petifer / Victualler /../../Sun Fire Office records held at Guildhall Library **

1837/Thomas Harries Petifer / Victualler /../../Sun Fire Office records held at Guildhall Library **

1839/Thomas Harries Petifer/../../../Pigot's Directory **

July 1848/Edmund Osmond/Outgoing Licensee/../../Era Newspaper

July 1848/Jonah Smith/Incoming Licensee/../../Era Newspaper

1851/Jonah Smith/../../../Middlesex Post Office Directory

1851/Jonah Smith/Licensed Victualler/45/Chadlington, Oxfordshire/Census
1851/Kezia Smith/Wife/35/Garsington, Oxfordshire/Census
1851/William Smith/Nephew/5/Great Rimington, Gloucestershire/Census
1851/James Cooton/Barman/17/Garsington, Oxfordshire/Census
1851/Ann Jessett/General Servant/26/Oxford, Oxfordshire/Census
1851/Thomas Dunn/Potman/34/Homerton, Middlesex/Census

1855/J Smith/../../../Essex, Herts, Kent ...Post Office Directory

1861/Jonah Smith/Licensed Victualler/55/Oxford/Census
1861/Keziah Smith/Wife/45/Oxford/Census
1861/Hannah Clarke/Wifes Mother, Widow/78/Oxford/Census
1861/Mary A Quarterman/Wifes Sister/33/Oxford/Census
1861/Mary A Quarterman/Wifes Niece/8/Aldersgate/Census
1861/William Smith/Nephew/16/Gloucestershire/Census
1861/Rosetta Fry/Servant/25/Bethnal Green/Census
1861/Samuel Baker/Potman/19/../Census

22nd September 1864 The Will of Jonah Smith late of the "Adam and Eve" Tavern Homerton in the County of Middlesex Licensed Victualler deceased who died 3 September 1864 at Abingdon in the County of Berks was proved at the Principal Registry by the oaths of George Smith of Edmonton in the said County of Middlesex Licensed Victualler the Brother and Kezia Smith of the "Adam and Eve" Tavern aforesaid Widow the Relict the Executors. Effects under �800.

September 1864/Josiah Smith, deceased/Outgoing Licensee/../../Era

September 1864/George and Kezia Smith/Incoming Licensee/../../Era

November 1864/George Smith and Kezia Smith, executors of the late John smith/Outgoing Licensee/../../East London Observer

November 1864/Kezia Smith/Incoming Licensee/../../East London Observer

1866/Mrs Kezia Smith/../../../Post Office Directory

1870/Mrs Kezia Smith/../../../Post Office Directory **

1872/Mrs Kezia Smith/../../../Kellys Directory

7th March 1872 The Will of Kezia Smith late of the "Adam and Eve" Tavern Lower Homerton in the County of Middlesex Widow who died 30 December 1871 at the "Adam and Eve" was proved at the Principal Registry by Mary Ann Quartermaine of the "Adam and Eve" Widow the Sister and Henry Stevens of Lower Homerton Cowkeeper two of the Executors. Effects under �1,500.

March 1872/Kezia smith/Outgoing Licensee/../../Era

March 1872/Mary Ann Quartermaine and Henry Stevens/Incoming Licensee/../../Era

1874/Quartermaine & Stevens/../../../H.D. Miles London & Suburban Licensed Victuallers' Directory **

1874/Mrs M A Quartermain/../../../Post Office Directory

1878/Mrs Mary Ann Quartermain/../../../Post Office Directory

5th February 1878 Adminstration of the Personal Estate of Mary Ann Quartermaine late of 155 High street Homerton in the County of Middlesex Spinster who died 16 June 1877 at 155 High street was granted at the Principal Registry to Mary Ann Quartermaine of 155 High street Widow the Mother and only next of Kin. Personal Estate under �450.

1881/Mary A Quartermaine/Licensed Victualler, Widow/54/Garsington, Oxford/Census
1881/John J Matthews/Licensed Victualler Manager/48/Bradenstoke, Wiltshire/Census
1881/Minnie Rowles/Niece/12/Oxford/Census
1881/Emily C Bruce/Cousin, Barmaid/21/London, Middlesex/Census
1881/Thomas A Bruce/Cousin, Barman/15/London, Middlesex/Census
1881/Mary Bull/Barmaid/26/Camden Town/Census
1881/Richard Cross/Potman/19/Homerton/Census

1882/Mary Ann Quartermaine / Former Licensed Victualler / Widow, deceased / Died in or about the month of August 1882 /../../London Gazette, 22 December 1882 **

1st September 1882 The Will of Mary Ann Quartermaine of the "Adam and Eve" Public house Homerton in the County of Middlesex Widow who died 7 August 1882 at the "Adam and Eve" was proved at the Principal Registry by George Smith of Brick lane Spitalfields in the said County Brewer's Clerk the sole executor. Personal Estate �4,102 2s.

1891/William Archer/Licensed Victualler/50/Devon/Census
1891/Mary Ann Archer/Wife/39/Essex/Census
1891/William E Archer/Son, Barman/28/Devon/Census
1891/Sophia Archer/Daughter/14/Hackney, Middlesex/Census
1891/Emma M Archer/Daughter/9/Hackney, Middlesex/Census
1891/Fred Archer/Son/8/Hackney, Middlesex/Census
1891/Alice Archer/Daughter/2/Hackney, Middlesex/Census
1891/John C Archer/Son/9 months/Hackney, Middlesex/Census
1891/Sarah Archer/Mother, Widow/83/Devon/Census
1891/Kate Sharp/Barmaid/19/Hackney, Middlesex/Census
1891/Ann Webb/General Servant/40/Hampshire/Census

1896/James Turpin/../../../Post Office Directory

1901/James Turpin/Licensed Victualler/43/Portsmouth, Hants/Census
1901/Catherine Turpin/Wife/39/Poplar, London/Census
1901/James Turpin/Son/19/Canning Town, London/Census
1901/Catherine H Turpin/Daughter/17/Canning Town, London/Census
1901/Ernest A Turpin/Son/14/Plaistow, London/Census
1901/Frances Herbism/Niece/22/Plaistow, London/Census
1901/Lucy Newell/Visitor/21/Plymouth, Devon/Census
1901/Elizabeth Fluar/Domestic Servant/26/Canning Town, London/Census
1901/Herbert Bambridge/Barman/25/Higham, Kent/Census

1902/James Turpin/../../../Kellys Directory

1904/James Turpin/../../../London Trade Directory

1905/James Turpin/../../../London Trade Directory

1907/James Turpin/../../../London Trade Directory

1908/Jas. Turpin/../../../Post Office Suburban Directory **

1911/James Turpin/../../../London Trade Directory

1911/Ernest Robert Turpin/Son, Assistant/24/Canning Town, Essex/Census
1911/Elena Jane Turpin/Daughter in Law/23/Leytonstone, Essex/Census
1911/William Woodley Steele Turpin/Nephew, Barman/22/Dover, Kent/Census
1911/Charles Henry Morris/Barman/17/Walthamstow, Essex/Census
1911/Edward Charles Palling/Barman/26/Chiswick, Middlesex/Census
1911/Rose Elizabeth Down/General Servant/21/Millwall, Middlesex/Census
1911/Catherine May Turpin/Daughter/2/Homerton, Middlesex/Census

1915/J Turpin/../../../from contemporary advertisement **

1918 Ernest Robert Turpin of the Adam and Eve Public house High street Homerton Middlesex died 25 January 1918 at the Eastern Hospital Homerton Probate London 8 may to James William Turpin licensed victualler and Eleanor Jane Turpin widow. Effects �6288 11s 11d.

1919/Ernest Turpin/../../../London Trade Directory

1921/Mrs Eleanor Turpin/../../../London Trade Directory

1932/Eleanor Jane Turpin / Licensed Victualler / Widow /../../London Gazette, 9 December 1932 **

1934/Harold Mead Moore/../../../Kellys Directory

1938/Aug Albert Foster/../../../Post Office Directory

In 1939 at 155 High street we have Augustus A Foster, Licensee Public House, born 23 Mar 1887 May A Foster, wife, born 27 Aug 1890 Joseph Bagel, Book Keeper, born 21 Jun 1899 Ivy E Bagel, Unpaid Domestic Duties, born 19 Dec 1911 Elizabeth G Medhurst, Barmaid, born 31 Dec 1890

1944/Harold William Morris/../../../Post Office Directory



** Provided By Stephen Harris