British Oak, (Oak Cottages) 130 Lea Bridge Road, Clapton, E5
Hackney pub history Index
Historical London public houses, Taverns, Inns, Beer Houses and Hotels.
This pub closed in 1999 and was demolished. The name lives on however in the residential development built on site. **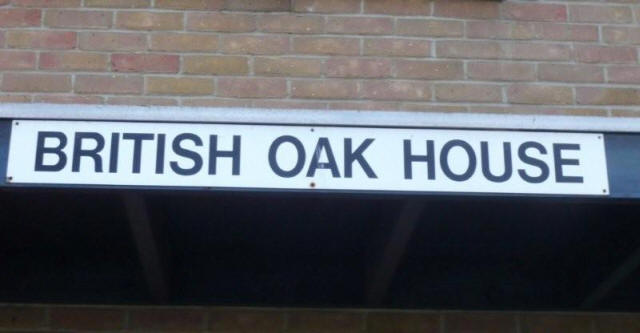 British Oak, (Oak Cottages) 130 Lea Bridge Road, Clapton, E5 - in November 2008
Kindly provided by Stephen Harris
Residents at this address.
1851/Thomas Barram / Beer Shop Keeper / Harden, Suffolk /../../1851 Census **

1851/Thomas Barram/Beer Shop Keeper/64/Hardly, Suffolk/Census
1851/Elizabeth Barram/Wife/62/Essex/Census
1851/Elizabeth Barram/Daughter, Servant/28/Bow, Middlesex/Census

1861/William Orford / Beershop Keeper /../../Lease documents held at Hackney Archives Department **

1861 / William Orford / Beer Shop Keeper / 43 / Grays, Essex / Census **
1861 / Mary A Orford / Wife, Beer Shop Keeper / 41 / Drinkstone, Suffolk / Census
1861 / Mary A Orford / Daughter, Waitress / 22 / Grays, Essex / Census
1861 / William Orford / Son, Carpenter's Apprentice / 17 / Grays, Essex / Census
1861 / James Orford / Son, Carpenter's Apprentice / 15 / Grays, Essex / Census
1861 / Henry Orford / Son, Milk Dealer / 12 / Grays, Essex / Census
1861 / Robert Orford / Son, Scholar / 10 / Hackney, Middlesex / Census
1861 / Eliza Orford / Daughter, Scholar / 7 / Hackney, Middlesex / Census
1861 / Emma Orford / Daughter, Scholar / 5 / Hackney, Middlesex / Census
1861 / Charles Orford / Son, Scholar / 3 / Hackney, Middlesex / Census
1861 / John Frazer / Lodger, Waterworks Labourer / 23 / Hackney, Middlesex / Census
1861 / James Sherman / Lodger, Waterworks Labourer / 23 / Diss, Norfolk / Census
1861 / Alfred Bennett / Lodger, Carpenter / 23 / Hackney, Middlesex / Census
1861 / David Coe / Lodger, Agricultural Labourer / 64 / Northamptonshire / Census
1861 / George Johnson / Lodger, Agricultural Labourer / 20 / Old Samsford, Essex / Census

1862/William Orford / Beershop Keeper /../../Proceedings of the Old Bailey **
1862/Mary Ann Orford / Landlord's Daughter /../../Proceedings of the Old Bailey

1866/William Orford/../../../Post Office Directory

1871 / William Offord / Beer Seller / 53 / Grays, Essex / Census **
1871 / Mary Alice Offord / Wife / 50 / Drinkstone, Suffolk / Census
1871 / Robert Offord / Son, Beer Seller / 20 / Lea Bridge, Middlesex / Census
1871 / Eliza Offord / Daughter / 17 / Lea Bridge, Middlesex / Census
1871 / Emma Offord / Daughter / 15 / Lea Bridge, Middlesex / Census
1871 / Charles Offord / Son, Scholar / 13 / Lea Bridge, Middlesex / Census
1871 / George Offord / Son / 9 / Lea Bridge, Middlesex / Census

1872/William Orford /../../../Post Office Suburbs Directory **

1872/W Orford/../../../Brabner's Hackney Directory **

1881/Thomas Warren/Beer House Keeper/69/Abington, Cambridge/Census
1881/Elizabeth Warren/Wife/59/Middlesex/Census
1881/Martha M Warren/Daughter/29/Shoreditch, Middlesex/Census

1891/John L Jeffree/Beer House Keeper/30/Brentford, Essex/Census
1891/Elizabeth Jeffree/Wife/25/Bethnal Green, London/Census
1891/Florence Jeffree/Daughter/5/Bow, London/Census
1891/Maude Jeffree/Daughter/2/Poplar, London/Census
1891/Alfred Jeffree/Son/1 month/Clapton, London/Census
1891/Elizabeth Fryer/Domestic Servant/22/Bethnal Green, London/Census

1901/Joseph J J Sims/Beer Retailer/41/Newington, London/Census
1901/Elenor Sims/Wife/25/Bow, London/Census
1901/Herbert Sims/Son, Barman/16//Mile End, LondonCensus
1901/Elsie Sims/Daughter/4/Hackney, London/Census
1901/John Sims/Son/1/Hackney, London/Census
1901/Arthur Butler/Barman/26/Bethnal Green, London/Census
1901/Annie Butler/Cook/21/Stratford, London/Census
1901/Lizzie Woodley/Nurse/14/Hackney, London/Census

1905/J J Sims/../../../P.O. Suburban Directory

1908/Ernest Galliven/../../../P.O. Suburban Directory **

1911/Ernest Galliven/Son, Beer House Keeper/31/Canning Town, Essex/Census
1911/Mary Ann Wallaker/Mother, Housekeeper/65/Poplar, London/Census
1911/Elijah Wallaker/Father, Potman/66/Southminster, Essex/Census
1911/Henry John Lillett/Nephew/15/Canning Town, Essex/Census
1911/Jessie Mead/General Servant/19/Braintree, Essex/Census
1911/Charles Lawrence/Barman/19/Hatton, Cambridgeshire/Census

1919/Mrs Mary A Wallaker/Beer Retailer/../../P.O. Directory

1921/Mrs Mary Anne Wallaker/Beer Retailer/../../P.O. Directory

1934/Jn. W. Galliven/Beer Retailer/../../Kellys Directory **

1935/Jn. Wltr. Galliven/Beer Retailer/../../P.O. Directory **

1938/Jn Walter Galliven/Beer Retailer/../../P.O. Directory

1944/J W Gallivan/Beer Retailer/../../P.O. Directory

1988/S G Jolly/../../../Trumans Watney List ***



** Provided By Stephen Harris

*** Provided By Alex Wilkinson