Search London wiki and Pub wiki history sites
All public house, restaurants, bars etc closed for the forseeable future from 20th March 2020, but this is a history site.
Duke of Richmond, 316 Queensbridge Road, Hackney E8
Hackney pub history Index
At Queens Road in 1851 directory. The address is Richmond Terrace, Queens Road in 1856. Address formerly given as 176 Richmond Road, then at 176 Queens Road until at least 1938. This pub is now called LMNT (2009). **
A listing of historical London public houses, Taverns, Inns, Beer Houses and Hotels in Hackney, Middlesex - now in East London. The Hackney, East London listing uses information from census, Trade Directories and History to add licensees, bar staff, Lodgers and Visitors.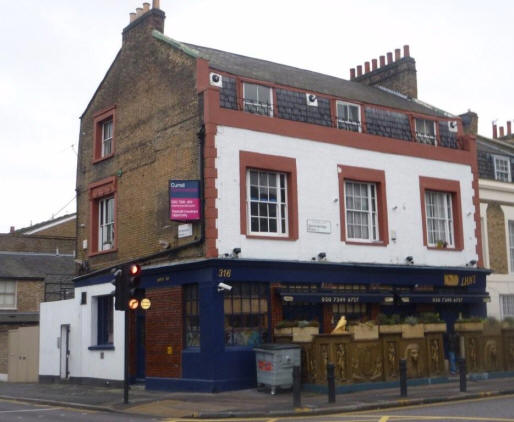 Duke of Richmond, 316 Queensbridge Road, E8 - in November 2009
Kindly provided by Stephen Harris
Year/Publican or other Resident/Relationship to Head and or Occupation/Age/Where Born/Source.
1841/William Press/Licensed Victualler/46//Census *
1841/Frances Press/../45/../Census
1841/William Press/../18/../Census
1841/Elizabeth Press/../15/../Census
1841/Adeline Press/../10/../Census
1841/Richard Press/../7/../Census
1841/Benjamin Press/../3/Middlesex/Census

1851/Thomas Baylis/../../../Middlesex Directory

1856/Thomas Baylis/../../../Post Office Directory ***

1861/Thomas Bayles /../../../1861 census **

1861/Thomas Bayles/Publican/55/Cornwall/Census
1861/Mary Bayles/Wife/50/Yoxon, Suffolk/Census
1861/Amelia Bayles/Daughter/12/Hackney, Middlesex/Census
1861/Arthur Bayles/Son/8/Hackney, Middlesex/Census
1861/Ann Morse/Servant/30/Chipping Norton, Oxon/Census

November 1863/William Henry Rose/Outgoing Licensee/../../Era

November 1863/Thomas Anthony Langdon/Incoming Licensee/../../Era

7th July 1866/Thomas A Langdon/Outgoing Licensee/../../East London Observer +

7th July 1866/John Elves/Incoming Licensee/../../East London Observer +

1871/John Elves/Licensed Victualler/37/Bethnal Green, Middlesex/Census
1871/Mary Ann Elves/Wife/33/Spitalfields, Middlesex/Census
1871/Jane Harriett Elves/Daughter/12/Bethnal Green, Middlesex/Census
1871/Eliza Agnes Elves/Daughter/10/Bethnal Green, Middlesex/Census
1871/John Joshua Elves/Son/9/Bethnal Green, Middlesex/Census
1871/Walter Thomas Elves/Son/4/Bethnal Green, Middlesex/Census
1871/Sarah Bowles/Barmaid/26/Bethnal Green, Middlesex/Census
1871/Caroline Eaton/General Servant/20/Bishopsgate Street/Census
1871/John Hayworth/Potman/19/Kingsland, Middlesex/Census

1872/J Elves /../../../Brabnerís Hackney Directory **

November 1871/John Elves//Outgoing Licensee/../../Era

November 1871/Thomas Graves/Incoming Licensee/../../Era

1874/Ebenezer Ferry/../../../Post Office Directory ***

July 1875/Ebenezer Ferry/Outgoing Licensee/../../East London Observer

July 1875/William Rider/Incoming Licensee/../../East London Observer

20th May 1876/William Rider/Outgoing Licensee/../../East London Observer +

20th May 1876/George John Kelly/Incoming Licensee/../../East London Observer +

1878/John Cherry /../../../P.O. Directory of Middlesex **

May 1879/J Cherry/Outgoing Licensee/../../East London Observer

May 1879/Sophia Shears/Incoming Licensee/../../East London Observer

1891/Albert H M Burnham/Publican/37/Reading, Berkshire/Census
1891/Eliza Burnham/Wife/36/Frome, Somerset/Census
1891/Albert W W Burnham/Son/11/Poplar, London/Census
1891/William W S Burnham/Son/6/Poplar, London/Census
1891/Thomas Woodlock/Barman/21/Reading, Berkshire/Census
1891/Harry Stammers/Potman/30/Halstead, Essex/Census
1891/Maria Cooke/Housemaid/17/London/Census

1896/Henry Perschky/../../../Kelly's Directory ***

1899/John Francis Hill /../../../P.O. Directory **

1901/George H Henwood/Licensed Victualler/55/Par, Cornwall/Census
1901/France Henwood/Wife/56/Yarmouth, Norfolk/Census
1901/Susannah Shreeves/Barmaid, Widow/55/Yarmouth, Norfolk/Census
1901/William E Shreeves/Barmaid/30/Yarmouth, Norfolk/Census
1901/Katherine Knight/General Servant/25/Bedford/Census
1901/Selia F H Whitelaw/Grandchild/13/Peckham, London/Census

1908/George Henry Henwood/../../../Post Office Directory

1910/George Henry Henwood/../../../Post Office Directory

1911/George Henry Henwood/Licensed Victualler/65/Cornwall/Census
1911/Frances Henwood/Wife/66/../Census
1911/William Shreeve/Nephew, Barman/40/../Census
1911/Edmund D Goddard/Potman/33/Brighton, Sussex/Census
1911/Emma Jackson/Domestic Servant/41/Mendsworth/Census

1915/George Henry Henwood/../../../Post Office Directory

1916/George Henry Henwood/../../../Post Office Directory

1918/George Veasy Rice/../../../Post Office Directory

1921/George Veasy Rice/../../../Post Office Directory

1938/Jenkin Evans/../../../Post Office Directory

1944/Albert Simpole /../../../Post Office Directory

1946/Albert Simpole /../../../P.O. Directory **



+ Provided by Friends of Tower Hamlets Cemetery Park

* Provided By Jennifer

** Provided By Stephen Harris

*** Provided By Ewan