Search London wiki and Pub wiki history sites
All public house, restaurants, bars etc closed for the forseeable future from 20th March 2020, but this is a history site.
Flying Horse, 149 Mare Street, Hackney E8
Hackney Index
A watercolour of the Flying Horse exists at the Hackney Archive site ; This pub was long-established and may have been present as early as 1593. It was closed in 1914 and demolished in the 1930s. **
A listing of historical public houses, Taverns, Inns, Beer Houses and Hotels in Hackney, East London.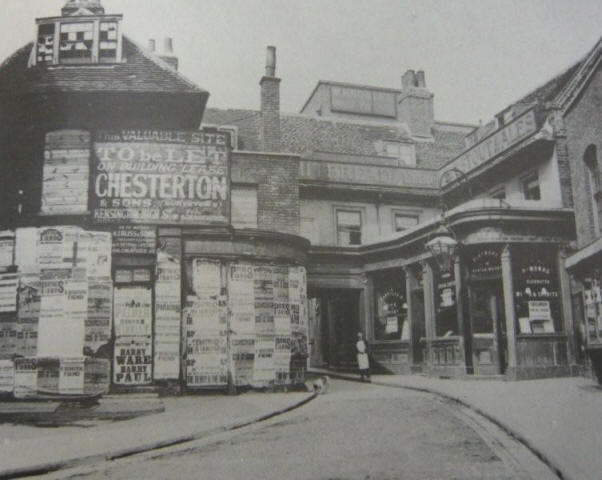 Flying Horse, Exmouth Place, 149 Mare Street, E8 - in 1903, by which time only the north wing of the pub was in use.
Kindly provided by Stephen Harris
Residents at this address.
1752/Michael Walton/../../../Hackney Petty Sessions Book **

1791/Pearson/../../../Sun Fire Office records held at Guildhall Library **

1805/T Pearson, the Flying Horse, Mare street, Hackney/../../Holdens Directory

1811/T Pearson, Flying Horse, Hackney/../../Holdens Directory

1823-24/John Collis, Flying Horse, Mare street/../../Pigot's Directory

1825/Mr Collis, Flying Horse, Mare street, Hackney/../../Licensed Victuallers Association

1826/Jno Collis/../../../Pigot's Directory

1836/John Clark, Flying Horse, Mare street/../../Pigot's Directory

1839/James Wand/../../../Pigot's Directory **

1842/James Wand/../../../Robsonís Directory **

1844/James Wand/../../../Thompsons Directory **

1847/J Wand / Outgoing Licensee /../../The Era, Sunday 17 January, 1847 **

1847/G Siggirs / Incoming Licensee /../../The Era, Sunday 17 January, 1847 **

1848/George Siggers/../../../Post Office Directory

1850/George Siggers/../../../Post Office Directory **

1851/George Siggers/../../../Kellys Directory

[In 1851 & 1861, the Public House is in Flying Horse Yard, Mare Street]

1851/George Siggers/Licensed Victualler/45/Burns, Essex/Census
1851/Lucy Siggers/Wife/46/Misley, Essex/Census
1851/George Siggers/Son/15/Sudbury, Suffolk/Census
1851/Ellen Drisco/Servant/22/Ireland/Census

1856/George Siggers / Keeper /../../Proceedings of the Old Bailey **

May 1858/Joseph Smith/Outgoing Licensee/../../East London Observer

May 1858/William Thomas Hudson jun/Incoming Licensee/../../East London Observer

1861/William F Hudson/Licensed Victualler/27/London/Census
1861/George Hudson/Brother/17/London/Census
1861/Selina McKeuley/Servant/23/London/Census
1861/Joseph Taylor/Servant/20/Rumford/Census

November 1863/William Thomas Hudson/Outgoing Licensee/../../Era

November 1863/William Mosdell Herriott/Incoming Licensee/../../Era

1864/Thomas Jolley / Manager /../../Proceedings of the Old Bailey **

7th July 1866/Frederick H Lavell/Outgoing Licensee/../../East London Observer +

7th July 1866/Edward Searles Davis/Incoming Licensee/../../East London Observer +

1866/Edward Searles Davis/../../../Middlesex Post Office Directory

July 1867/Edward Davis/Outgoing Licensee/../../East London Observer

July 1867/Thomas Cobner/Incoming Licensee/../../East London Observer

August 1867/Thomas Cobner/Outgoing Licensee/../../Era Newspaper

August 1867/John Reed/Incoming Licensee/../../Era Newspaper

July 1870/John James Reid/Outgoing Licensee/../../East London Observer

July 1870/Thomas Adams/Incoming Licensee/../../East London Observer

May 1871/Thomas Adams/Outgoing Licensee/../../East London Observer

May 1871/Alfred Wellman Fleck/Incoming Licensee/../../East London Observer

1872/A W Fleck/../../../Hackney Brabners Directory **

1874/Alfred Fleck/../../../Middlesex Post Office Directory

August 1877/Alfred Wellman Fleck/Outgoing Licensee/../../East London Observer

August 1877/Robert K Arnold/Incoming Licensee/../../East London Observer

1878/Robert Riddle Arnold/../../../Middlesex Post Office Directory

1881/Albert Edward Cowell / Keeper /../../Proceedings of the Old Bailey **
1881/Nellie Butt / Barmaid /../../Proceedings of the Old Bailey

1881/Albert Ed Cowell/Licenced Victualler/29/London, Middlesex/Census
1881/Grace Ann Cowell/Wife/27/London, Middlesex/Census
1881/Albert Ed Cowell/Son/3/London, Middlesex/Census
1881/Henry Jas Cowell/Son/5/London, Middlesex/Census
1881/Mary Pravy/Barmaid/27/London, Middlesex/Census
1881/Ada Bingham/Barmaid/22/London, Middlesex/Census
1881/Emma Bayere/General Servant Domestic/21/London, Middlesex/Census

1885/Albert Edward Cowell / Formerly Victualler & Livery Stable Keeper, now Out-of-Business /../../London Gazette, 30 March 1886 **

1896/Walter Samuel Ffitch/../../../Post Office Directory

1899/John Hy William Seager/../../../Post Office Directory

1900/Walter Amos/../../../Post Office Directory **

1901/Walter Amos/Licensed Victualler/30/Dartford, Kent/Census
1901/Maud Amos/Wife/30/Eynsford, Kent/Census
1901/Cicely Amos/Daughter/4/Lee, Kent/Census
1901/Hilda Amos/Daughter/4 months/Hackney, London/Census
1901/Harry Trannell/Servant/28/Kings Cross, London/Census
1901/Helen Woodhouse/Servant/19/City, London/Census
1901/Ada Parkins/Niece/12/Dartford, Kent/Census

1903/Arthur Robert Brunton/../../../Black Sheep Index **

1904/George Mirams/../../../P. O. Directory **

1905/Harry Horton / Manager /../../Proceedings of the Old Bailey **

1910/Frank Albert Woodcock/../../../Post Office Directory

1911/F A Woodcock/Licensed Victualler/33/St Pancras, London/Census ***
1911/Poppy Woodcock/Wife/35/Islington, London/Census
1911/Edna S Woodcock/Daughter/5/Shoreditch, London/Census
1911/Harry J Woodcock/Son/3/Islington, London/Census
1911/Rose F Woodcock/Daughter/1/Hackney, London/Census
1911/Edith E Parrish/Nursemaid/16/Hackney, London/Census



+ Provided by Friends of Tower Hamlets Cemetery Park

** Provided By Stephen Harris

*** Provided By John Carnaby