Search London wiki and Pub wiki history sites
All public house, restaurants, bars etc closed for the forseeable future from 20th March 2020, but this is a history site.
Green Man , 71 Shacklewell Lane, Hackney E8
Hackney Index
This pub was re-named the Shacklewell Arms in 2004. **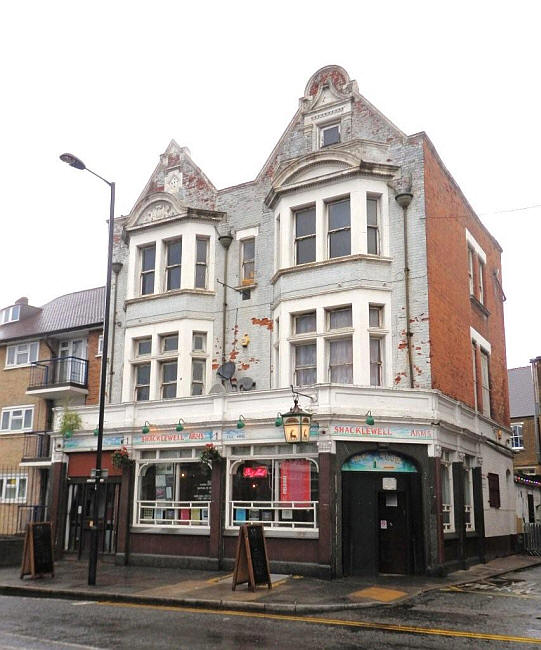 Green Man, 71 Shacklewell Lane, E8 - in April 2012
Kindly provided by Stephen Harris
Historical London public houses, Taverns, Inns, Beer Houses and Hotels.
Residents at this address.
1798/Samuel Reeves / Victualler /../../Sun Fire Office records held at Guildhall Library **

1823/John Moore / Victualler /../../Sun Fire Office records held at Guildhall Library **

1824/Charles Howard / Victualler /../../Sun Fire Office records held at Guildhall Library **

1826/C. Howard/../../../Pigot's Directory ***

1834/William Long / Public House Keeper /../../Proceedings of the Old Bailey **
1834/Elizabeth Long / Wife /../../Proceedings of the Old Bailey

Isaac FARR (who married Uriah Huddibull's daughter Sarah) in his will in 1811, bequeaths both The Hare and The Green Man to his wife Sarah FARR. *

In Sarah FARR's will, dated 14 June 1837, she appears to bequeath The Hare to her daughter Elizabeth (and on her death to son Isaac I think).
The fate of The Green Man is a bit more complicated. Apparently her late husband Isaac had leased it to someone called John BOO**? (unreadable) and the lease expires on 24 June 1837 (is this why she is writing her will on 14 June?). It looks like she leaves the lease jointly to her son-in-law Robert MOLLETT (married to her daughter Lucy) and her daughter Martha FARR. *

1851/James Daly/../../../Middlesex Directory

1851/James Daly/Licensed Victualler/38/Shadford, Essex/Census
1851/Alice Daly/Wife/40/Essex/Census
1851/James Daly/Son/12/Hackney, Middlesex/Census
1851/Alice Daly/Daughter/10/Hackney, Middlesex/Census
1851/Mary Barnard/Servant/28/Leyton, Essex/Census

1854/James Daley / Public House Keeper /../../Proceedings of the Old Bailey **

1855/Jas. Daly/../../../Post Office Directory **

1859/James Daly / Licensed Victualler /../../London Gazette, 14 January 1859 **

August 1859/Frederick Garner/Outgoing Licensee/../../Era Newspaper

August 1859/James Linton/Incoming Licensee/../../Era Newspaper

1861/James Linton/Licensed Victualler//Scotland/Census
1861/James Linton/Son, Artist Oil Painting/20/St Pancras, Middx/Census
1861/Mary Linton/Daughter, Barmaid/18/St Pancras, Middx/Census
1861/Isabella Brooks/House Keeper/43/Islington, Middx/Census
1861/Emily Harris/General Servant/24/Dalston, Middx/Census
1861/Frederick Dowsett/General Servant/14/Kingsland, Middx/Census

1866/J Linton/../../../London Suburbs Trade Directory

29th September 1866/James Linton, deceased/Outgoing Licensee/../../East London Observer +

29th September 1866/James Drongole Linton/Incoming Licensee/../../East London Observer +

November 1869/James D Linton/ Outgoing Licensee /../../East London Observer

November 1869/Henry Guilliam Worlock/ Incoming Licensee /../../East London Observer

1871/Henry G Worlock/Licensed Victualler/34/Bristol/Census
1871/Ellen Worlock/Wife/31/London/Census
1871/Charles S Worlock/Son/8/London/Census
1871/Ellen M Worlock/Daughter/7 months/Shacklewell/Census
1871/Jane Bridgway/Domestic Servant/29/Wiltshire/Census
1871/Mary A Grimsdale/Barmaid/20/London/Census

1872/H G Warlock/../../../Brabnerís Hackney Directory **

19th July 1873/Edward Clement Hobday/Outgoing Licensee/../../East London Observer +

19th July 1873/John Hughes/Incoming Licensee/../../East London Observer +

1874/J Hughes/../../../H D Miles Directory of Licensed Victuallers **

23rd May 1874/John Hughes/Outgoing Licensee/../../East London Observer +

23rd May 1874/John Cherry/Incoming Licensee/../../East London Observer +

1874/John Cherry/../../../Post Office Directory ***

October 1874/Julia Cherry/Outgoing Licensee/../../East London Observer

October 1874/Henry Hodges/Incoming Licensee/../../East London Observer

20th May 1876/Henry Hodges/Outgoing Licensee/../../East London Observer +

20th May 1876/Thomas Christian Cubbon/Incoming Licensee/../../East London Observer +

1878/Thomas Cubbon/../../../London Suburbs Trade Directory

1881/Thomas W Cubbon/Licensed Victualler/45/Hackney, Middlesex/Census
1881/Sarah Ann Cubbon/Wife/40/Little Snoring, Norfolk/Census
1881/Annie Maria Cubbon/Daughter, Assistant/16/Westminster, Middlesex/Census
1881/Minnie Kate Cubbon/Daughter/13/Clerkenwell, Middlesex/Census
1881/Marion Louise Cubbon/Daughter/9/Sutton, Surrey/Census
1881/Nellie Cubbon/Daughter/8/Sutton, Surrey/Census
1881/Maria Cubbon/Mother, Widow/74/Coventry, Warwick/Census
1881/Rachel Bushell/Wife Sister, Assistant/42/Little Snoring, Norfolk/Census

1891/Thomas Charlton/Licensed Victualler/30/Kingsland, London/Census
1891/Sarah A Charlton/Mother, widow/60/Highgate, London/Census
1891/Florence Lintrett/Servant/20/London/Census
1891/Emma Gowle/Servant/25/Fitzroy Square, London/Census
1891/George Price/Servant/26/Clapton, London/Census

1896/Thomas James Carlton/../../../London Suburbs Trade Directory

1901/John Thomas Holliwell/Licensed Victualler, Widow/43/London East/Census
1901/Ellen Hannah Fox Holliwell/Daughter, House Keeper/21/London East/Census
1901/Thomas Rudolf Holliwell/Son/11/London N E/Census
1901/Jane Holliwell/Daughter/13/London East/Census
1901/Dorothy Holliwell/Daughter/7/London WestCensus
1901/Robert Fox/Son in Law, Manager/29/London N W/Census
1901/James Whitehead/Father in Law, Retired Licensed Victualler, Widow/66/London East/Census
1901/Lettie Long/Barmaid/26/Norwich, Yarmouth/Census
1901/Esther Pontyer/General Servant/31/Kennington, London/Census

1902/John Thomas Holliwell/../../../London Suburbs Trade Directory

1904/John Thomas Holliwell/../../../London Suburbs Trade Directory

1905/John Thomas Holliwell/../../../London Suburbs Trade Directory

1908/John Thomas Holliwell/../../../London Suburbs Trade Directory

1911/John Thomas Holliwell/../../../London Suburbs Trade Directory

1914/Robert Fox/../../../London Trade Directory

1919/Robert Fox/../../../London Trade Directory

1934/Frederick Ernest Reeves/../../../Kelly's

1938/Frederick Ernest Reeves/../../../Post Office Directory

1944/Chas A Harris/../../../Post Office Directory

1988 - 90/Mrs M F Collings/../../../Watney Truman publicans list



+ Provided by Friends of Tower Hamlets Cemetery Park

* Provided By Julia Barton

** Provided By Stephen Harris

*** Provided By Ewan