Search London wiki and Pub wiki history sites
All public house, restaurants, bars etc closed for the forseeable future from 20th March 2020, but this is a history site.
Crown & Castle, 564 Kingsland Road - West Side, Hackney E8
Hackney pub history Index
At Orchard Row, Kingsland in 1851. The address is at Dalston Lane in 1878 and earlier; This pub closed in c.2005 and is now in restaurant use ** The address is at 600 Kingsland Road by 1971. *
Historical London public houses, Taverns, Inns, Beer Houses and Hotels.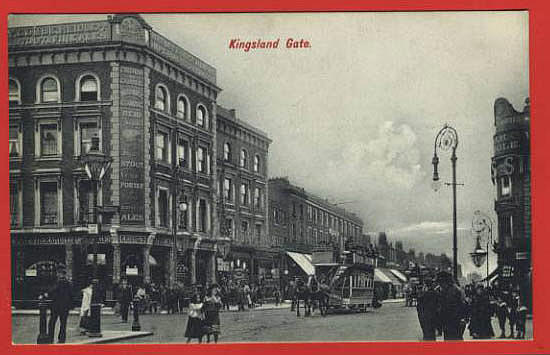 Crown & Castle, Kingsland Gate
Kindly provided by Colleen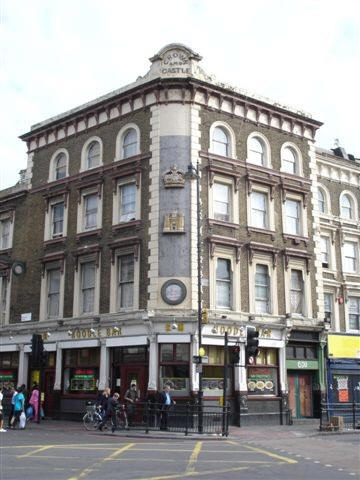 Crown & Castle, 600 Kingsland Road - in September 2006
Kindly provided by Stephen Harris
Residents at this address.
1851/Sam Martin/../../../Kellys Directory

1860/Thomas Smith / Licensed Victualler /../../London Gazette, 22 June 1860 **

1861/Thomas Smith/Victualler/53/Risby, Suffolk/Census
1861/Mary A Smith/Wife/34/Bromley, Middlesex/Census
1861/Thomas Smith/Son/2/Islington, Middlesex/Census
1861/John Nicholas/Barman/15/Islington, Middlesex/Census
1861/Julia Seely/General Servant/18/Hargrove, Suffolk/Census
1861/Mary Clearey/General Servant/16/Barrow, Suffolk/Census

July 1861/Thomas Smith/Outgoing Licensee/../../Era

July 1861/Samuel Peeling/Incoming Licensee/../../Era

1866/Samuel Peeling/../../../Post Office Directory

1869/Samuel Peeling/../../../Post Office Directory

1871/Samuel Peeling/Licensed Victualler/66/Framlingham, Norfolk/Census
1871/Sarah Peeling/Wife/56/Tottenham, Middlesex/Census
1871/George S Peeling/Nephew, Assistant/35/Camberwell, Surrey/Census
1871/Mary A Lester/Domestic Servant/21/Newington, Oxfordshire/Census
1871/William Butler/Barman/22/Longcote, Berkshire/Census
1871/William Jarvis/Waiter/20/Maidstone, Kent/Census

1872/S Peeling/../../../Brabnerís Hackney Directory **

August 1872/Samuel Peeling/Outgoing Licensee/../../Era

August 1872/Walter Frederick Hammond/Incoming Licensee/../../Era

19th July 1873/Walter Frederick Hammond/Outgoing Licensee/../../East London Observer +

19th July 1873/William Goffin/Incoming Licensee/../../East London Observer +

1874/William Goffin/../../../Post Office Directory *

1878/William Goffin/../../../Post Office Directory

1881/William Giffin/Licensed Victualler/43/Beccles, Suffolk/Census
1881/Christiana Giffin/Wife/42/Tower Hamlets, Middlesex/Census
1881/Fredk Wm Giffin/Son/16/St Pancras, Middlesex/Census
1881/Florence M Giffin/Daughter/14/St Pancras, Middlesex/Census
1881/Alfred E Giffin/Son/13/St Pancras, Middlesex/Census
1881/Sarah M Hawes/Assistant/24/Noyland, Suffolk/Census
1881/Emma E Robinson/Barmaid/17/Southampton, Hampshire/Census
1881/Geo Bowin/Barman/15/Shoreditch, Middlesex/Census
1881/Wm Hy Perkins/Barman/15/Islington, Middlesex/Census
1881/Amelia Wood/Domestic Servant/43/Clerkenwell, Middlesex/Census
1881/Wm Albert Mason/Barman/16/Shoreditch, Middlesex/Census
1881/Emily North/Barmaid/23/Islington, Middlesex/Census
1881/Margaret Mary Moore/Domestic Servant/22/Waterford County, Ireland/Census

1882/William Goffin/../../../Post Office Directory

1884/Joseph Dyke/../../../Post Office Directory

15 Jan 1886. Last Will and Testament of James Steel, the younger, brother, refers to "my brother, Charles Steel of The Crown and Castle, Kingsland Road, Dalston, Middlesex". ***

22 June 1886. Death Certificate of wife, Bessy Steel, "exhaustion after delivery, 36 hours". Age 36.
Death occurred at 114, Queens Road, Dalston. Notified by Charles Steel, Licensed Victualler, Widower of Deceased, at same address. ***

1889/Robert Cooper/../../../Post Office Directory **

1891/Robert Cooper/../../../Post Office Directory **

1895/Robert Cooper/../../../Post Office Directory **

1897/Lewis F Mayger/../../../Kellyís Dalston Directory **

1899/Lewis Frederick Mayger / Licensed Victualler /../../London Gazette, 9 February 1900 **

1899/Alfred William Bacon/../../../Post Office Directory

1901/Alfred William Bacon/../../../Post Office Directory **

1901/Robert Robinson/Licensed Victualler/34/St Andrews, Cambridge/Census
1901/Eliza J Robinson/Wife/34/St Andrews, Cambridge/Census
1901/Bessie Mitchell/Housekeeper, Widow/39/Scotland/Census
1901/Margaret Mitchell/Servant/3/Portland, Dorset/Census
1901/Annie Harvey/Kitchenmaid/26/Plumstead, London/Census
1901/Louisa Taylor/Barmaid/17/Gillingham, Kent/Census
1901/Ada Celia Becket/Barmaid/25/West Norwood, London/Census
1901/Lizzie Palmer/Barmaid/28/Mile End, London/Census
1901/Minnie L Cook/Barmaid/26/Torquay, Devon/Census
1901/Owen Pilgrim/Barman/21/Trinity, Cambridge/Census
1901/Mary Mattick/Barmaid/22/Old Newton, Suffolk/Census
1901/Fred William Clark/Barman/24/St Giles, Northampton/Census
1901/Fred William Sopencer/Barman/24/S Sepulchre/Census
1901/Sidney P Ramsden/Barman/21/Old Ford, London/Census

1910/Robert Robinson/../../../Post Office Directory

1915/Robert Robinson/../../../Post Office Directory

1921/Frank Farrell/../../../Post Office Directory **

1931/Frank Farrell/../../../Post Office Directory **

1934/John R Sanders/../../../Kellys Directory

1938/Cecil H J Broadway & A J Goldstone/../../../Post Office Directory

1944/Victor Denis de Heger & Walter K Roberts/../../../Post Office Directory

1988 - 90/T Costello/../../../Watney Truman publicans list



+ Provided by Friends of Tower Hamlets Cemetery Park

* Provided By Ewan

** Provided By Stephen Harris

*** Provided By Ian Sheppard