Search London wiki and Pub wiki history sites
All public house, restaurants, bars etc closed for the forseeable future from 20th March 2020, but this is a history site.
Paget Arms, 197 Middleton Road , Hackney
Hackney pub history Index
Address formerly 107 Albert Road until about 1944 when it becomes 197 Middleton Road. In 1874, and earlier, it is at Lansdowne Road, e.g. in the 1871 census. This pub was re-built after WWII and closed in 2005. At the time of closure it was trading as 'Carey's 3', a name which had been adopted in 1996. This former pub was demolished in 2009.**
Historical London public houses, Taverns, Inns, Beer Houses and Hotels.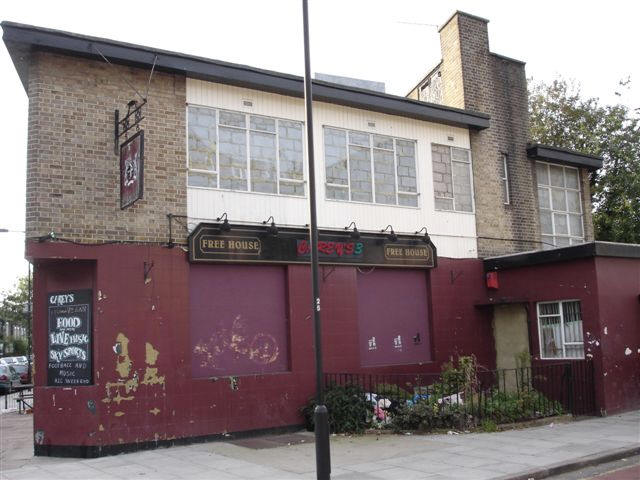 Paget Arms, 197 Middleton Road, Hackney - in November 2006
Kindly provided by Stephen Harris
Residents at this address.
1866/Thomas Sanders/../../../Middlesex Post Office Directory

August 1869/Thomas Sanders/Outgoing Licensee/../../Era

August 1869/Thomas Faulkner/Incoming Licensee/../../Era

January 1870/Thomas Faulkner/Outgoing Licensee/../../Era Newspaper

January 1870/Spencer Stoakes/Incoming Licensee/../../Era Newspaper

1871/Spenser Stokes/Publican/34/Hertfordshire/Census
1871/Mary Ann Stokes/Wife/30/Shoreditch, Middlesex/Census
1871/Spencer Stokes/Son/3/Camberwell/Census
1871/Joseph Thomas Stokes/Son/2/Camberwell/Census
1871/William Charles Stokes/Son/9 months/Hackney, Middlesex/Census
1871/Eliza Stokes/Sister, Barmaid/18/Hertfordshire/Census
1871/Sarah Phillips/General Servant/28/Bermondsey/Census

1872/S Stokes/../../../Brabner's Hackney Directory **

1874/Spencer Stokes/../../../Post Office Directory

1878/Spencer Stokes/../../../Middlesex Post Office Directory

1881/Spencer Stokes/Licensed Victualler, Widow/46/Kensworth, Hertford/Census
1881/Spencer Stokes/Son/13/Peckham, Surrey/Census
1881/Joseph T Stokes/Son/11/Peckham, Surrey/Census
1881/William C Stokes/Son/10/Dalston, Middlesex/Census
1881/Eliza Stokes/Sister, Housekeeper/25/Kensworth, Hertford/Census
1881/Sarah Willis/Barmaid/34/Kensworth, Hertford/Census
1881/John P Letton/Potman/30/Edinburgh, Scotland/Census
1881/Emma Ward/Cook/24/Bethnal Green, Middlesex/Census

1891/Sarah Stokes/Licensed Victualler, Widow/84/Dunstable, Bedfordshire/Census
1891/Spencer Stokes/Son, Licensed Victualler/23/Peckham, London/Census
1891/Joseph Stokes/Son, Licensed Victualler/21/Peckham, London/Census
1891/Kate J Weatherley/Barmaid/16/Dalston, London/Census
1891/John Mack/Potman/27/Brampton, Norfolk/Census

1896/Mrs Sarah Stokes/../../../Post Office Directory

1899/Mrs Sarah Stokes/../../../Post Office Directory

1901/Sarah Stokes/Licensed Victualler, Widow/44/Ledworth, Hertfordshire/Census
1901/Spencer Stokes/Stepson, Barman/33/Peckham, London/Census
1901/Lily Kenny/Barmaid/19/Eaton Bray, Bedfordshire/Census
1901/Eugenia Parrini/Barmaid/24/Hackney, London/Census
1901/James Lutz/Visitor, Builder & Decorator/22/Hackney, London/Census

1906/William Rooks/../../../Morris' Business Directory of London **

1910/William Henry Rooks/../../../London Trade Directory

1915/Alfred Rooks/../../../London Trade Directory

1921/Alfred Rooks/../../../London Trade Directory

1934/Ernest Arthur Halter/../../../Post Office Directory

1938/Ernest Arthur Halter/../../../Post Office Directory

There is an E A Halter at the Two Brewers, Dartford by 1941 according to the telephone directory listings.

In 1928, my father (George Hawkins) was landlord at the Nags Head, Tottenham High road near to the Edmonton boundary, we used to have a horse to cut the grass. He then moved to the Crown, in Cleveland street W1, until the GPO purchased all the land from Maple street area including the chemist on the corner, the film studios and beyond. I remember celebrating a Royal 'to do' around around 1935. *

He then moved to the Sutton Arms in Clerkenwell, where we used to have professional snooker players practice on our full size table on the first floor. From there it was to the final resting place, the Paget Arms in hackney where he was when war broke out. *

1944/Geo W Hawkins/../../../Post Office Directory



* Provided By George Hawkins

** Provided by Stephen Harris