Pub history, pubwiki and London
Plough, 23 High Street, Homerton, Hackney
Hackney pub history Index
Several excellent photographs of the Plough, from 1870 to 1900, exist at the Hackney Archive site; looking east from junction with Plough lane in 1870.
The earliest record relating to the Plough is one dated 15th November, 1785, on which date Nathaniel, Lord Harrowby, of Lincoln, a descendant of Dudley Ryder of Hackney, conveyed to Thomas Proctor of Shoreditch -
All that messuage or tenement situate in Hummerton commonly called or known by the name or sign of the Plough, together with the garden, stable, slaughter house or appurtenances thereto belonging ..
This document records that the late Sir Dudley Ryder, father of Lord Harrowby, had leased the property during his lifetime (1691 - 1756) to John Wightman, who is thus the earliest known licensee of The Plough.
The sale of the property in 1785 was effected by public auction at which Thomas Proctor paid the not inconsiderable sum of £700 for it and, passing to his son Ambrose in due course. The Plough remained in the Proctor family until 1815.
At this date, Ambrose Proctor sold the property together with The Last and The Ship at Shoreditch and The Blackbirds at Leyton to Thomas and Robert Pryor, brewers of Shoreditch
Twenty years later, on the death of Thomas Pryor, his executor, Robert, sold The Plough to Thomas Fowell Buxton, Edward North Buxton and Robert Hanbury "of the parish of Christchurch, brewers", and in the ownership of Messrs Truman, Hanbury and Buxton, this long established tavern remains today.
The buildings shown in the photograph, stood on the North side of Homerton High Street and were of considerable antiquity when it was taken (about 1870). The deed of 1785 mentioned, also records an earlier conveyance dated 1704 and the buildings may well date from a century earlier. The cannon bollards in the foreground mark the entrance to Plough Lane, now Furrow Lane
Between 1870 and 1884 The Plough was modernised and the old houses demolished. - Black eagle Journal *** Renamed as the Plough in 2013. *+

Historical London public houses, Taverns, Inns, Beer Houses and Hotels.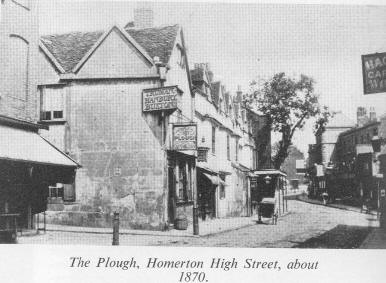 Plough, Homerton High Street - in 1870
Kindly provided by Alex Wilkinson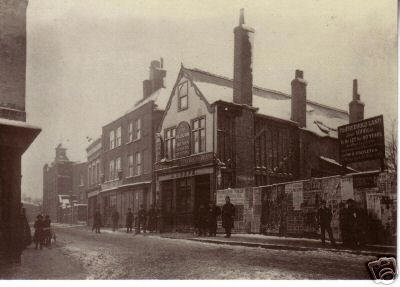 The Plough Inn - demolished in 1887
Kindly provided by Colleen
The Plough, Homerton High Road (now Jerry Wine Bar) - September 2005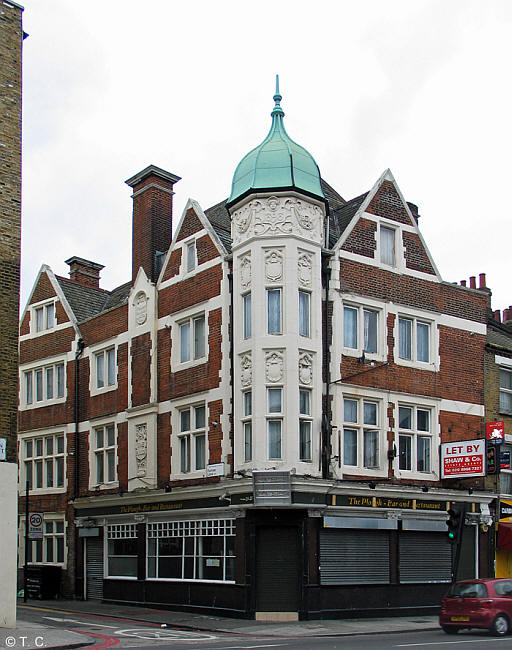 Plough, 23 High Street, E9 - in June 2013
Kindly provided by Tris
Residents at this address.
1731/Charles Harper/../../../Hackney Petty Sessions Book **

1734/Martha Collins/../../../Hackney Petty Sessions Book **

1736/William Wilcox/../../../Hackney Petty Sessions Book **

1736/Richard Herbert/../../../Hackney Petty Sessions Book **

1752/Martha Herbert/../../../Hackney Petty Sessions Book **

1785/John Wightman/../../../Sale Document ***

1796/Lucy Keymer / Public House Keeper /../../Proceedings of the Old Bailey **

1802/Mr Wilson / Public House Keeper /../../Proceedings of the Old Bailey **
1802/Elizabeth Keymer / Daughter-in-Law /../../Proceedings of the Old Bailey

1826/William Morgan/../../../Pigot's Directory

1827/John Page/../../../LV Association

1833-34/John Terry, Plough, High street, Homerton/../../Pigots Directory

1833/John Bradshaw / Victualler /../../Sun Fire Office records held at Guildhall Library **

1837/Thomas Leeds / Victualler /../../Sun Fire Office records held at Guildhall Library **

1839/Thomas Leeds / Victualler /../../Sun Fire Office records held at Guildhall Library **

1839/Thomas Leeds/../../../Pigot's Directory **

1851/Mrs Deborah Leeds/../../../Middlesex Post Office Directory

May 1852/Deborah Leeds/ Outgoing Licensee /../../The Era

May 1852/George Trickey/ Incoming Licensee /../../The Era

1855/G Trickey/../../../P.O. Directory **

March 1865/William Sheldrick/Outgoing Licensee/../../East London Observer +

March 1865/Henry Nash/Incoming Licensee/../../East London Observer +

1866/Henry Naish/../../../Middlesex Post Office Directory

1870/Henry Nash/../../../Post Office Directory **

1872/H Nash/../../../Brabnerís Hackney Directory **

30th September 1871/Henry Nash/Outgoing Licensee/../../East London Observer +

30th September 1871/Henry Cuthbert/Incoming Licensee/../../East London Observer +

1872/Henry Cuthbert/../../../Post Office Suburbs Directory **

1874/Henry Cuthbert/../../../Post Office Directory

1878/Nathaniel Nathan Foley/../../../Middlesex Post Office Directory

1881/Nathaniel N Foley/Licensed Victualler/29/Spitalfields/Census
1881/Esther N Foley/Wife/25/Aldgate/Census
1881/Noah Marks/Nephew/12/Pimlico/Census
1881/Maria Hudson/Barmaid/25/../Census

1884/Rebecca Berry / Widow / Licensed Victualler /../../London Gazette, 11 April 1884 **

1891/George Nixon/Licensed Victualler/37/Porthill/Census
1891/Elizabeth Nixon/Wife/30/Fulham, London/Census
1891/Beatrice Nixon/Daughter/5/Battersea, London/Census
1891/Frederick Nixon/son/4//Battersea, London/Census
1891/Augusta Smith/Domestic Servant/27/City Road, London/Census
1891/Ellen Wynn/Barmaid/23/Victoria Park, London/Census

1896/Edward Page/../../../Post Office Directory

1901/Edward Page/Licensed Victualler/36/Maida Vale, London/Census
1901/Phoebe Page/Wife/27/Shoreditch, London/Census
1901/Ethel Belford/Barmaid/19/Bristol, Glocester/Census
1901/Charles Thompson/Potman/34/Poplar, London/Census

1902/Edward Page/../../../Kelly's

1904/Edward Page/../../../London Trade Directory

1905/Edward Page/../../../London Trade Directory

1908/Arthur Rigby Gordon/../../../P.O. Suburban Directory **

1909/Arthur Rigby Gordon/../../../P.O. Suburban Directory **

1911/Arthur Edgar Gordon/../../../London Trade Directory

1911/Arthur Edgar Gordon/Publican/35/Homerton, London/Census
1911/Maud May Young/Barmaid/23/Loughton, Essex/Census
1911/Lilian Vincent/Servant/21/Loughton, Essex/Census

1912/Arth. Edgar Gordon/../../../P.O. Suburban Directory **

1919/Marlow Hyman/../../../London Trade Directory

1921/Marlow Hyman/../../../London Trade Directory

1934/Fredk Empringham/../../../Kellys Directory

1938/Albert Victor Panton/../../../Post Office Directory

1944/Ernest Wm West/../../../London Trade Directory

The Plough was bought in February 1960 by two brothers - Ernest Bruff (married to Irene) and Arthur Bruff (married to Grace). Ernest & Irene stayed in the pub until November 1960 before moving out (but still owning & running). They kept the pub between them until about 1962. *

Mrs Daly, wife of Mr P J Daly, died May 26th, 1970 at 36 years old -- Black Eagle Journal ***

Pat Daly and his Theresa took over The Plough in Homerton High Street, Hackney, (E9) in about 1964 and he finally left in about 1992. *



+ Provided by Friends of Tower Hamlets Cemetery Park

* Provided By Joanne Croke

*+ Provided by Tris

** Provided By Stephen Harris

*** Provided By Alex Wilkinson



* Provided By John Sills