Duke of Wellington, 260 Haggerston Road, Hackney E8
Hackney Index
(A road sign for Stonebridge Common can be seen attached to the pub wall, even though this is not the pub's current address - at the Duke of Wellington, 100 Haggerston Road - which is latterly at 260 Haggerston Road by 1944). Further research on Stonebridge lists the Duke of Wellington, 1 Wellington Terrace, Stonebridge Common in 1859, 1869 & 1874 ** The Duke of Wellington, Fox lane in the 1869 and 1875 license transfers.
Historical London public houses, Taverns, Inns, Beer Houses and Hotels.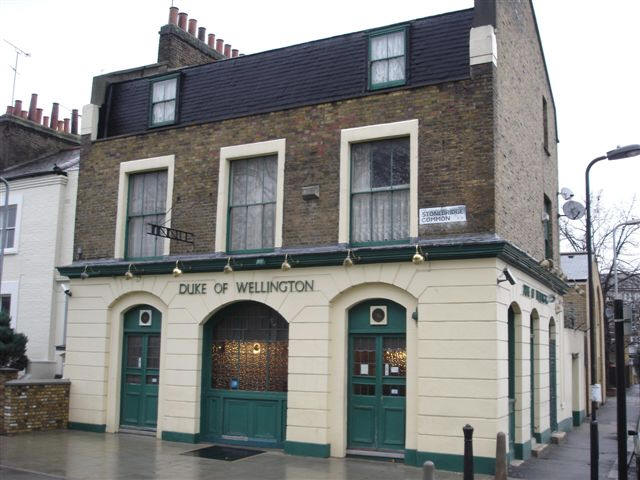 Duke of Wellington, 260 Haggerston Road, Hackney - in November 2006
Kindly provided by Stephen Harris
Residents at this address.
July 1851/John David Beger/Outgoing Licensee/../../Era

July 1851/Thomas Lee Linford/Incoming Licensee/../../Era

1851/Thos Lee Lindford/../../../Middlesex Directory

1855/Samuel Debenham/../../../Post Office Directory **

August 1859/Thomas William Gurney/Outgoing Licensee/../../Era Newspaper

August 1859/John James Christopher Young/Incoming Licensee/../../Era Newspaper

1861/William Murrell/Licensed Victualler/35/Polgrave, Suffolk/Census
1861/Jane Murrell/Wife/38/Oakley, Suffolk/Census
1861/Frederick Murrell/Son/5/Hackney, Middlesex/Census
1861/William Farrow/Potman/23/Stoneham, Suffolk/Census
1861/Susan Lambeth/General Servant/27/Stoneham, Suffolk/Census

October 1865/William Murrell/Outgoing Licensee/../../Era Newspaper

October 1865/William Lawrence Grosnutt/Incoming Licensee/../../Era Newspaper

1866/W Grosutt/../../../Middlesex Post Office Directory

29th September 1866/William L Grosnut/Outgoing Licensee/../../East London Observer +

29th September 1866/John Booth Grundy/Incoming Licensee/../../East London Observer +

1869/John Booth Grundy/../../../Post Office Directory

July 1869/James Booth Grundy/ Outgoing Licensee /../../The Era

July 1869/Thomas Bennett/ Incoming Licensee /../../The Era

19th March 1870/Sarah Ann Beeth Bennett/Outgoing Licensee/../../East London Observer +

19th March 1870/Nathaniel Myers/Incoming Licensee/../../East London Observer +

March 1874/Nathaniel Myers/Outgoing Licensee/../../East London Observer

March 1874/James Mark Wooley/Incoming Licensee/../../East London Observer

1874/James Mark Wooley/../../../Middlesex Post Office Directory

January 1875/James Mark Woolley/Outgoing Licensee/../../East London Observer

January 1875/William Freeman Woods/Incoming Licensee/../../East London Observer

November 1875/W F Wood/Outgoing Licensee/../../East London Observer

November 1875/C G Eldred/Incoming Licensee/../../East London Observer

12th May 1877/C J Eldred/Outgoing Licensee/../../East London Observer +

12th May 1877/Frederick Brinkinson/Incoming Licensee/../../East London Observer +

1878/Alfred James Drysdale/../../../Middlesex Post Office Directory

1881/Alfred J Drysdale/Licensed Victualler/42/Bethnal Green, Middlesex/Census
1881/Mary A Drysdale/Wife ,Assistant To Victualler/46/Hingham, Norfolk/Census
1881/Alfred J Drysdale/Son ,Assistant To Victualler/21/Strand, Middlesex/Census
1881/Minnie Drysdale/Daughter ,Assistant To Victualler/12/Stratford, Essex/Census
1881/William Marlow/Potman/30/Offley, Hertford/Census
1881/Emma Burr/Domestic Servant/18/Noak Hill, Essex/Census

[ By 1891 Alfred Drysdale is a Licensed Victualler at the Britannia, 144 Southwark Bridge Road ]

My Great grandfather was the licensee of The Duke Of Wellington Public House in 1891, the address then being 100 Haggerston Road ***

1891/Robert Pasco/Licensed victualler/48/Ealing. Middlesex/Census ***
1891/Emily J Pasco/Wife/45/Grays Inn Road, London/Census
1891/EWmily K Pasco/Daughter, Assistant/23/Hackney, London/Census
1891/Isabel A Pasco/Daughter, Assistant/20/Hackney, London/Census
1891/Helen L Pasco/Daughter, Assistant/18/Hackney, London/Census
1891/Rose M Pasco/Daughter/11/Hackney, London/Census
1891/James W L Carr/Barman/22/Darlington, Durham/Census

1896/Walter Wilton/../../../Kelly's Directory *

1897/William Sumpton/../../../Kelly's Directory of Dalston **

1899/Wm Alfd Goodchild/../../../Post Office Directory **

1901/Alfred W Goodchild/Publican/51/Lambeth, London/Census
1901/Clara K Gasson/Barmaid/23/Camberwell, London/Census
1901/Edward H Farmer/Potman/47/Bermondsey, London/Census

1904/Alfred William Goodchild/../../../Post Office Directory **

1906/Louisa A Goodchild/../../../Morris' Business Directory of London **

1910/Mrs Louisa Alice Goodchild/../../../Post Office Directory **

1915/Mrs Louisa Alice Goodchild/../../../Post Office Directory *

1921/Richard John Sparrow/../../../Post Office Directory

1923/Richard John Sparrow/../../../Post Office Directory **

1938/Edward Hy Horsfall/../../../Post Office Directory

1944/Alfred Ernest Brockman/../../../Post Office Directory

1961/Harry Marks / Publican /../../London Gazette, 21 June 1963 **



+ Provided by Friends of Tower Hamlets Cemetery Park

* Provided By Ewan

** Provided By Stephen Harris

*** Provided By Jean Hood