Duke Of York, 2 Perrers Road, Hammersmith W6
Hammersmith Index
Historical London public houses, Taverns, Inns, Beer Houses and Hotels.
Address formerly given as 2 York Road. This pub is now closed and in private residential use. **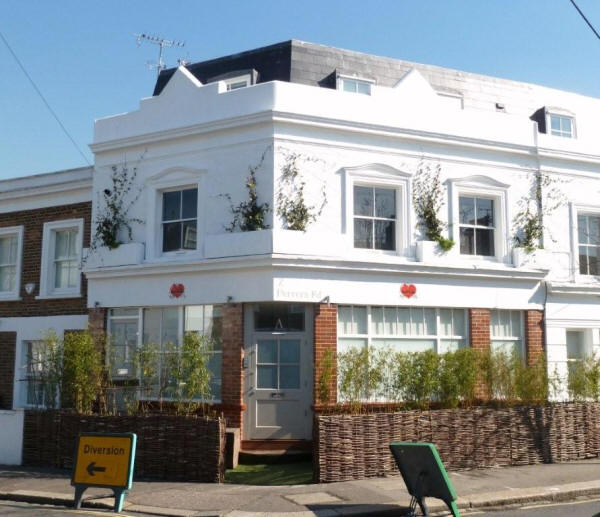 Duke of York, 2 Perrers Road, W6 - in March 2011
Kindly provided by Stephen Harris
The following entries are in this format:
Residents at this address.
1881/Henry Waddleton/Publican/52/Tiverton, Devon/Census
1881/Mary Waddleton/Wife/44/Holbeach, Lincoln/Census

1891/James J Bett/Beer House Keeper/42/Ealing, Middlesex/Census
1891/Mary Bett/Wife/33/Dudley, Worcester/Census
1891/Ether Bett/Daughter/9/Ealing, Middlesex/Census
1891/Annie Bett/Sister/36/Leicester/Census

1896/C Bioneck/Beer Retailer/../../Post Office Directory

1901/Geo Fdk Barrett/Beer House Keeper/39/London/Census
1901/Ellen Barrett/Wife/33/London/Census
1901/Ellen Barrett/Daughter/15/London/Census
1901/George Barrett/Son/13/London/Census
1901/Charles Barrett/Son/11/London/Census
1901/Dorothy Barrett/Daughter/7/London/Census

1934/G H Barrett/Beer Retailer/../../../Kellys Directory

1938/G H Barrett/Beer Retailer/../../../Post Office Directory

1944/G H Barrett/Beer Retailer/../../../Post Office Directory



** Provided By Stephen Harris