Hampshire Hog, 227 King Street, Hammersmith W6
Hammersmith Index
Historical London public houses, Taverns, Inns, Beer Houses and Hotels.
This pub was established in the seventeenth century and rebuilt in its present form in 1883. It is now renamed Ruby Grand. **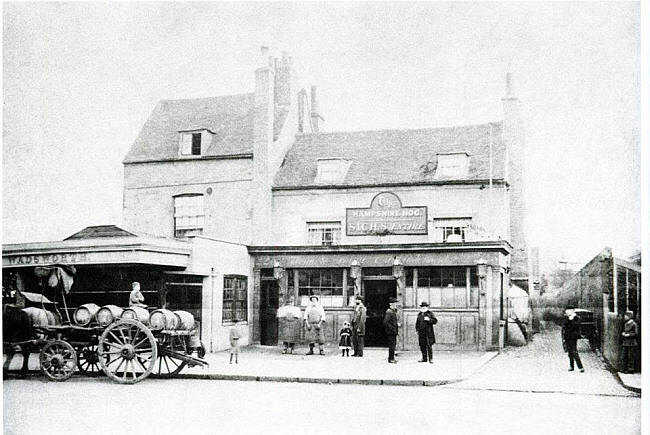 Hampshire Hog, King Street, W6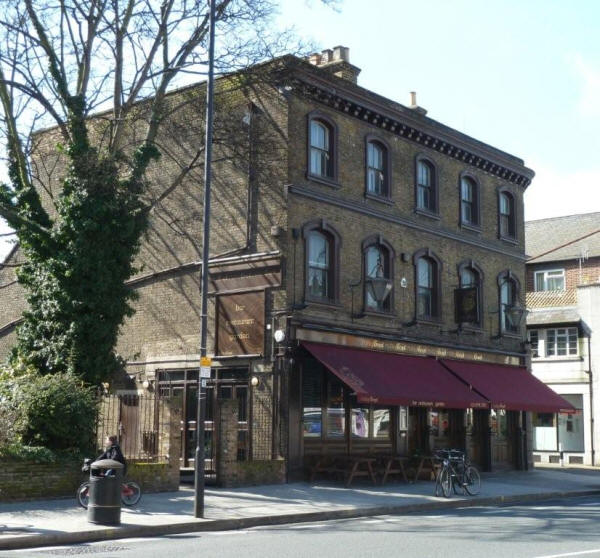 Hampshire Hog, 225-227 King Street, W6 - in March 2011
Kindly provided by Stephen Harris
Residents at this address.
1811/T Rimell, Hampshire Hog, King street, Hammersmith/../../Holdens Directory

1826/Richard Rimell/../../../Middlesex Post Office Directory

1855/Frederick George Rimell/../../../Post Office Directory **

November 1854/George Rimell/Outgoing Licensee/../../Era Newspaper

November 1854/Henry Stacey/Incoming Licensee/../../Era Newspaper

February 1858/executors of William Jenkins/Outgoing Licensee/../../West Middlesex Advertiser

February 1858/Mary Jenkins, his widow/Incoming Licensee/../../West Middlesex Advertiser

1859/Mary Ann Jenkins / Public House Keeper /../../Proceedings of the Old Bailey **
1859/Mary Gates / Sister /../../Proceedings of the Old Bailey

1874/Frank Sawyer / Public House Keeper /../../Proceedings of the Old Bailey **

1874/Frank Sawyer/../../../Middlesex Post Office Directory

1878/Frank Sawyer/../../../Middlesex Post Office Directory

1881/Frank Sawyer/Licensed Viclualler/37/Hammersmith, Middlesex/Census
1881/Elizabeth I Sawyer/Wife/35/Elonica Halifax/Census
1881/Howard Sawyer/Son/6/Hammersmith, Middlesex/Census
1881/Emily Rowle/Barmaid/16/Westerham, Kent/Census
1881/Thomas Swaunborough/Potman/17/Wales/Census

1896/Henry Dorey/../../../Post Office Directory

1901/Elizabeth Blackman/Licensed Victualler, Widow/43/Hammersmith, London/Census
1901/Elizabeth L Blackman/Daughter, Barmaid/23/Chelsea, London/Census
1901/Louisa A Blackman/Daughter, Barmaid/21/Battersea, London/Census
1901/Florence D Blackman/Daughter, Drapers Assistant/17/Richmond, London/Census
1901/Edith V Blackman/Daughter/15/Richmond, London/Census
1901/Rose D Blackman/Daughter/11/Hammersmith, London/Census
1901/Frederick W Blackman/Son/8/Hammersmith, London/Census
1901/Baetrice M Blackman/Daughter/5/Hammersmith, London/Census
1901/Mary A Mitchell/Aunt, Housekeeper/56/Grosvenor Square, London/Census
1901/William Lemon/Licensed Victuallers Manager/44/St Lukes, London/Census

1908/Mrs E Blackman/../../../Post Office Directory

1919/Mrs Rose Dorothy Blackman/../../../Post Office Directory

1933/Frederick Walter Blackman, Rose Dorothy Lambert & May Beatrice Mackey, trading as R D Lambert / Licensed Victuallers /../../London Gazette, 16 June 1933 **

1934/Mrs R D Lambert/../../../Kellys Directory

1938/Mrs R D Lambert/../../../Post Office Directory

1944/Leslie & Mrs Florence Holingbery/../../../Post Office Directory



** Provided By Stephen Harris