Travellers Rest, 93 Askew Road, Shepherds Bush, Hammersmith W12
Hammersmith Index
Historical London public houses, Taverns, Inns, Beer Houses and Hotels.
At Victoria road in 1874, then Starch Green Road in 1881 census. This pub was rebuilt in its current form in 1908 and closed in around 2003. It is now converted to supermarket use. In its latter days it traded as the Old Bull & Bush. **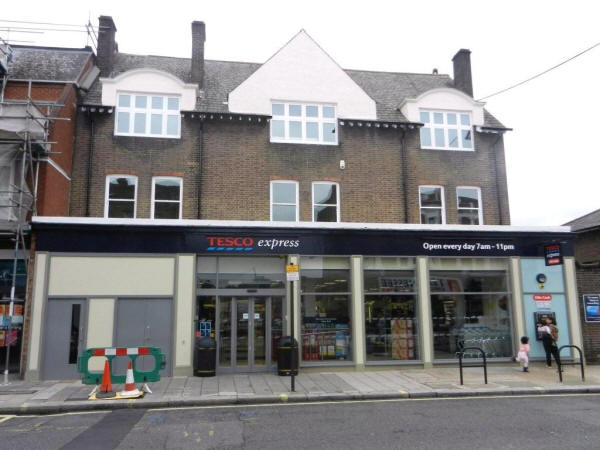 Travellers Rest, 93 Askew Road, Shepherds Bush, W12 - in June 2011
Kindly provided by Stephen Harris
Residents at this address.
1871/Edward Coles/Licensed Victualler/36/England/Census
1871/Elizabeth Coles/Wife/29/Fenny Stratford/Census
1871/Edward Coles/Son/6/Ealing/Census
1871/Albert Coles/Son/4/Ealing/Census
1871/Edith Coles/Daughter/10 months/Ealing/Census
1871/John Coles/Brother, House Carpenter/26/England/Census
1871/Grace Carter/Barmaid/18/England/Census

1874/George Wright/../../../Post Office Directory

1878/Mrs Jane Wright/../../../Middlesex Post Office Directory

1881/Alfred Stace/Licensed Victualler/50/Blackheath, Kent/Census
1881/Elizabeth F Stace/Wife/34/Stepney/Census
1881/Alfred Stace/Son, Barman/16/Stepney/Census
1881/Edith A Stace/Daughter/9/Hackney/Census
1881/Frances M Stace/Daughter/8/Hackney/Census
1881/Harry S Stace/Son/6/Camden Town/Census
1881/Blanche E Stace/Daughter/5/Camden Town/Census
1881/Frank C Stace/Son/3/Brighton/Census
1881/Ellen Adams/Cook/27/Gloucester/Census
1881/Letitia F Martin/Nursery (Domestic)/15/Hackney/Census

1896/H T Newman/../../../Post Office Directory

1901/Harry Newman/Public House Manager/35/Hammersmith, London/Census
1901/Beatrice Newman/Wife/36/Kensington, London/Census
1901/Dorothy Newman/Daughter/6/Hammersmith, London/Census
1901/Francis Newman/Son/5/Hammersmith, London/Census
1901/Emma Metcalf/Mother in Law, Widow/67/Dartford, Kent/Census
1901/Henry McCarthy/Barman/20/Fulham, London/Census
1901/Frederick McCarthy/Barman/19/Fulham, London/Census
1901/Ernest Robert/Barman/26/Islington, London/Census

1904/Edward Steel/../../../Post Office London Suburbs Directory **

1908/Edward Steel/../../../Post Office Directory

1911/Alfred Thos Davies/../../../Post Office Directory

1919/Widdicombe & Crockford/../../../Post Office Directory

1921/Widdicombe & Crockford/../../../Post Office Directory

1934/Widdicombe & Crockford/../../../Kellys Directory

1938/Widdicombe & Salvidge/../../../Post Office Directory

1944/Widdicombe & Salvidge/../../../Post Office Directory

1948/William Culliford Salvidge / Licensed Victualler's Manager/../../London Gazette, 18 June 1948 **



** Provided By Stephen Harris