Black Bull Tavern, 122a Holborn, Holborn EC1
Holborn index
Aka Black Bull (Tap) Tavern & Hotel, at 122 Holborn; This pub was present by 1697. This pub closed in around 1900 and was demolished in around 1904 to accommodate an extension to Gamages Department Store. ** Listed as the Bull Inn at Holborn Hill in Sun Fire Office insurance records of 1835 and earlier. It's also listed as the Black Bull Hotel in its later years. *
A listing of historical public houses, Taverns, Inns, Beer Houses and Hotels in Holborn - St Andrew, London.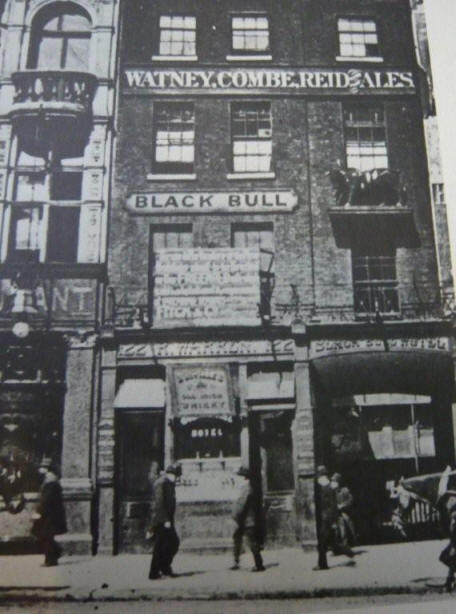 Black Bull, 122 Holborn - in around 1901, shortly after closure – the name R Warren can be seen on the ground floor fascia.
Kindly provided by Stephen Harris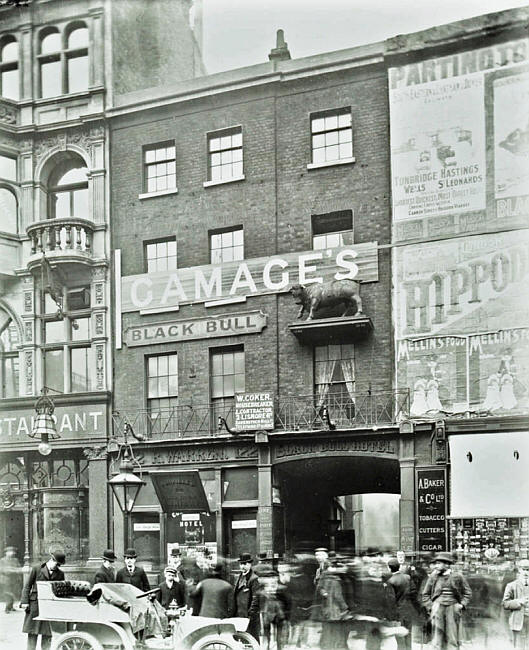 Black Bull, 122 Holborn - Landlady, Mrs Rosanna Warren. Taken shortly before demolition, Gamage's already have their sign on the building. Circa 1904
Kindly provided by Vincent O'Loughlin
The Bull sculpture from the front of the pub which is now positioned outside the Black Bull (former Ravenscourt Arms), 243 King Street; Hammersmith W6.
Residents at this address
1788/George Sammes/innholder, Bull Inn/../../Sun Fire Office records held at the London Metropolitan Archives *

1801/John Fernehough/innholder, Bull Inn/../../Sun Fire Office records held at the London Metropolitan Archives *

1825/Thomas Gardiner/coffee house keeper, Bull Inn/../../Sun Fire Office records held at the London Metropolitan Archives *

1826/Thomas Gardiner/innkeeper, Bull Inn/../../Sun Fire Office records held at the London Metropolitan Archives *

1827/Thomas Gardiner/wine and spirit merchant and victualler, Bull Inn/../../Sun Fire Office records held at the London Metropolitan Archives *

1828/Thomas Gardiner/innholder, Bull Inn/../../Sun Fire Office records held at the London Metropolitan Archives *

1835/Robert Browning/innholder, Bull Inn/../../Sun Fire Office records held at the London Metropolitan Archives *

1835/Edward Faunch/victualler, Bull Inn/../../Sun Fire Office records held at the London Metropolitan Archives *

1839/Henry Johnson/../../../Pigot's Directory **

1841/C Robottom/../../../Post Office Directory **

1842/Charles Robertson/../../../Robsons Directory

1843/George Bond/../../../Post Office Directory

October 1847/George Crawley/Outgoing Licensee/../../Era

October 1847/Robert Browning/Incoming Licensee/../../Era

May 1850/Robert Browning/Outgoing Licensee/../../Era

May 1850/John Edwards/Incoming Licensee/../../Era

1851/John Edwards/../../../Kelly's Directory **

1851/Mary Edwards/Wife, Hotel Keeoer/27/London, Middlesex/Census
1851/Hannah Bales/Housekeeper/30/London, Middlesex/Census
1851/George Hudson/Visitor/22/Bath, Somerset/Census
1851/C Porter/Visitor, Collier/20/Brampton, Cumberland/Census
1851/F W Heath/Visitor, Landed Proprietor/43/Lambeth, Surrey/Census
1851/Thomas McCrany/Visitor, Engineer/19/Worcestershire/Census
1851/C S King/Visitor, Solicitor/47/Hampshire/Census
1851/Margaret Banks/Barmaid/28/London, Middlesex/Census
1851/Ann Edwards/Cook/36/Wales/Census
1851/Sarah A Butcher/Waitress/23/Chelmsford, Essex/Census
1851/Elizabeth Reading/Chambermaid/23/Bayswater, Middlesex/Census
1851/Mariah Fishwick/Chambermaid/19/Berkshire/Census
1851/James Burgess/Porter/28/Albury, Surrey/Census
1851/Francis Stook/Barman/21/Elmwood, Somerset/Census

1856/John Edwards/../../../Post Office Directory

Morning Advertiser 23 February 1857 - transfer of the license:
Black Bull, Holborn hill, John Edwards to John Empson

1869/John Clark/../../../Post Office Directory

1871/John Clark/Licensed Victualler/47/London City, Middlesex/Census
1871/Caroline Clark/Wife/42/Wimborne, Dorset/Census
1871/John Clark/Son/14/London City, Middlesex/Census
1871/Elizabeth Bird/Barmaid/21/London City, Middlesex/Census
1871/Mary A Hancock/Cook, Widow/69/Aberyswith, Cardigan/Census
1871/Henry Lambirth/Potman/19/SAtock, Essex/Census
1871/John Burham/Waiter/32/London City, Middlesex/Census

1873/John Clark/../../../Post Office Directory **

1874/Caroline Clark/../../../Licensed Victualler & Hoteliers Directory

1881/Rosannah Warren/Licensed Victualler, Widow/38/St Andrews, Middlesex/Census
1881/Fred P Warren/Son/1/St Andrews, Middlesex/Census
1881/Sydney E Warren/Son/6 months/St Andrews, Middlesex/Census
1881/Julia P Bags/Barmaid/26/Worth, Sussex/Census
1881/Edwin F Mitchell/Potman/21/Hackney, Middlesex/Census
1881/Ellen Haynes/Cook/30/St Pancras, Middlesex,/Census
1881/Therza Ranger/Nurse Maid/21/Wells, Norfolk/Census
1881/Charles A Hurrel/Boarder, Commercial Traveller/37/Shoreditch, Middlesex/Census

1882/Mrs Rosanna Warren/../../../Post Office Directory

1884/Rosanna Warren/../../../Business Directory of London **

1885/Mrs Rosanna Warren/../../../Post Office Directory **

1886/Rosanna Warren/../../../Business Directory of London **

1895/Mrs Rosanna Warren/../../../Post Office Directory *

1899/Mrs Rosanna Warren/../../../Post Office Directory *

1901/Lewis Abrahams/../../../Post Office Directory *



* Provided By Ewan

** Provided By Stephen Harris

*** Provided By Vincent O'Loughlin