Search London and Pub history
Castle Tavern, 26 Furnival Street, Holborn EC4
Holborn index
By 1893 the address had changed from 26 Castle Street to 26 Furnival Street, which remains the pub's current address. The pub is believed to have been established in 1541 and it was rebuilt in its current form in 1901. ***
A listing of historical public houses, Taverns, Inns, Beer Houses and Hotels in Holborn - St Andrew, London. The Holborn , London listing uses information from census, Trade Directories and History to add licensees, bar staff, Lodgers and Visitors.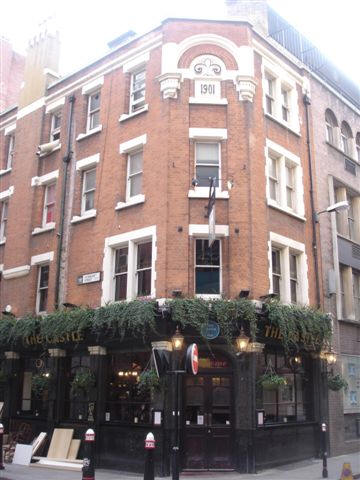 Castle, 26 Furnival Street, EC4 - in February 2008
Kindly provided by Stephen Harris
Year/Publican or other Resident/Relationship to Head and or Occupation/Age/Where Born/Source.
1833-34/Ann Jervis, Castle, 26 Castle street, Holborn hill/../../Pigots Directory

1841/A W Francis/../../../Kellys Directory

My 2x great grandfather Richard Hill was running the Laurie Arms with his wife at 1 Shouldham Street Marylebone on the 1841 English Census. (He had arrived in London early 1839 from Ranskill in Nottinghamshire where had run the Bell Inn between about 1834 and 1838.) ***

He died at the pub on the 10 Feb 1843. His wife, Sarah, took over the Castle Pub at 26 Castle street now Furnival street in Oct 1843. She married William Robson in December 1844 and they ran that pub together until Williamís death in 12th of June 1854 and Sarah remained on paying rent for that address until 1860 when a Mr. Woodcock took over.
The grub must have been good at the Laurie Arms and the Castle when Sarah was there because in her younger years she had been head-cook for William George Monckton-Arundell, 5th Viscount Galway at his residence Serlby Hall in Nottinghamshire! ***

1848/Wm Robson/../../../Post Office Directory

1851/William Robson/../../../Kellys Directory

1851/William Robson/Victualler/44/Kirby Hill, Yorkshire/Census
1851/Sarah Robson/Sife/43/Snape, Yorkshire/Census
1851/William Robson/Son/3/St Andrews Holborn/Census
1851/James Johnson/Nephew, Barman/18/Darlington, Durham/Census
1851/Catharine Kennely/House Servant/20/Ireland/Census
1851/Helen Clarke/House Servant/29/Ireland/Census
1851/Charles Couldridge/Lodger, Carpenter, Widow/48/Crediton, Devon/Census

1856/Mrs Sarah Robson/../../../Post Office Directory

1866/Hy. Sidney/../../../P.O. Directory **

1869/Henry Sidney/../../../Post Office Directory

1871/Henry Sidney/Licensed Victualler/51/Leicestershire/Census
1871/Mary Sidney/Wife/50/Northamptonshire/Census
1871/Caroline Pitts/Cousin, Barmaid/40/Rutlandshire/Census
1871/Fanny Everett/Visitor, Widow/56/Devonshire/Census
1871/Ann Hughes/General Servant, Widow/50/Lancashire/Census
1871/James Child/Potman/52/Middlesex/Census

1881/Charles Challenger/Licensed Victualler/39/Camberwell, Surrey/Census
1881/Jane Challenger/Wife/34/Blackfriars/Census
1881/Charles S Challenger/Son/14/Bow, Middlesex/Census
1881/Albert E Challenger/Son/6/Peckham, Surrey/Census
1881/Louise M Challenger/Daughter/4/Peckham, Surrey/Census
1881/Lillia A Challenger/Daughter/2/Nunhead, Surrey/Census
1881/J A Wootton/Barman/18/Amersham, Buckingham/Census
1881/Jane Boots/General Servant/18/Bermondsey/Census
1881/Arthur Sykes/Manager/21/Mile End, Middlesex/Census

1882/Charles Challenger/../../../Post Office Directory

1884/Arthur Salter/../../../Business Directory of London **

1885/Arthur Salter/../../../Post Office Directory **

1893/Mrs Elizabeth Salter/../../../Post Office Directory **

1911/Annie Bridgman/Licensed Victualler, Widow/62/Geddington, NOrthamptonshire/Census
1911/Thomas William Bridgman/Son, Auctioneers clerk/25/London/Census
1911/Louis Benjamin Vandean/Son in Law, Artificial Florist Manager/32/London/Census
1911/Annie Elizabeth Vandean/Daughter/27/London/Census
1911/Ada Clara Davey/Barmaid/23/London/Census
1911/Rose Ann Hulbert/Barmaid/22/London/Census

1921/Walter James Briggs/../../../Post Office Directory **

1944/Rd Hy Richards/../../../Post Office Directory

1950/Rd. Hy. Richards/../../../Post Office Directory **



** Provided By Stephen Harris

*** Provided By Jasmin Leuthold