Search London wiki and Pub wiki history sites
All public house, restaurants, bars etc closed for the forseeable future from 20th March 2020, but this is a history site.
George & Dragon, 81 Leather Lane, Holborn EC1N
Holborn index
It is listed as the George in 1899 and later as well as in 1789. It is also the Old George in 1823 and 1825 Sun Fire Office insurance records, and the Old George and Dragon in 1839 and 1841 directories. At 29 Leather Lane by 1910 * Trading by the late 1930s but since closed and converted to commercial use.
A listing of historical public houses, Taverns, Inns, Beer Houses and Hotels in Holborn - St Andrew, London.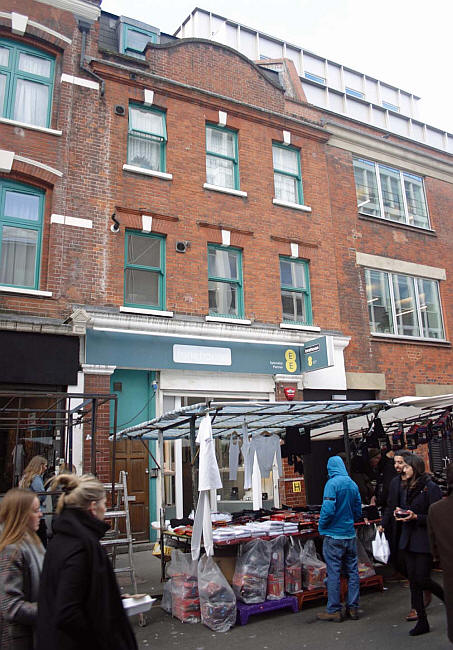 George & Dragon, 81 Leather Lane, Holborn - in February 2018
Kindly provided by Tris
Residents at this address
1789/Henry Smith/victualler, George/../../Sun Fire Office records held at the London Metropolitan Archives *

1790/James Latimer/../../../Proceedings of the Old Bailey **

1823/James Smith/victualler, Old George/../../Sun Fire Office records held at the London Metropolitan Archives *

1825/John Ely Church/victualler, Old George/../../Sun Fire Office records held at the London Metropolitan Archives *

1831/John Griffin/../../../Proceedings of the Old Bailey **

1839/John Goodwin/../../../Pigot's Directory *

1841/Jabez Greenfield/../../../Post Office Directory *

1841/Jabez Greenfield/Publican/26/Middlesex/Census
1841/John Whitby/Bricklayer/43/Middlesex/Census
1841/Elizabeth Whitby/../44/Middlesex/Census
1841/Susan Whitby/../11/Middlesex/Census
1841/Mary Barlow/Female Servant/20/Ireland/Census

1843/James Coleing/../../../Post Office Directory

1845/Henry Davis / Former Manager of Public House, now out-of-business /../../London Gazette, 20 May 1845 **

1848/William John May Norris / Former Licensed Victualler, now out-of-business /../../London Gazette, 30 May 1848 **

1851/Richard Burgess/../../../Kellys Directory

1851/Richard Burgess/Wine Merchant/24/Portsea, Hampshire/Census
1851/Emmily Burgess/Wife/19/Holborn, Middlesex/Census
1851/Matilda Burgess/Sister/18/Portsea, Hampshire/Census
1851/Eliza Morely/House Servant/18/Westminster, Middlesex/Census

January 1853/George Gilbert/Outgoing Licensee/../../Era

January 1853/Thomas Hollis/Incoming Licensee/../../Era

July 1854/Thomas Hollis/Outgoing Licensee/../../Era

July 1854/John Watson/Incoming Licensee/../../Era

1856/John Watson/../../../Post Office Directory

1861/George Clark/Licensed Victualler/33/Islington, Middlesex/Census
1861/Benjamin Parish/Servant/20/Gransden, Huntingdon/Census

October 1861/George Clark/Outgoing Licensee/../../Morning Post

October 1861/James Frost/Incoming Licensee/../../Morning Post

May 1862/James Frost/LV Association/../../Era

October 1862/James Frost/Outgoing Licensee/../../Morning Post

October 1862/George Hyde jun/Incoming Licensee/../../Morning Post

1869/John Turner/../../../Post Office Directory

1872/John Turner / Licensed Victualler /../../London Gazette, 12 July 1872 **

1873/John Evers/../../../Holborn Petty Sessions

1874/John Evers/../../../Holborn Petty Sessions

1875/Daniel Sankford Keyes/../../../Holborn Petty Sessions

1876/Daniel Sankford Keyes/../../../Holborn Petty Sessions

1877/Jonathan Artis/../../../Holborn Petty Sessions

1878/William Batchelor/../../../Holborn Petty Sessions

1879/John Nelson Jeans/../../../Holborn Petty Sessions

1880/Alice Mynott/../../../Holborn Petty Sessions

1881/Alice Mynott/../../../Holborn Petty Sessions

1881/William Mynott/Licensed Victuallar/34/West Wickham, Cambridge/Census
1881/Jane E Mynott/Wife/31/Finsbury, Middlesex/Census
1881/Alice Mynott/Sister, Barmaid/25/West Wickham, Cambridge/Census

1882/William Mynott/../../../Holborn Petty Sessions

1882/Mrs Alice Mynott/../../../Post Office Directory

1884/Thomas J Pope/../../../Post Office Directory

1891/James Griffin/../../../Post Office Directory

1891/Martha Griffins/Head, Widow/67/Limehouse E/Census
1891/James Griffins/Son, Licensed Victualler/34/Lambeth/Census
1891/Robert E Griffins/Son, Assistant/23/Lambeth/Census
1891/Harrie Biggs/Domestic Servant/20/Plaistow, Essex/Census

1895/James Griffin/../../../Post Office Directory

1899/Mrs Henrietta Cockshall/../../../Post Office Directory

1910/Joseph James Mason/../../../Post Office Directory

1911/Joseph James Mason/Publican/32/London, Middlesex/Census ***
1911/Eden Mason/Wife, Assistant/29/London, Middlesex/Census
1911/Queenie Eden Mason/Daughter/2/London, Middlesex/Census

1915/Joseph James Mason/../../../Post Office Directory



* Provided By Ewan

** Provided By Stephen Harris