Search London wiki and Pub wiki history sites
All public house, restaurants, bars etc closed for the forseeable future on 20th March 2020, but this is a history site. But how about the landlords give their tenants a break, no business, then please charge them no rent.
Kings Arms, 11a Northington Street, Holborn WC1
Holborn index
This pub was established by 1748 and rebuilt in its present form in 1898. ** Earlier address is at 11 Little James street which changes to 11a Northington street by 1938 through street renaming
A listing of historical public houses, Taverns, Inns, Beer Houses and Hotels in Holborn - St Andrew, London.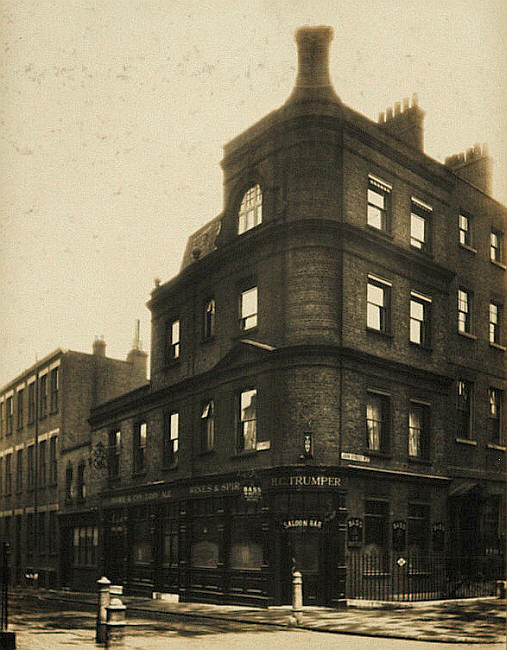 Kings Arms, 11 Little James Street, Holborn WC1 - Trumper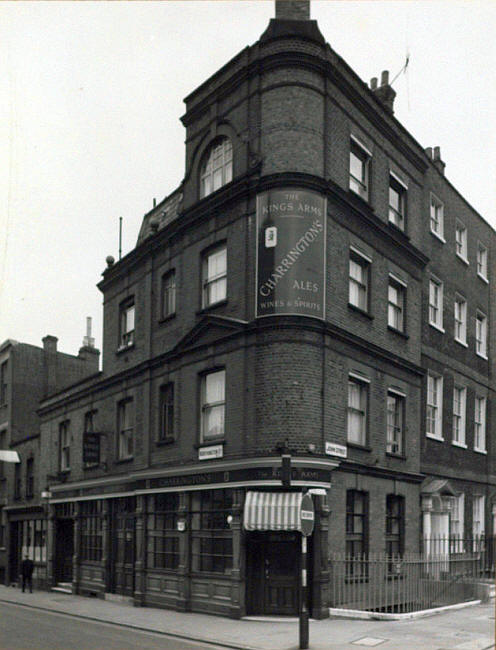 Kings Arms, 11a Northington Street, Holborn WC1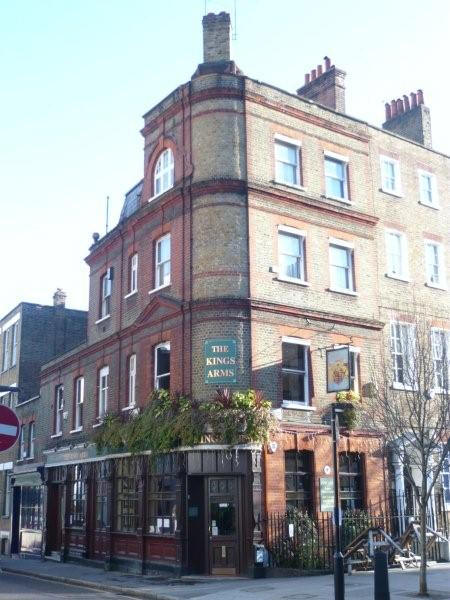 Kings Arms, 11A Northington Street, WC1 - in January 2009
Kindly provided by Stephen Harris
The following entries are in this format:
Residents at this address
1811/William Parkinson, Kings Arms, Little James street, Bedford row/../../Holdens Directory

1825/Mr Eadie/../../../Licensed Victuallers Association

1836/Joseph Curby/../../../National Archives Sun Insurance ***

1839/Thomas Bayley/../../../Pigots Directory

1841/J Challis/../../../Post Office Directory

1841/John Challis/Publican/45/../Census
1841/Mary Challis/../40/../Census
1841/Caroline Challis/../4/Middlesex/Census
1841/Eliza Challis/../2/Middlesex/Census
1841/Louisa Davis/Female Servant/14/Middlesex/Census
1841/Sarah Louis/Female Servant/30/Middlesex/Census
1841/William Streatly/Male Servant/15/Middlesex/Census
1841/David M Killigan/Cabinet Maker/45/Scotland/Census
1841/John Hutchins/Coachman/60/Middlesex/Census

1843/John Challis/../../../Kellys Directory

1848/John Challis/../../../Post Office Directory

1851/John Challis/../../../Post Office Directory

1851/John Challis/Licensed Victualler/55/Walthamstow/Census
1851/Mary Challis/Wife/49/Church Stretton/Census
1851/Caroline Challis/Daughter/13/Middlesex/Census
1851/Elizabeth Stockwynn/Visitor, Licensed Victuallers Wife/47/Church Stretton, Shropshire/Census
1851/Rachel Ramplin/Servant/32/Ipswich/Census
1851/George Dandway/Visitor, Carpenter/45/Sussex/Census
1851/Richard Dabdway/Visitor, Carpenter/18/Hertfordshire/Census
1851/Richard Morley/Visitor, Commercial Traveller/30/Dublin, Ireland/Census

1856/F Balcombe/../../../Post Office Directory

September 1860/Frederick Balcombe/Outgoing Licensee/../../Era

September 1860/Eliza Pugh/Incoming Licensee/../../Era

1861/Eliza Pugh/Victualler, Widow/50/Norwood/Census
1861/Eliza Pugh/Daughter, Pupil Teacher/18/London/Census
1861/Mary Pugh/Daughter, Embroideress/16/London/Census
1861/Esther Haynes/Barmaid/21/Norwood/Census
1861/Mary A Cuthbert/Cook/36/Clacton, Essex/Census
1861/William Kelly/Potman/23/London/Census
+ Lodgers

1869/John Russell/../../../Post Office Directory

1871/John Russell/Licensed Victualler/43/Westminster/Census
1871/Mary Ann Russell/Wife/28/Southwark/Census
1871/Wm Hy Russell/Son/11/St Andrews Holborn/Census
1871/Sarah K Millard/Cousin/30/Oxfordshire/Census
1871/Sarah Hawkins/Barman/20/Romford/Census
1871/James Dodds/Potman/27/Scotland/Census

1873/John Russell/../../../Holborn Petty Sessions

1874/John Russell/../../../Holborn Petty Sessions

1875/John Russell/../../../Holborn Petty Sessions

1876/John Russell/../../../Holborn Petty Sessions

1877/John Russell/../../../Holborn Petty Sessions

1878/John Simpson/../../../Holborn Petty Sessions

1879/John Simpson the Younger/../../../Holborn Petty Sessions

1880/Thomas James Simpson/../../../Holborn Petty Sessions

1881/Thomas James Simpson/../../../Holborn Petty Sessions

1881/Thos J Simpson/Licensed Victualler/31//Census
1881/James Simpson/Brother, Commercial Clerk/23//Census
1881/Charlotte Simpson/Sister, Barmaid/19//Census
1881/Alice Dean/Barmaid/19/Lambeth, Surrey/Census
1881/Mary Page/General Servant, Widow/37/Ridgemount, Bedford/Census
1881/Ann Langton/Domestic Servant, Widow/41/Dinton, Wiltshire/Census

1882/Thomas James Simpson/../../../Holborn Petty Sessions

1891/Raymond Batchelor/../../../Post Office Directory

1895/George Crosthwaite Cookman/../../../Post Office Directory

1899/Charles Scullard/../../../Post Office Directory

1910/Hy Cundell Trumper/../../../Post Office Directory

1912/Hy Cundell Trumper/../../../Post Office Directory **

1915/Hy Cundell Trumper/../../../Post Office Directory

1921/Hy Cundell Trumper/../../../Post Office Directory

1934/Hy Cundell Trumper/../../../Kellys Directory

1938/Mrs Minnie Alberta Trumper/../../../Post Office Directory

1944/Jas Chas Clark/../../../Post Office Directory

1943 - 1961/Mrs La Pointe/daughter of previous tenant/../../Post Office Directory



** Provided By Stephen Harris

*** Provided By Karen Hodges