Search London wiki and Pub wiki history sites
All public house, restaurants, bars etc closed for the forseeable future from 20th March 2020, but this is a history site.
Magpie & Stump / Shamrock, 56 Fetter Lane, Holborn EC4
Holborn index
This pub was re-named the 'Shamrock' after 1909, but is long closed and demolished. This pub survived until at least 1964. **
A listing of historical public houses, Taverns, Inns, Beer Houses and Hotels in Holborn - St Andrew, London.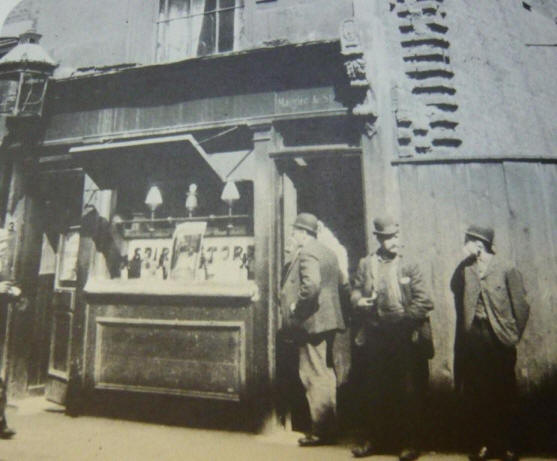 Magpie & Stump, 56 Fetter Lane, EC4 - circa 1900
Kindly provided by Stephen Harris
Residents at this address
1760/Thomas Atkinson/../../../Proceedings of the Old Bailey **

1805/William Perch, the Magpye and Stump, 56 Fetter lane/../../Holdens Directory

1808/Mr Perch/../../../Proceedings of the Old Bailey **

1811/William Perch, the Magpie & Stump, 55 Fetter lane/../../Holdens Directory

1822/Edward Green/../../../Proceedings of the Old Bailey **

1823/Edward Green/../../../Proceedings of the Old Bailey **

1825/Edward Mallett / Victualler /../../Sun Fire Office records held at Guildhall Library **

1833-34/Edward Mallett, Magpie & Stump, 56 Fetter lane, Holborn/../../Pigots Directory

1839/Edward Syndercombe/../../../Pigots Directory

1844/Hannah Hart/../../../Thompsons Directory **

1848/Mrs Hannah Hart/../../../Post Office Directory

1851/Mrs Hannah Hart/../../../Kellys Directory **

1856/Mrs Hannah Hart/../../../Post Office Directory

March 1866/Emma Barham/Outgoing Licensee/../../London City Press

March 1866/George Rhodes/Incoming Licensee/../../London City Press

1869/George Morrison/../../../Post Office Directory

October 1870/G Morrison/Outgoing Licensee/../../London City Press

October 1870/G J Woodhatch/Incoming Licensee/../../London City Press

1871/Geo J Woodhatch/../../../Post Office Directory

1871/John T Woodhatch/Licensed Victualler/51/Chelsea, Middlesex/Census
1871/Jane Woodhatch//56/Kingston, Radnashire/Census
1871/Evan G Woodhatch/son, Die maker/18/Kennington, Surrey/Census
1871/Charles Briggs/Pot Boy/17/Putney, Surrey/Census
1871/Matilda Hopkinson/Domestic Servant/19/Hastings, Sussex/Census

1874/J J Dawson/../../../Licensed Victualler & Hotelier Directory

1881/John J Dawson/Licensed Victualler/49/Lincolns Inn, Middlesex/Census
1881/Clarissa Dawson/Wife/48/Walworth, Surrey/Census
1881/Jemima Cole/General Servant/23/Blackfriars, Surrey/Census
1881/Joseph R Doe/Potman/35/Marylebone, Middlesex/Census

1882/John Joseph Dawson/../../../Post Office Directory

1883/John Joseph Dawson/../../../Post Office Directory **

1884/John J Dawson/../../../Post Office Directory

1891/Albert Hudson/../../../Post Office Directory

1891/William French/Head, Potman/62/St Saviours, Southwark/Census
1891/John W Freeman/Licensed Victualler/37/Bermondsey/Census

1902/Edward Cecil Moore/../../../Post Office Directory **

1904/Andrew J Conlon/../../../Post Office Directory **

1910/Andrew J Conlon/../../../Post Office Directory **

1911/Nicholas Walsh/Manager Public House/26/Waterford, Ireland/Census
1911/John O'Reilly/Assistant/29/Cavan, Ireland/Census
1911/John Murphy/Assistant/24/Monohon, Ireland/Census
1911/Margaret brennan/Servant/32/West Neath, Ireland/Census
1911/James Macweeney/Manager/27/Letrim, Ireland/Census
1911/William Reed/Assistant/33/Kings County, Ireland/Census
1911/Joseph Kerin/Assistant/30/Fermanagh, Ireland/Census
1911/William Belton/Assistant/21/Longford, Ireland/Census
1911/Michael Connelly/Assistant/25/Kildare, Ireland/Census

1921/G Mooney, Shamrock, 56 Fetter lane EC/../../Hughes Directory

1923/Gerald Mooney/../../../Post Office Directory **

1934/Mooneys Ltd, Shamrock, 56 Fetter lane EC4/../../Post Office Directory

1938/Gerald Mooney Ltd, Shamrock, 56 Fetter lane EC4/../../Post Office Directory

1944/Gerald Mooney Ltd, Shamrock, 56 Fetter lane EC4/../../Post Office Directory **



** Provided By Stephen Harris