Search London wiki and Pub wiki history sites
All public house, restaurants, bars etc closed for the forseeable future from 20th March 2020, but this is a history site.
Old Bell Hotel, 123 Holborn, Holborn EC1
Holborn index
This ancient inn was a classic galleried inn around a courtyard. The majority of the premises was demolished in the 1880s, but a tavern continued after this time until at least 1905. By 1937, and probably some time before this date, the surviving part of the building was operated as a restaurant. ** It is variously named as the Bell Inn, Old Bell Inn, Old Bell Tap, Old Bell Hotel & Tap, Old Bell Hotel & Tavern, and Old Bell Hotel. The Tap and Hotel are listed separately in some mid-19th century directories. *
A listing of historical public houses, Taverns, Inns, Beer Houses and Hotels in Holborn - St Andrew, London.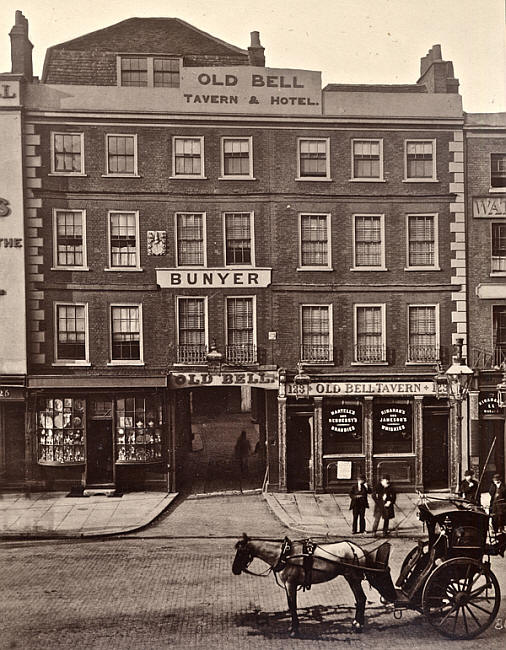 Old Bell Tavern, 123 Holborn - licensee Bunyer
Kindly provided by John Carnaby
Residents at this address
1792/Mary Ann Garrood/innholder, Bell Inn/../../Sun Fire Office records held at the London Metropolitan Archives *

1799/ Thomas Gilbert / Inn Keeper /../../Proceedings of the Old Bailey **

William Moles / Book Keeper /../../Proceedings of the Old Bailey **

1779/Mr Garood/../../../London Gazette, 9 October 1779 **

1805/Thomas Gilbert, Old Bell, Holborn/../../Holdens Directory

1807/John Chapple / Waiter /../../Proceedings of the Old Bailey **

1813/Thomas Bernard Axford/gentleman, Old Bell Inn/../../Prerogative Court of Canterbury wills and probate records held at the National Archives *

1814/Thomas Gilbert / Innkeeper /../../London Gazette, 26 March 1814 **

1819/T Gilbert/../../../London Gazette, 16 October 1819 **

1823/Dale / Innholder /../../Sun Fire Office records held at Guildhall Library **

1824/Thomas Dale / Innkeeper & Coach Master, Dealer and Chapman /../../London Gazette, 29 May 1824 **

1825/Thos. Dale/../../../Pigotís Directory **

1839/Joseph Staley/../../../Pigotís Directory **

1841/Joshua Staley/../../../Tap **/../../../P.O. Directory **

1841/W Bunyer/../../../Tavern & Hotel **/../../../P.O. Directory **

1848/William Bunyer/[Old Bell Hotel and Tap]/../../Post Office Directory *

1851/Wm Bunyer/../../../Kellys Directory

1851/William Bunyer/Hotel Keeper/57/Clerkenwell, London/Census
1851/Mary Ann Bunyer/Wife/55/High Wycombe, Buckinghamshire/Census
1851/Frederick Wm Bunyer/Son/22/Holborn, London/Census
1851/Alfred Charles Bunyer/Son/18/Holborn, London/Census
1851/Sarah Tinson/Sister in Law/45/High Wycombe, Buckinghamshire/Census
1851/Benjamin Dolphin/Bookeeper/60/Smithfield, London/Census
1851/Ann Cousins/Cook/24/Gosport, Hampshire/Census
1851/Eliza McKensey/Chambermaid/20/Canterbury, Kent/Census
1851/John Restall/Porter/28/Naunton, Gloucestershire/Census
1851/Thomas Stewart McEwan/Lodger, Gentleman/60/Marylebone, London/Census
1851/John Jenkins Brown/Lodger, Baptist Minister/25/Pontypool, Monmouthshire/Census
1851/Samuel Druce/Lodger, Farmer/68/Eynsham, Oxfordshire/Census
1851/George Brown/Lodger, Clerk to Engineer/40/Bedfordshire/Census
1851/James Henry Ansell/Lodger, Wine Merchant/47/Oxford Street, London/Census
1851/Edward Perks/Lodger, Needle Manufacturer/52/Redwick, Monmouthshire/Census
1851/George Bullock/Lodger, Cattle Salesman/22/Henley, Oxfordshire/Census
1851/_ Seymour/Lodger, Ironmonger/19/Thame, Oxfordshire/Census

1856/William Bunyer/../../../Post Office Directory

1856/William Lane/[Old Bell Tap]/../../Post Office Directory *

October 1860/William Bunyer/Outgoing Licensee/../../London City Press

October 1860/Frederick William Bunyer/Incoming Licensee/../../London City Press

1869/Frederick William Bunyer/../../../Post Office Directory

February 1870/F W Bunyer/Outgoing Licensee/../../Era

February 1870/F W Bunyer/Incoming Licensee/../../Era

1871/Mary A Bunyer/Head, Widow/76/High Wycombe, Bucks/Census
1871/Frances M Bunyer/Daughter, Hotel Proprietoress/44/London City, Middlesex/Census
1871/Alfred C Bunyer/Son, Clerk at Gunpowder Makers/34/London City, Middlesex/Census
1871/Charrlotte H Tollitt/Cousin, Visitor/37/Uxbridge, Middlesex/Census
1871/Jane J Mowbray/Barmaid/25/Bermondsey, Surrey/Census
1871/Emma L Chambers/Barmaid/18/Pentonville, Middlesex/Census
1871/Ann Smith/Cook/30/Dumfries, Scotland/Census
1871/Matilda Cumbers/Chambermaid/24/Shoreditch, Middlesex/Census
1871/Mary A Mitchell/Chambermaid/24/../Census
1871/Sarah E Stafford/Kitchen Maid/19/Cripplegate, Middlesex/Census
1871/Henry Bywater/Waiter/24/Dublin, Ireland/Census
1871/Fredk W Steer/Waiter/22/Stoke Newington, Middlesex/Census
1871/David Walker/Porter/19/Stratford on Avon, Warwick/Census
1871/Edward Dawson/Potman/20/Dedham, Essex/Census
1871/Benjamin Dolphin/Lodger, Gentleman/33 ?/London City, Middlesex/Census
1871/Henry Ebsworth/Lodger, Cattles Salesman/55/Cookham, Berkshire/Census
1871/Thomas Lee/Lodger, Cattles Salesman/30/Ripley, Surrey/Census
1871/Edmund B Roake/Lodger, Cattles Salesman/32/Halliford, Middlesex/Census
1871/Thomas Greive/Lodger, Cattles Salesman/38/Wandsworth, Surrey/Census

1873/Miss Frances Mary Bunyer/../../../P.O. Directory **

1881/Frances M Bangor/Hotel Keeper/54/St Andrews, Middlesex/Census
1881/Sally Tinson/Aunt/81/High Wycombe, Buckingham/Census
1881/Fanny White/Barmaid/23/Ongar, Essex/Census
1881/Ellen Saltwell/Barmaid/23/Chelmsford, Essex/Census
1881/Selina Collins/Barmaid/24/London, Middlesex/Census
1881/Eliza Petherbridge/Chambermaid/41/Chudleigh, Devon/Census
1881/Harriet Jones/Kitchen Maid/24/London, Middlesex/Census
1881/Ann Smith/Housemaid/26/London, Middlesex/Census
1881/George Cook/Waiter Hotel/24/Hammersmith, Middlesex/Census
1881/James C Wyman/Porter/22/Middlesex/Census
1881/Walter J Ellis/Waiter/24/Canterbury, Kent/Census
1881/Thomas Miller/Potman/20/London, Middlesex/Census
1881/Mary Milne/Boarder, Widow/30/Middlesex/Census
1881/Thomas Lee/Boarder, Farmer/40/Ripley, Surrey/Census
1881/William Geethuss/Boarder/50/London, Middlesex/Census
1881/Mary Geethuss/Boarder/35/London, Middlesex/Census
1881/Joseph Crowther/Boarder, Jeweller/42/Liverpool/Census
1881/Robert G Box/Boarder, Photographer/39/London, Middlesex/Census
1881/Emma Box/Boarder/39/London, Middlesex/Census
1881/Herbert A Box/Boarder/11/London, Middlesex/Census

1882/Mrs F M Banyer/../../../Post Office Directory

1884/F M Banyer/../../../Post Office Directory

1885/Mrs F M Bunyer/../../../P. O. Directory **

1895/Alfred Charles Bunyer/../../../Post Office Directory *

1899/Leonard Walter Treadaway/../../../Post Office Directory

1901/Emile Chatrian/../../../P.O. Directory **

1905/Emile Chatsworth/../../../P.O. Directory **

1910/Emile Chatrian/../../../Post Office Directory *

1915/Emile Chatrian/../../../Post Office Directory *

1938/Trust Houses Ltd/../../../Post Office Directory *

1944/Trust House Ltd/../../../P.O. Directory



* Provided By Ewan

** Provided By Stephen Harris