Search my Pub history, pubwiki and London
Old Holborn Bars, 333 High Holborn, Holborn WC1
Holborn index
A listing of historical public houses, Taverns, Inns, Beer Houses and Hotels in Holborn - St Andrew, London. The Holborn , London listing uses information from census, Trade Directories and History to add licensees, bar staff, Lodgers and Visitors.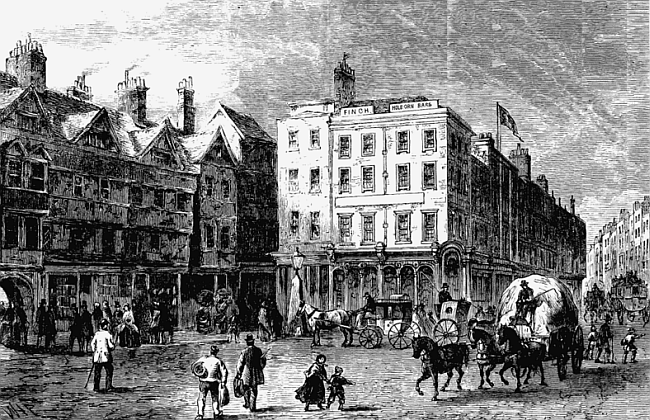 Old Holborn Bars, 333 High Holborn, Holborn - believed to be shortly before being demolished
Kindly provided by John Carnaby
Year/Publican or other Resident/Relationship to Head and or Occupation/Age/Where Born/Source.
1869/Hy Finch/../../../Post Office Directory

1871/Henry Finch/Licensed Victualler/37/London/Census
1871/Elizabeth Finch/Wife/37/London/Census
1871/Henry Sheney/Barman/20/Cheshunt, Hertfordshire/Census
1871/Charles Morgan/Barman/18/Enfield, Middlesex/Census
1871/Charles Cook/Barman/16/Camberwell, Surrey/Census
1871/George W Barham/Barman/18/Seal, Kent/Census
1871/Richard Sheney/Barman/16/Cheshunt, Hertfordshire/Census
1871/Walter Ayres/Barman/16/Hampstead, Middlesex/Census
1871/Eliza Hayes/Domestic Servant/28/Ross, ireland/Census
1871/Harriet Couten/Domestic Servant/25/Stepney, Middlesex/Census
1871/Clara Moule/Domestic Servant/24/Chichester, Sussex/Census

1873/Henry Finch/../../../Holborn Petty Sessions

1874/Henry Finch/../../../Holborn Petty Sessions

1875/Henry Finch/../../../Holborn Petty Sessions

1876/Henry Finch/../../../Holborn Petty Sessions

1877/Henry Finch/../../../Holborn Petty Sessions

1878/Henry Finch/../../../Holborn Petty Sessions

1879/Henry Finch/../../../Holborn Petty Sessions

1880/Henry Finch/../../../Holborn Petty Sessions

1881/Henry Finch/../../../Holborn Petty Sessions

1881/Charles Cook/Licensed Victuallar Manager/32/Camberwell, Surrey/Census
1881/Mary E Cook/Wife/31/St Lukes, Middlesex/Census
1881/Ethel M E Cook/Daughter/1/St Andrews, Middlesex/Census
1881/Frederick C W Cook/Son/2 months/St Andrews, Middlesex/Census
1881/William Whittick/Barman/21/Camberwell, Surrey/Census
1881/Henry J Payne/Barman/18/Westminster/Census
1881/Henry Goodchild/Barman/15/Saxmundham, Suffolk/Census
1881/Frederick H Hart/Barman/19/Lincoln/Census
1881/Frederick C Creighton/Barman/17/Marylebone, Middlesex/Census
1881/George W J Kerry/Barman/16/Piccadilly, Middlesex/Census
1881/Charles S Williams/Barman/17/Marylebone, Middlesex/Census
1881/John W Watts/Barman/17/Peckham, Surrey/Census

1882/Henry Finch/../../../Holborn Petty Sessions

1884/Henry Finch/../../../Post Office Directory

1891/Henry Finch/../../../Post Office Directory

1895/Henry Finch/../../../Post Office Directory

1899/Henry Finch/../../../Post Office Directory

1910/Henry Finch/../../../Post Office Directory

1920/Henry Finch Ltd/Public House known as The Old Holborn Bars, 333 High Holborn, and 1 and 2 Staple Inn, buildings and the cellars and vaults adjoining/../../Land Registry

1921/Henry Finch Ltd/../../../Post Office Directory

1938/Henry Finch Ltd/../../../Post Office Directory

1944/Henry Finch Ltd/../../../Post Office Directory