Pewter Platter, 41 Charles street, Hatton Garden, Holborn EC1
Holborn index
In the 1770-1780 Masonic Lodges listing, the Pewter Platter, Cross Street, Hatton Garden is the meeting place of the United Traders Lodge, and apparently constituted on the December 24th 1723.
It was built in 1876 (rebuilt?) and is now long-closed. It is now offices and a cafe. The earlier address is 40 Charles Street. **
A listing of historical public houses, Taverns, Inns, Beer Houses and Hotels in Holborn - St Andrew, London.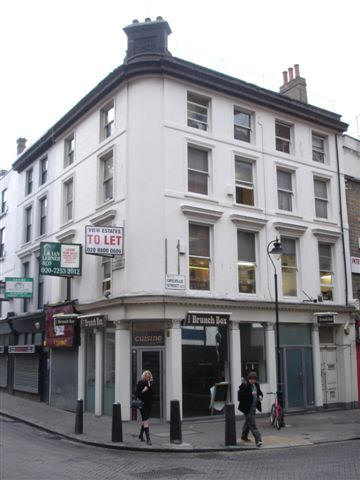 Pewter Platter, 41 Charles Street, EC1 - in May 2007
Kindly provided by Stephen Harris
Residents at this address
The Athol Lodge meets at the Pewter Platter, Cross street, Hatton garden, London in 1761

1811/John Olley, Pewter Platter, Charles street, Hatton garden/../../Holdens Directory

1829/R Bower, Pewter Platter, Charles street, Hatton Garden./../../Robsons Directory

1831/William Henry Barton / Victualler /../../Sun Fire Office records held at Guildhall Library **

1833-34/William Henry Barton, Pewter Platter, 40 Charles Street, Hatton Garden/../../Pigot's Directory

1836/William Henry Barton, Pewter Platter, 40 Charles Street, Hatton Garden/../../Pigot's Directory

1839/Rich Freeman/../../../Pigots Directory ***

1841/James Young/Publican/30/../Census
1841/Eliza Young/../30/../Census
1841/Henry Burgess/Insdependant/30/../Census
1841/Constantine Hack/Clock Maker/30/Foreign/Census
1841/William Yondel/Male Servant/15/../Census
1841/Margaret Reader/Female Servant/20/Ireland/Census

1842/James Young, Pewter Platter, 40 Charles Street, Hatton Garden/../../Robsons Directory

1844/James Young / Licensed Victualler /../../London Gazette, 5 March 1844 **

My ancestor Henry Sayers was associated with this pub in 1844 as that is where his wife Hannah died. Henry is noted as the publican at that time. I haven't been able to find Henry in the 1851 census, but he cannot have been at the Platter as Kelly's directory for that year mentions a James Mantle as the owner.

1844/Henry Sayers/Publican/../../Personal History ***

February 1847/Henry Sayers/Outgoing Licensee/../../Era Newspaper

February 1847/James Mantle/Incoming Licensee/../../Era Newspaper

There is a James Mantle at the Blue Eyed Maid, Borough High Street in 1843

1848/James Mantle/../../../Kellys Directory ***

1851/James Mantle/../../../Kellys Directory ***

August 1850/James Mantle/Outgoing Licensee/../../Era Newspaper

August 1850/John George Andrews/Incoming Licensee/../../Era Newspaper

1852/John G Andrews/../../../Watkins Directory **

1856/J G Andrews/../../../Post Office Directory

1861/John George Andrews/Licensed Victualler/37/St Pancras, Middlesex/Census
1861/Maria Sophia Andrews/Wife/30/Bloomsbury, Middlesex/Census
1861/Maria Eliza Andrews/Daughter/5/St Andrews Holborn, Middlesex/Census
1861/Caroline E Andrews/Daughter/4/St Andrews Holborn, Middlesex/Census
1861/John E Andrews/Son/1/St Andrews Holborn, Middlesex/Census
1861/Elizabeth Fitzgerald/House Servant/22/Kerry, Ireland/Census
1861/Frederick Hunt/Barman/21/Salisbury, Wiltshire/Census

1861/John George Andrews / Licensed Victualler / Bankrupt /../../London Gazette, 12 July 1861 **

January 1862/John George Andrews/Outgoing Licensee/../../Era

January 1862/John Walker/Incoming Licensee/../../Era

1869/William Nagle/../../../Post Office Directory

1871/William Nagle/Licensed Victualler/55/London, Middlesex/Census
1871/Mary Nagle/Wife/26/London, Middlesex/Census
1871/Elizabeth Nagle/Daughter/19/London, Middlesex/Census
1871/Mary A Nagle/Daughter/16/London, Middlesex/Census
1871/Alice Nagle/Daughter/12/London, Middlesex/Census
1871/Jessie Nagle/Daughter/10/London, Middlesex/Census
1871/James Lound/Barman/23/Richmond, Surrey/Census
1871/William Field/Barman/22/Cambridge/Census
1871/James Dean/Potman/23/Pinner, Middlesex/Census
1871/Jane Butcher/Servant/23/London, Middlesex/Census

1881/John R Griffiths/Publican, Widow/46/Wales/Census
1881/Rebecca Griffiths/Daughter/9/London, Middlesex/Census
1881/Mrs Bowler/General Servant/60/London, Middlesex/Census
1881/Mr Bowler/Servant/62/London, Middlesex/Census
1881/Philip Brown/Barman/24/Italy/Census
1881/Thomas Sanders/Potman/30/London, Middlesex/Census

1882/John R Griffiths/../../../Post Office Directory

1888/Mrs Joanna de Nicklo/../../../P.O. Directory **

1891/John Levy/../../../Post Office Directory

1895/Jordan Sharman/../../../Post Office Directory

1899/Mrs Jenny Brockington/../../../Post Office Directory

1910/Mrs Daisy Louisa Isaacs/../../../Post Office Directory

1914/Jn Isaacs/../../../Post Office Directory

1915/George James Bush/../../../Post Office Directory



** Provided By Stephen Harris

*** Provided By Karen Lyons