Search London wiki and Pub wiki history sites
All public house, restaurants, bars etc closed for the forseeable future from 20th March 2020, but this is a history site.
Queens Head, 64 Theobalds Road, Holborn WC1
Holborn index
It was established in 1812 and re-built in its present form in 1877. At 50 or 52 Theobalds Road before 1891 **
A listing of historical public houses, Taverns, Inns, Beer Houses and Hotels in Holborn - St Andrew, London.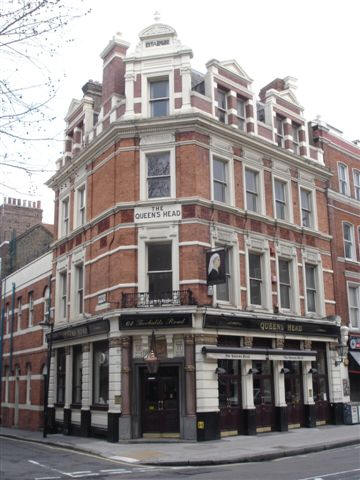 Queens Head, 64 Theobalds Road, WC1 - in March 2007
Kindly provided by Stephen Harris
Residents at this address
1825/Mr Seaward/../../../Licensed Victuallers Association

1829/James Seaward, Queens Head, 37 Theobalds road/../../Robsons Directory

1833-34/James Seaward, Queens Head, 50 Theobalds road/../../Pigot's Directory

1836/James Ward, Queens Head, 50 Theobalds road/../../Pigot's Directory

1839/Edward Walker/../../../Pigots Directory

1841/Edward Walker/Victualler/40/../Census
1841/Charlotte Walker/../30/Middlesex/Census
1841/Edward Walker/../6/Middlesex/Census
1841/Charlotte Walker/../2/Middlesex/Census
1841/William Walker/../2 months/Middlesex/Census
1841/Margaret Bring/Female Servant/30/Ireland/Census
1841/Charles Gome/Male Servant/18/Middlesex/Census
1841/Eliza Kern/Female Servant/15/Middlesex/Census
1841/Mary Chapel/Female Servant/14/Middlesex/Census

1842/Edward Walker/../../../Robsons Directory

1848/Edward Walker/../../../Post Office Directory

1851/Edward Walker/../../../Kellys Directory

1851/Edward Walker/Licensed Victualler/49/Northamptonshire/Census
1851/Charlotte Walker/Wife/40/London, Middlesex/Census
1851/Charlotte Walker/Daughter/11/St Andrews, Middlesex/Census
1851/Jane Walker/Daughter/8/St Andrews, Middlesex/Census
1851/Emma Walker/Daughter/3/St Andrews, Middlesex/Census
1851/Catherine Haddock/Servant/20/Finsbury, Middlesex/Census
1851/Elizabeth Smith/Servant/24/Finsbury, Middlesex/Census
1851/Adelaide Whames/Servant/18/Chislehurst, Kent/Census
1851/George Sambro/Servant/23/../Census

1856/Edward Walker/../../../Post Office Directory

1861/William Barrow/Licensed Victualler/37/Newington, Surrey/Census
1861/Eliza Barroe/Wife/35/Cloth Fair, City/Census
1861/Dorothy Watts/Mother, Widow/76/Northumberland/Census
1861/Emma M Venderabe/Niece/5/Islington, Middlesex/Census
1861/Mary A Newsome/General Servant/50/Wiltshire/Census
1861/Charles Fox/Barman/20/Lynn, Norfolk/Census

1867/William George Hunt/../../../Licensed Victuallers Association

1869/William Hunt/../../../Post Office Directory

1871/William Hunt/Licensed Victualler/59/Southwark, Surrey/Census
1871/Mary P Hunt/Wife/51/Marylebone, Middlesex/Census
1871/Mary P Hunt/Daughter/21/Newington, Surrey/Census
1871/William G Hunt/Son, Articled to Auctioneer/19/Newington, Surrey/Census
1871/Fanny Noakes/Barmaid/23/Newhaven, Surrey/Census
1871/Sarah Phillips/Barmaid/23/Reading, Berkshire/Census

1873/William Hunt/../../../Holborn Petty Sessions

1874/William Hunt/../../../Holborn Petty Sessions

1875/William Hunt/../../../Holborn Petty Sessions

1876/William Hunt/../../../Holborn Petty Sessions

1877/William Hunt/../../../Holborn Petty Sessions

1878/William Hunt/../../../Holborn Petty Sessions

1879/William Hunt/../../../Holborn Petty Sessions

1880/William Hunt/../../../Holborn Petty Sessions

1881/William Hunt/Licensed Victualler, Widow/69/Southwark, Surrey/Census
1881/William Geo Hunt/Son, Manager Of His Fathers Tavern/29/Newington, Surrey/Census
1881/Mary Parker Hunt/Daughter, Housekeeper/31/Newington, Surrey/Census
1881/Jane Taverner/Bar Maid/23/Kingsbury, Somerset/Census
1881/Annie L Andrews/Bar Maid/27/Woolwich, Kent/Census
1881/Sarah Rogers/Bar Maid/21/Rotherhithe, Surrey/Census
1881/Jane Macnamara/General Servant Domestic/36/Ireland/Census

1881/William Hunt/../../../Holborn Petty Sessions

1882/William Hunt/../../../Holborn Petty Sessions

1884/Edbrook & Young/../../../Holborn Petty Sessions

1891/William James & Co/../../../Post Office Directory

1895/George Callingham/../../../Post Office Directory

1899/Robert Gillard/../../../Post Office Directory

1910/George Maurice Hall/../../../Kellys Directory

1921/Cambrian Catering Co Ltd/../../../Kellys Directory

1934/Levy & Franks Ltd/../../../Kellys Directory

1938/Levy & Franks Ltd/../../../Post Office Directory

1944/Levy & Franks Ltd/../../../Post Office Directory



** Provided By Stephen Harris