Search London wiki and Pub wiki history sites
All public house, restaurants, bars etc closed for the forseeable future from 20th March 2020, but this is a pub history site.
Queens Head, 22 - 23 High Holborn, Holborn WC1V 6BS
Holborn index
This pub was established as the Queen's Head by 1696. It was rebuilt in its present form in 1924 and around this time was re-named Henekeys Holborn Bars. In around 1982 it was again re-named Cittie of York, the name it goes by today (2019). **
A listing of historical public houses, Taverns, Inns, Beer Houses and Hotels in Holborn - St Andrew, London.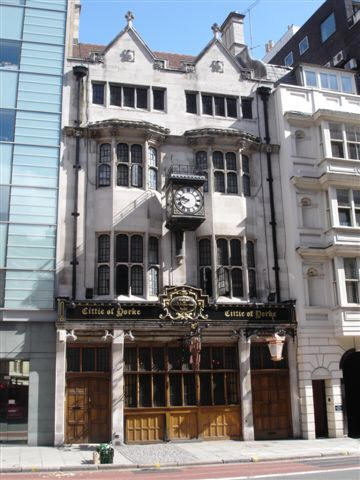 Queens Head, 22-23 High Holborn, WC1 - in July 2007
Kindly provided by Stephen Harris
Residents at this address
December 1810/Robert Gregson, 23 High Holborn victualler/../../Sun Fire Insurance records held at the LMA

1811/Rich Millington, Queens Head Tavern, 22 High Holborn /../../Holdens Directory

1822/William Wilmshurst, Queen's Head Coffee house and Tavern, 23 High Holborn/../../Pigots Directory

1832/George Henekey/../../../Robsons Directory

1842/Henekey, Kisbury Wm and Co/Wine and spirit merchants/../../Robsons Directory

November 1849/William Kislingbury, deceased/Outgoing Licensee/../../Era Newspaper

November 1849/Maria Pink Kislingbury, his widow/Incoming Licensee/../../Era Newspaper

April 1853/George Barker/Outgoing Licensee/../../Era

April 1853/Robert Abbott/Incoming Licensee/../../Era

1861/Robert Veitch/Cellerman at Tavern/30/Selkirk, Scotland/Census
1861/Emily Louisa Veitch/Wife/31/St Martins, Middlesex/Census
1861/Tamar Veitch/Daughter/3/St Pancras, Middlesex/Census
1861/Robert Veitch/Son/1/St Andrews, Middlesex/Census
1861/Thomas Joyce/Barman/33/Portsea, Hampshire/Census
1861/George Garne/Barman/21/Mitcham, Surrey/Census

1869/Henekey, Rogers & Co/Wine Merchants/../../Post Office Directory

1873/Samuel Rogers/../../../Holborn Petty Sessions

1874/Samuel Rogers/../../../Holborn Petty Sessions

1875/Samuel Rogers/../../../Holborn Petty Sessions

1876/Samuel Rogers/../../../Holborn Petty Sessions

1877/Samuel Rogers/../../../Holborn Petty Sessions

1878/Samuel Rogers/../../../Holborn Petty Sessions

1879/Benjamin Hox Rogers & Thomas Thompson/../../../Holborn Petty Sessions

1880/Edward Sidney Gibson/../../../Holborn Petty Sessions

1881/Edward Sidney Gibson/../../../Holborn Petty Sessions

1881/Edward S Gibson/Wine Merchant/33/Stepney, Middlesex/Census
1881/Elizabeth Gibson/Wife/28/Stepney, Middlesex/Census
1881/John E Gibson/Son/5/Stoke Newington, Middlesex/Census
1881/Mary Gibson/Daughter/4/Stoke Newington, Middlesex/Census
1881/Laurence Gibson/Son/2/Stoke Newington, Middlesex/Census
1881/Harriet Gammon/Nursemaid/17/Reculvers, Kent/Census
1881/Catherine Bird/Housemaid/20/Middlesex/Census
1881/Louisa Denson/Cook/35/Hoxton, Middlesex/Census
1881/William Westwood/Barman/20/Brunswick Sq, Middlesex/Census
1881/Henry Bantock/Barman/27/Southend South Church, Essex/Census
1881/Charles Clark/Barman/20/Chickeley, Berkshire/Census

1882/Edward Sidney Gibson/../../../Holborn Petty Sessions

1882/Edward S Gibson/../../../Post Office Directory

1884/Edward S Gibson/../../../Post Office Directory

1891/Stanley Herbert Gibson/../../../Post Office Directory

1895/Stanley Herbert Gibson/../../../Post Office Directory

1899/Henekey & Co/../../../Post Office Directory

1906/Henekey & Co/../../../Post Office Directory

1910/Henekey & Co, Henekeys/../../Post Office Directory

1932/Henekeys Limited, wine merchants/../../Post Office Directory



** Provided By Stephen Harris