Search London wiki and Pub wiki history sites
All public house, restaurants, bars etc closed for the forseeable future from 20th March 2020, but this is a history site.
Old Red Lion, 72 High Holborn, Holborn WC1
Holborn index
This pub was established by the sixteenth century and rebuilt in its present form in 1899. It is now called the Old Red Lion. This is strictly in St George Martyr in census. **
A listing of historical public houses, Taverns, Inns, Beer Houses and Hotels in Holborn - St Andrew, London.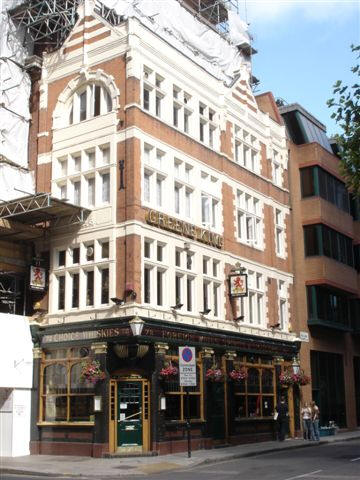 Old Red Lion, 72 High Holborn, WC1 - in July 2007
Kindly provided by Stephen Harris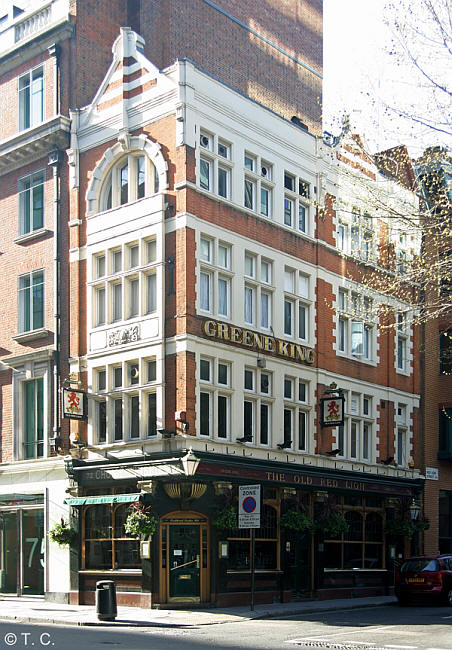 Old Red Lion, 72 High Holborn, WC1 - in 2013
Kindly provided by Tris
Residents at this address
1805/Joseph Prosser, Red Lion, 72 High Holborn/../../Holdens Directory

1811/Rich Bowen, Red Lion, 71 High Holborn/../../Holdens Directory

1832/Richard Preece, Red Lion, 72 High Holborn/../../Robsons Directory

1833-34/Richard Preece, Red Lion, 72 High Holborn/../../Pigot's Directory

1842/Joseph Hobson, Red Lion, 72 High Holborn/../../Robsons Directory

1851/Samuel Armstrong/../../../Kellys Directory

1851/Samuel Armstrong/Licensed Victualler/36/Harrow, Middlesex/Census
1851/Frances Armstrong/Wife/36/Watford, Hertfordshire/Census
1851/Henry Armstrong/Son/3/St Pancras, Middlesex/Census
1851/Sarah Stone/Sister/24/Watford, Hertfordshire/Census
1851/Elizabeth Stone/Visitor, Schoolmistress/28/Holbeach/Census

June 1853/Thomas Armstrong Price/Outgoing Licensee/../../Era

June 1853/James Young/Incoming Licensee/../../Era

1856/James Young/../../../Post Office Directory

1869/John Trippen Briggs/../../../Post Office Directory

1871/John Briggs/Licensed Victualler/40/Yorkshire/Census
1871/Mary Banks/Barmaid/25/Cambridgeshire/Census
1871/Frederick Conderothe/Barman/21/Middlesex/Census
1871/Joseph Steel/Barman/19/London, Middlesex/Census
1871/Mary Brammell/Domestic Servant/16/Birmingham/Census

1873/Thomas Amelius Cloud/../../../Holborn Petty Sessions

1874/Thomas Amelius Cloud/../../../Holborn Petty Sessions

1875/Arthur Benjamin Morgan/../../../Holborn Petty Sessions

1876/Arthur Benjamin Morgan/../../../Holborn Petty Sessions

1877/John James Pearce/../../../Holborn Petty Sessions

1878/John James Pearce/../../../Holborn Petty Sessions

1879/Alexander John Watts & David McVicar/../../../Holborn Petty Sessions

1880/Frederick Jackson/../../../Holborn Petty Sessions

1881/Frederick Jackson/../../../Holborn Petty Sessions

1881/Frederick Jackson/Licensed Victualler/31/St James Piccadilly/Census
1881/Mrs Jackson/Wife/31/(British Subject), France/Census
1881/Elizth Fryer Jackson/Sister/49/St Mary In City/Census
1881/Charles Alexander/Barman/24/St George In The East/Census
1881/William Grace/Barman/21/Lambeth/Census
1881/I Arthur/General Servant/37/Newcastle On Tyne/Census

1882/Frederick Jackson/../../../Holborn Petty Sessions

1882/Frederick Jackson/../../../Post Office Directory

1884/Frederick Jackson/../../../Post Office Directory

1891/Alfred Davis/../../../Post Office Directory

1895/Harry Spurway/../../../Post Office Directory

1899/E T Ginder/../../../Post Office Directory

1944/Arth Geo Baker & Andrew Dobbs/../../../Post Office Directory

1949/T Potter & Co Ltd/../../../B T Telephone Directory [HOLborn 1748]



** Provided By Stephen Harris